A trial looking at nimorazole and radiotherapy for head and neck cancer (NIMRAD)
Please note - this trial is no longer recruiting patients. We hope to add results when they are available.
This trial is looking at radiotherapy and the drug nimorazole for people with head and neck cancer. The trial is for people with cancer that may have spread to lymph nodes

or into surrounding body tissues (locally advanced cancer), but has not spread to another part of your body. The trial is supported by Cancer Research UK.
Doctors often use radiotherapy to treat people with head and neck cancer.
Most cancers have some cells with a low level of oxygen. These are more difficult to kill with radiotherapy than cancer cells with a normal oxygen level. Nimorazole is a drug that gets into the cells with a low level of oxygen. These cells are then more likely to be killed by radiotherapy.
In this trial, doctors will compare nimorazole with a dummy drug (placebo

).
The aims of the trial are to find out
Whether giving nimorazole with radiotherapy is a better treatment than radiotherapy alone
The side effects of nimorazole
Who can enter
You may be able to join this trial if all of the following apply
You have a head and neck cancer that started in cells called squamous cells
Your cancer may have spread to lymph nodes or surrounding body tissues (locally advanced cancer), but has not spread to another part of your body
You are able to have radiotherapy
You have satisfactory blood test results
You are well enough to be up and about for at least half the day (performance status 0, 1 or 2)
You can't have chemotherapy using a platinum  drug such as cisplatin or drugs called monoclonal antibodies
You are willing to use reliable contraception during treatment and for 1 week after you have finished treatment if there is any chance you or your partner could become pregnant
You are at least 18 years old
You cannot join this trial if any of these apply. You
Have cancer in your nose (nasal cavity or paranasal sinuses), mouth (oral cavity), or nasopharynx
Have had chemotherapy in the last 6 months
Have had radiotherapy to your head and neck before
Have had surgery to remove your cancer with the aim to cure it
Have certain heart or lung conditions (your doctor can advise you about this)
Have a low level of red blood cells (anaemia ) in the week before treatment is due to start (you may be able to have a blood transfusion to top up your red blood cells)
Have been diagnosed with numbness or tingling particularly in your hands and feet (peripheral neuropathy )
Have had an experimental drug in the last month
Have a medical condition affecting your bowel such as Crohn's disease or ulcerative colitis, or have had surgery to your bowel or stomach that affects your ability to absorb drugs and nutrients
Have had another cancer in th past 5 years apart fron basal cell skin cancer or an early cancer called carcinoma in situ
Have any other medical condition that could affect your taking (your doctor can advise you about this)
Have to take drugs called lithium or phenobarbitone
Are breastfeeding or pregnant
Trial design
This trial will recruit 340 patients in the UK. It is a randomised trial. The people taking part are put into 2 treatment groups by a computer. Neither you nor your doctor will be able to decide which group you are in. And neither of you will know which group you are in. This is called a double blind trial.
People in one group have radiotherapy and a dummy drug (placebo )
People in the other group have radiotherapy and nimorazole
You have radiotherapy once a day, Monday to Friday, for 6 weeks. You take a tablet (either the dummy drug or nimorazole) every day that you have treatment. If you are unable to swallow the tablets, they can be crushed or taken through a feeding tube.
The trial team will ask you to fill in a questionnaire
Before treatment
6 weeks later (or sooner if you finish the treatment early)
Then at 6, 12, 18, 24 and 36 months after treatment has finished
The questionnaire will ask about any side effects you have and how you are feeling. This is called a quality of life questionnaire.
The researchers will get a piece of tissue from the sample of tissue removed when you had a biopsy

to diagnose your cancer. These samples will be stored safely and only used for research purposes. You must agree to this to take part in the trial. 
They will also take some extra blood samples each year. You don't have to agree to these blood samples. You can still take part in the trial. 
Studying these samples may help researchers learn more about which people would benefit from having nimorazole and why some people have worse side effects from radiotherapy than others.
The trial team will also give you a diary and ask you to write down:
The time you take your tablets
How many tablets you took
The time you started radiotherapy
Hospital visits
You will see the doctor and have some tests before you start treatment. These tests may include
A physical examination
Heart trace (ECG )
You see the doctor every week during treatment. During the 4th week of the treatment, you have a blood test.
When you finish treatment, you see the doctor 6 weeks and 3 months later. After that you see them every 6 months for 2 years and then once a year for another 3 years.
3 months after completing treatment you will also have a:
CT scan or MRI scan of your head and neck 
CT scan of your chest
Side effects
All treatments have side effects. The side effects of radiotherapy to the head and neck include
A sore or dry mouth
Mouth ulcers
Fungal infection of the mouth (thrush)
Taste changes
Difficulty swallowing
Weight loss
Voice changes (your voice may become hoarse or husky)
Hair loss in the treated area
The possible side effects of nimorazole include
As with any new treatment, it is possible that there could be some side effects the doctors don't know about yet.
How to join a clinical trial
Please note: In order to join a trial you will need to discuss it with your doctor, unless otherwise specified.
Please note - unless we state otherwise in the summary, you need to talk to your doctor about joining a trial.
Supported by
Azanta
Cancer Research UK
Experimental Cancer Medicine Centre (ECMC)
NIHR Clinical Research Network: Cancer
The Christie NHS Foundation Trust
Other information
This Cancer Research UK trial number CRUK/13/006.
CRUK internal database number:
Please note - unless we state otherwise in the summary, you need to talk to your doctor about joining a trial.
Cara took part in a clinical trial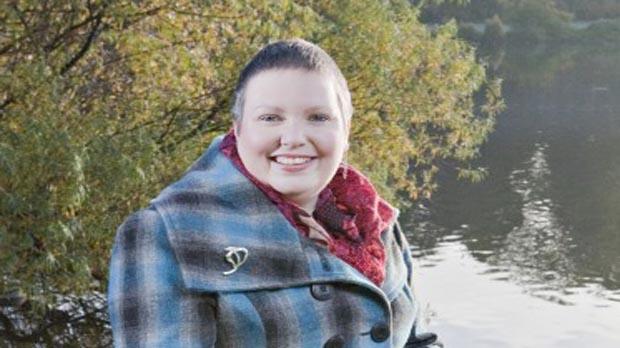 "I am glad that taking part in a trial might help others on their own cancer journey."