A trial of MAGE-A3 ASCI after surgery to remove melanoma (DERMA)
Please note - this trial is no longer recruiting patients. We hope to add results when they are available.
This trial is looking at a type of immunotherapy

to see if it can delay or stop melanoma coming back after surgery.
Doctors usually treat melanoma with surgery. But there is a risk that the melanoma will come back. You may have chemotherapy or interferon after surgery to try and stop this happening. But so far, we don't know if these treatments help people to live longer.
In this trial, researchers are looking at a new treatment called 'MAGE-A3 ASCI'. It is a type of vaccine.
Immune system cells can seek out and kill cancer cells, but they don't do this very well. Vaccines can help the immune system to recognise cancer cells. The vaccine in this trial teaches the immune system cells to recognise a protein called MAGE-A3, found on melanoma cells. This should help the immune system to find and kill melanoma cells.
To help the vaccine work, a substance called an 'adjuvant' is added to it. In this trial, they are looking at an adjuvant called AS15.
We know from earlier trials that this treatment slowed down the growth of cancer in people who had advanced melanoma. The aims of this trial are to
See if MAGE-A3 ASCI can delay or stop melanoma coming back
Learn more about the side effects
Who can enter
You can enter this trial if you
Have melanoma that has spread to your lymph nodes (Stage 3B or 3C) and this can be seen without using a microscope
Have had surgery to remove melanoma in the last 9 weeks - if you had a separate operation to remove lymph nodes, it is this one that has to have been in the last 9 weeks
Have completely recovered from surgery
Have melanoma that makes a protein called 'MAGE-A3' (the researchers will ask your permission to test for this)
Are well enough to carry out all your normal activities, apart from heavy physical work (performance status of 0 or 1)
Have satisfactory blood test results
Are willing to use a reliable form of contraception for a month before starting treatment, during the trial and for 2 months afterwards if there is any chance you could become pregnant
Are at least 18 years old
You cannot enter this trial if you
Have melanoma that started in the eye or in the moist tissues lining the inside of the body, such as the mouth (mucosal melanoma )
Have clusters of melanoma cells in the skin near to the primary melanoma or in the lymph vessels ('In transit' metastases)
Have had any other treatment after surgery apart from radiotherapy as long as it finished before you had surgery to remove lymph nodes – you can take part if you had interferon after surgery to remove another melanoma in the past, as long as you finished having it at least 30 days ago
Have had another cancer apart from carcinoma in situ of the cervix or non melanoma skin cancer that has been successfully treated, or any other cancer if you have been clear of it (in remission) for at least 5 years
Are taking steroids on a long term basis (apart from inhalers, steroid cream or low dose prednisolone), or other medication to suppress your immune system – it is important that you don't stop taking steroids without speaking to your doctor
Have a disease where your immune system attacks your body tissues (autoimmune disease ), apart from a skin condition called 'vitiligo
Have a bleeding disorder that can't be controlled with treatment
May be allergic to the study drug - you can check this with the trial doctor
Are known to be HIV positive or have lowered immunity
Have any other condition that could affect your taking part in the trial
Are pregnant or breastfeeding
Trial design
This is a phase 3 trial. It will recruit about 1,300 people around the world. It is a randomised trial. The people taking part are put into treatment groups by a computer. Neither you nor your doctor will be able to decide which group you are in. And you will not know which group you are in. This is called a double blind trial.
People in group 1 have MAGE-A3 ASCI injections
People in group 2 have dummy injections (placebo )
2 out of 3 people entering the trial will be in group 1
People in both groups have 13 injections, over 27 months. You have the injections into the muscle of your thigh or upper arm. You have the first 5 injections 3 weeks apart. Then you have an injection once every 12 weeks.
You have a number of blood tests during treatment and a CT scan at the start of the study, then after 12 weeks and 24 weeks.
The trial team will ask you to fill out a questionnaire before you start treatment, 7 times during treatment and then once after finishing the trial treatment. The questionnaire will ask about any side effects you have had and about how you have been feeling. This is called a quality of life study.
The trial team will also ask you to give an extra blood sample for research. They hope to learn more about how genes affect the way people respond to the treatment. This is called pharmacogenetics. You don't have to give this sample for research if you don't want to, you can still take part in the main trial.
If your melanoma comes back during the trial and you need to have another biopsy, the researchers may ask if they can have a sample of the tissue that is removed. They would study this to see if the melanoma cells still make MAGE-A3 and also to learn more about the genes of this cancer. The researchers would only ask for this if you have a biopsy for other reasons. And you don't have to give this sample for research if you don't want to.
Hospital visits
You will see the trial doctors and have a physical examination and blood tests before you start treatment. They will take photographs of the area where you had melanoma and where your lymph nodes were removed.
You go to hospital for each injection. And at the end of treatment you go back to see the trial doctors again. If you have all 13 injections, this appointment will be 12 weeks after the last injection. If you stop having the injections earlier because your melanoma has come back, this appointment will be 30 days after your last injection.
For the next 5 years you will have a follow up appointments and a CT scan every 6 months.
If your melanoma comes back during this time, the trial team will want to take a photograph of it. You will then no longer have hospital appointments, but a member of the team will contact you once a year to see how you are.
Side effects
MAGE-A3 ASCI is a new drug that is still being developed, so there may be side effects we don't know about yet. In trials so far, side effects have included
Redness, swelling, itching and pain where you have your injection
Flu like symptoms, fever and chills
Tiredness (fatigue)
Loss of appetite
Aching muscles or joints
Headache
It is also possible that you could have an allergic reaction to the injection. You have to stay at the hospital for at least 30 minutes after each injection so that the staff can monitor you closely and treat any reaction.
How to join a clinical trial
Please note: In order to join a trial you will need to discuss it with your doctor, unless otherwise specified.
Please note - unless we state otherwise in the summary, you need to talk to your doctor about joining a trial.
CRUK internal database number:
Please note - unless we state otherwise in the summary, you need to talk to your doctor about joining a trial.
Around 1 in 5 people take part in clinical trials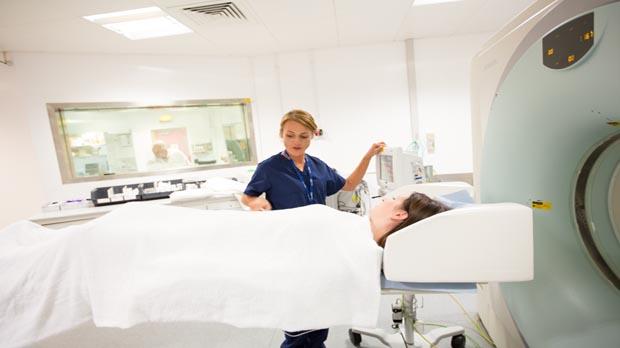 Around 1 in 5 people diagnosed with cancer in the UK take part in a clinical trial.