A trial looking at treatment for children with acute myeloid leukaemia (AML17)
Please note - this trial is no longer recruiting patients. We hope to add results when they are available.
Cancer type:
Acute myeloid leukaemia (AML)
This trial is looking at the treatment for children with acute myeloid leukaemia (AML). This trial is supported by Cancer Research UK.
There are different parts to this trial that are looking at adult AML and acute promyelocytic leukaemia. We have information about these other parts of the trial listed separately.
This trial is for children and young people up to and including the age of 15. We use the term 'you' in this summary, but if you are a parent, we are referring to your child.
More about this trial
Doctors use chemotherapy to treat AML. But for some children chemotherapy by itself may not be enough to get rid of AML  Biological therapies may also work with chemotherapy to treat AML.
We know from research that a group of chemicals called tyrosine kinases sends out signals that tell cells to grow and divide. Some leukaemia cells have a change (mutation

) in the gene called FLT3. This change in the FLT3 gene causes the cells to make too much tyrosine kinase. Doctors think that a tyrosine kinase inhibitor called CEP-701 may stop these FLT3 genes making too much tyrosine kinase. And so may help stop the leukaemia cells from growing and dividing.
To stop the AML coming back, doctors may use more chemotherapy. But they are not sure which chemotherapy might be the best.
The aims of this trial are to
Find out the best dose of daunorubicin
Look at CEP-701 to treat AML
Who can enter
You can enter this trial if you
Are suitable for intensive chemotherapy
Have satisfactory blood test results
Are under 16 years of age
You cannot enter this trial if you
Have already had chemotherapy for your AML (apart from treatment with hydroxycarbamide tablets, or similar low dose treatment, to control your white blood cell count)
Are in the blast transformation phase
Have another type of cancer at the same time as your leukaemia or MDS
Have Down's syndrome
Are pregnant or breastfeeding
Trial design
This is a national trial that aims to recruit 2,800 patients with AML and high risk MDS in the UK.
This trial has 2 phases. The first phase is to get rid of the leukaemia (induction phase). The second phase is to stop the leukaemia coming back (consolidation phase).
In the induction phase you will have daunorubicin.
After the first cycle of chemotherapy, you have a bone marrow test. This will give the doctor more information about your leukaemia and how it has responded to treatment so far. The doctor will discuss this with you and plan the rest of your treatment. You will be put into 1 of 3 treatment groups.
Group 1
People in this group will continue on to have daunorubicin, unless your bone marrow test shows you have an abnormal chromosome

called a 'core binding factor' then you will have Mylotarg as well.  Mylotarg is a monoclonal antibody.
Group 2
In this group the leukaemia cells have a change in the gene (mutation) called FLT3. People in this group will be out into 1 of 2 treatment groups. Neither you nor your doctor can choose which group you are in. This is called randomisation. You will have either CEP-701 or a dummy drug (placebo).  
CEP-701, and placebo, is a liquid that you take home to have. You can only mix them with the following fruit juices
Grape
Pineapple
Apple
V8® 100% vegetable juice
Orange juice (smooth only)
You cannot have grapefruit juice while taking CEP-701, or the placebo.
Group 3
In this group, the results of the bone marrow show that there is a high chance your leukaemia may come back after treatment. And the doctor will plan for a bone marrow or stem cell transplant. If you have chemotherapy before your transplant you will have
You have 2 cycles of chemotherapy in the induction phase. After each cycle you have a bone marrow test. If you are in complete remission

after the second cycle you will go on to the consolidation phase.
In the consolidation phase you have 2 courses of high dose Ara-C.
If you take part in this trial, the researchers will ask your permission to store some of your blood and bone marrow samples. These samples will be stored safely and may be used in the future, but for research purposes only. This is because studying these samples may help researchers learn more about leukaemia.
If you don't wish to have your blood and bone marrow samples stored for research, you don't have to. You can still take part in the trial.
Hospital visits
Before you start treatment you will see the doctor and have various tests. These tests will include
Blood tests
Bone marrow tests
You will have a blood test and possibly a bone marrow test before each cycle of chemotherapy.
All the chemotherapy is given through a drip into a vein; you will probably have these as an outpatient. There is a possibility that some people may need to have their chemotherapy as an inpatient, so may stay overnight in hospital.
Side effects
All chemotherapy has side effects. The most common side effects for the chemotherapy used in this trail are
Etoposide can cause a metallic taste in the mouth.
Amsacrine and daunorubicin can turn your urine pink or red. This can start up to 2 hours after having them and can last for up to 2 days.
How to join a clinical trial
Please note: In order to join a trial you will need to discuss it with your doctor, unless otherwise specified.
Please note - unless we state otherwise in the summary, you need to talk to your doctor about joining a trial.
Chief Investigator
Professor A K Burnett
Professor N H Russell
Supported by
Cancer Research UK
Cardiff University
Experimental Cancer Medicine Centre (ECMC)
NIHR Clinical Research Network: Cancer
Other information
This is Cancer Research UK trial number CRUK/08/025.
CRUK internal database number:
Please note - unless we state otherwise in the summary, you need to talk to your doctor about joining a trial.
Cara took part in a clinical trial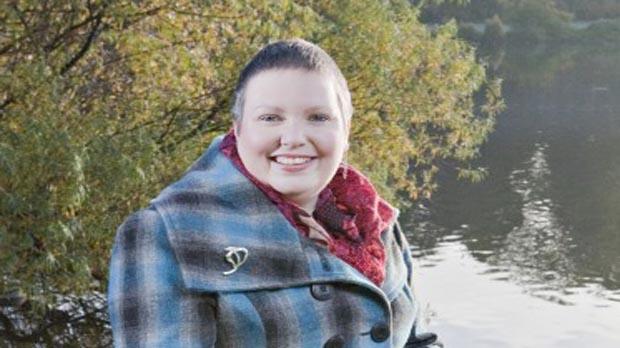 "I am glad that taking part in a trial might help others on their own cancer journey."