A trial looking at standard treatment with or without irinotecan for cancer of the rectum (ARISTOTLE)
Please note - this trial is no longer recruiting patients. We hope to add results when they are available.
Cancer type:
Bowel (colorectal) cancer
This trial is looking at adding irinotecan to the standard treatment for rectal cancer. It is for people who have cancer that started in the rectum

and has spread into the surrounding tissues (locally advanced cancer

). This trial is supported by Cancer Research UK.
More about this trial
Doctors usually treat locally advanced rectal cancer with chemotherapy and radiotherapy followed by surgery. Having both treatments together is called chemoradiotherapy.
As well as killing cancer cells, some chemotherapy drugs can make cancer cells more sensitive to radiotherapy. Having chemotherapy with radiotherapy is often better at shrinking cancer than radiotherapy alone.
The chemotherapy drug capecitabine with radiotherapy is standard treatment

 to shrink rectal cancer before having surgery to remove it.
In this trial, researchers are looking at adding another chemotherapy drug called irinotecan. They want to find out
If adding irinotecan to standard treatment stops or helps to delay the cancer coming back following surgery
More about the side effects
Who can enter
You may be able to enter this trial if you
Have rectal cancer that has spread into surrounding tissues (locally advanced rectal cancer)
Are well enough to carry out all your normal activities, apart from heavy physical work (performance status of 0 or 1)
Are well enough to have treatment
Have satisfactory blood test results
Are willing to use reliable contraception during the trial and for 3 months after if there is any chance that you or your partner could become pregnant
Are aged 18 years old or more
You cannot enter this trial if you
Have already had radiotherapy including internal radiotherapy (brachytherapy)
Have cancer that has spread to another part of your body (metastatic cancer )
Have had any other cancer in the last 5 years, apart from carcinoma in situ of the cervix or non melanoma skin cancer that was successfully treated
Are taking certain types of medication including warfarin, your doctor can advise you about this
Have any problems with your digestive system which affects how you absorb tablets
Have frequent diarrhoea that is difficult to control with medication, your doctor can advise you about this
Are taking St John's Wort
Are not able to have surgery
Are pregnant or breastfeeding
Trial design
This is a randomised trial. It will recruit about 600 people in the UK.
The people taking part are put into 2 groups by a computer. Neither you nor your doctor will be able to decide which group you are in.
People in groups A and B
Take capecitabine tablets 5 days a week, from Monday to Friday, for 5 weeks
Have radiotherapy every day from Monday to Friday for 5 weeks (at the same time as taking capecitabine)
People in group B also have irinotecan. You have it through a drip into a vein once a week for 4 weeks. It takes about an hour each time.
People in both groups have surgery 8 to 10 weeks after completing chemoradiotherapy. Some people may have more chemotherapy after surgery, your doctor will discuss this with you.
You fill out a questionnaire before you start treatment and then 1, 2 and 3 years after finishing your chemoradiotherapy. The questionnaire will ask about side effects and how you have been feeling. This is called a quality of life study.
If you agree to take part in this study, the researchers will ask for blood samples and to use the samples of tissue taken when you had the biopsy

 to diagnose your cancer and after surgery, if you have surgery. You will not have to have an extra biopsy. These will be used for future research in rectal cancer. If you do not want to give the samples for this study you don't have to. You can still take part in the trial.
Hospital visits
You will see the doctors and have some tests before you start treatment. The tests may include
You will have blood tests and a physical examination
Every week during chemoradiotherapy
At the end of chemoradiotherapy
4 weeks after finishing chemoradiotherapy
You have to go to the hospital for radiotherapy as an outpatient daily from Monday to Friday for 5 weeks. In group 2, you also have irinotecan at the hospital once a week for 4 weeks. This takes an hour.
You have a CT scan at 4 weeks then at 1, 2 and 3 years after finishing your chemoradiotherapy.
You see the research team at the hospital at 1 month, 4 months, 6 months, 1, 2, 3, 4 and 5 years after finishing chemoradiotherapy.
How to join a clinical trial
Please note: In order to join a trial you will need to discuss it with your doctor, unless otherwise specified.
Please note - unless we state otherwise in the summary, you need to talk to your doctor about joining a trial.
Chief Investigator
Professor David Sebag-Montefiore
Supported by
Cancer Research UK
Experimental Cancer Medicine Centre (ECMC)
NIHR Clinical Research Network: Cancer
University College London (UCL)
Other information
This is Cancer Research UK trial number CRUK/08/032.
CRUK internal database number:
Please note - unless we state otherwise in the summary, you need to talk to your doctor about joining a trial.
Around 1 in 5 people take part in clinical trials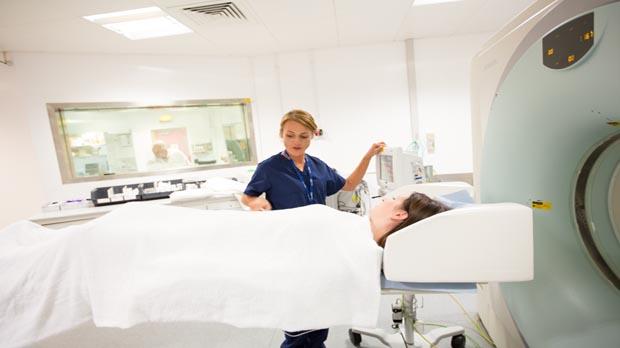 Around 1 in 5 people diagnosed with cancer in the UK take part in a clinical trial.