A trial looking at nilotinib for children and young people with Philadelphia positive leukaemia who are just diagnosed or who cannot have either imatinib or dasatinib
Please note - this trial is no longer recruiting patients. We hope to add results when they are available.
Cancer type:
Chronic myeloid leukaemia (CML)
This trial is looking at nilotinib for children and young people who have Philadelphia positive chronic myeloid leukaemia. It is for children who have just been diagnosed with chronic myeloid leukaemia (CML), or who have CML that is not responding to drugs called imatinib (Glivec) or dasatinib (Sprycel).
The trial is for children and young people up to the age of 18. We use the term 'you' in this summary, but of course if you are a parent, we are referring to your child.
Most people with CML have an abnormal chromosome called the Philadelphia chromosome

. You may hear this called Philadelphia positive leukaemia.
Doctors usually treat CML with biological therapies called imatinib or dasatinib. These often work well. But sometimes CML doesn't respond to these drugs or becomes resistant

to it. And some people cannot take these drugs because they have bad side effects. In this situation, doctors give adults a drug called nilotinib (also known as Tasigna) which works in a similar way to imatinib. Doctors now want to see if nilotinib will also be a useful treatment for children and young people.
Doctors do different tests to see how far your leukaemia has developed. This is called staging. There are 3 different stages in chronic myeloid leukaemia. These are the chronic phase, the accelerated phase, and the blast phase.
In this trial, researchers are trying to find out
How well nilotinib works for children and young people who have either chronic or accelerated phase Philadelphia positive CML and are not able to have imatinib or dasatinib
How well nilotinib works for children and young people with newly diagnosed Philadelphia positive CML
Who can enter
You may be able to enter this trial if you are in 1 of the following situations
And as well as the above, you
Have chronic myeloid leukaemia that has the Philadelphia chromosome (Philadelphia positive)
Have satisfactory blood test results
Are well enough to take part (children under 10 must have a Lansky scale score of 50 or more, those over 10 must have a score of 50% or more on the Karnofsky scale)
Are aged between 1 and 18 years old
If you are female and sexually active, you must be willing to use reliable contraception during the trial if there is any chance you could become pregnant.
You cannot enter this trial if you
Have a change to a gene called T3151(you can check this with your doctor)
Are newly diagnosed and have already had a drug called a TKI such as imatinib or dasatinib
Have had more than 1 other type of TKI if you weren't able to take imatinib or dasatinib because of bad side effects, or your leukaemia got worse while you were having either of these drugs (you can check this with your doctor)
Have a growth factor called Neulasta in the 2 weeks before starting the trial treatment, or other growth factors for blood cells in the week before
Have chemotherapy that could affect your bone marrow in the 3 weeks before you start the trial treatment
Have not recovered from the side effects of earlier chemotherapy unless they are very mild
Have had more than 2 weeks of treatment with hydroxycarbamide (hydroxyurea) for CML
Have had a stem cell transplant in the last 3 months and you have signs of graft versus host disease (your doctor can confirm this)
Have had radiotherapy in the last 6 weeks that included a large part of your bone marrow, radiotherapy to your brain and spine or to your whole body (TBI) in the last 3 months, or radiotherapy for symptoms in the last 2 weeks
Take drugs that could affect your heart rhythm or drugs that can affect an enzyme called CYP3A4 and you cannot stop taking them or change to another drug at least 2 weeks before you start the study treatment (it is important that you don't stop taking any medication without speaking to your doctor)
Have had a condition affecting your pancreas called pancreatitis
Have problems with your kidneys, liver or pancreas that are not related to your CML
Have a serious infection or heart problems that are a cause for concern (the trial doctors can advise you about this)
Are known to be HIV, hepatitis B or hepatitis C positive
Are known to be very sensitive to anything in nilotinib, including lactose which is a sugar found mainly in milk
Are breastfeeding
Trial design
This is a phase 2 trial. Doctors need at least 65 children and young people to take part. Everybody taking part has nilotinib.
Nilotinib comes as capsules that you take by mouth.
You take nilotinib twice a day. You take the capsules every day, but researchers call each 4 week period a cycle of treatment.
If you don't have any bad side effects and your CML does not get worse, you can have nilotinib for nearly 2 years.
If after 2 years, you are doing well on the drug, there may be the opportunity to continue taking it in a further (extension) trial. Your doctors will talk with you about this.
Hospital visits
You see the trial team and have some tests before you start treatment. The tests include
Physical examination
Heart trace (ECG )
Heart ultrasound (echocardiogram )
DEXA scan
X-ray of your left hand and wrist
You go to hospital on the first day you take the nilotinib. You will spend the whole day in hospital because you will need a blood test 12 hours after you take the drug. You may need to stay in hospital overnight or stay nearby because you will need to have another blood test early the next morning.
You then go to hospital every 4 weeks. You have blood tests at each visit. You will also have regular ECGs throughout your treatment. You will have a DEXA scan and an X-ray of your left hand every year to make sure your bones are growing normally.
When you finish the treatment, a member of the trial team will contact you or your doctor about a month later to see how you are and whether you have any long term side effects. They may then phone you (or your doctor) every 6 months to see how you are.
Side effects
The most common side effects of nilotinib include
Headache
Tiredness (fatigue)
Skin changes such as itching, skin rash, or dry skin
Pain in your muscles
We have more information about nilotinib.
How to join a clinical trial
Please note: In order to join a trial you will need to discuss it with your doctor, unless otherwise specified.
Please note - unless we state otherwise in the summary, you need to talk to your doctor about joining a trial.
Supported by
NIHR Clinical Research Network: Cancer
Novartis
If you have questions about the trial please contact our cancer information nurses
Freephone 0808 800 4040
CRUK internal database number:
Please note - unless we state otherwise in the summary, you need to talk to your doctor about joining a trial.
Cara took part in a clinical trial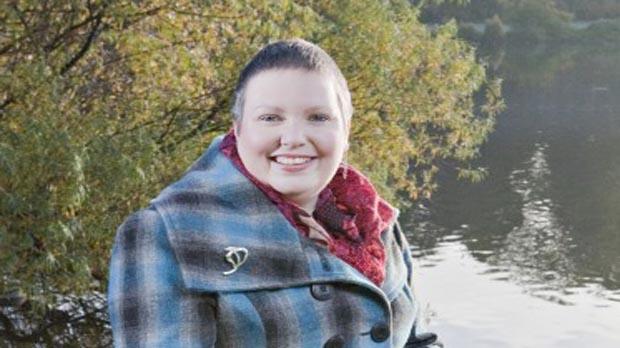 "I am glad that taking part in a trial might help others on their own cancer journey."