A trial looking at a new drug APD515 to treat cancer related dry mouth
Coronavirus (COVID-19)
We know that this is an especially worrying time for people with cancer and their family and friends. We have separate information about coronavirus and cancer. Please read that information alongside this page. We will update that information as guidance changes.
Please note - this trial is no longer recruiting patients. We hope to add results when they are available.
This trial is looking at a new drug APD515 to treat people with cancer who have a dry mouth.
Doctors know that a dry mouth is a common problem for people with advanced cancer.
A dry mouth can be treated with mouth washes and artificial saliva. But this treatment doesn't always work very well.
Doctors want to find out if APD515 works better than existing treatment for people with a dry mouth.
The aim of this trial is to find out
If APD515 can help people with a dry mouth
About the side effects
Who can enter
You may be able to enter this trial if you
Have any cancer apart from non melanoma skin cancer
Are having treatment for your cancer as long as the treatment does not cause a sore mouth
Finished your first course of chemotherapy more than a month ago
Are well enough to be up and about for at least half the day (performance status 0, 1 or 2)
Have had a dry mouth for 2 weeks or more
Have satisfactory blood test results
Are able to produce saliva when stimulated to do so
Are willing to use reliable contraception during the study and for 14 days afterwards if there is any chance that you or your partner could become pregnant
Are at least 18 years old
You cannot enter this trial if you
Have a rare condition called Sjögren's syndrome
Have had radiotherapy to the mouth or salivary glands
Have a sore mouth or mouth infection
Are allergic to the drug APD 515
Have used drugs that stimulate saliva production in the last 2 weeks
Are taking certain drugs for your heart - your doctor will discuss this with you
Have any other problem which would mean the study wasn't suitable for you
Have taken part in a clinical trial in the last month
Have had a heart attack in the last 6 months
Have had major bowel surgery in the last 6 months
Have a blockage in your bowel or bladder (urinary system)
Are pregnant or breastfeeding
Trial design
This is a randomised trial. The people taking part are put into 1 of 2 treatment groups. Neither you nor your doctor will be able to decide which group you are in. You will not know which group you are in as everyone has treatment that looks the same. This is called a 'double blind' trial.  
APD515 is a liquid that you spread onto the lining of your mouth, and leave there without swallowing for 2 minutes. You then swallow any remaining liquid.
The people in group 1 have
APD515  for a week
A week with no treatment
A dummy drug (placebo) for a week
The people in group 2 have
A placebo for a week
A week with no treatment
APD515 for a week
You fill out a questionnaire before you start treatment, and twice a week when you have treatment. The questionnaire will ask about any side effects you have had and about your dry mouth. This is called a quality of life study.
Hospital visits
You see the doctors and have some tests before you start each week of treatment and on the last day of each treatment. The tests include
Physical examination
Blood tests
An examination of your mouth
Heart trace (ECG )
Tests to see how much spit (saliva ) you produce
Researchers will ring you at home in the middle of each treatment week, to find out how you are.
Once you have finished your 2nd week of treatment there are no more hospital visits for the trial.
Side effects
The most common side effects of APD515 are
Increased sweating
Watery eyes
Tummy (abdominal) pain
Feeling sick
Diarrhoea
How to join a clinical trial
Please note: In order to join a trial you will need to discuss it with your doctor, unless otherwise specified.
Please note - unless we state otherwise in the summary, you need to talk to your doctor about joining a trial.
Supported by
Acacia Pharma Ltd
National Institute for Health Research Cancer Research Network (NCRN)
Questions about cancer? Contact our information nurses
CRUK internal database number:
Please note - unless we state otherwise in the summary, you need to talk to your doctor about joining a trial.
Charlie took part in a trial to try new treatments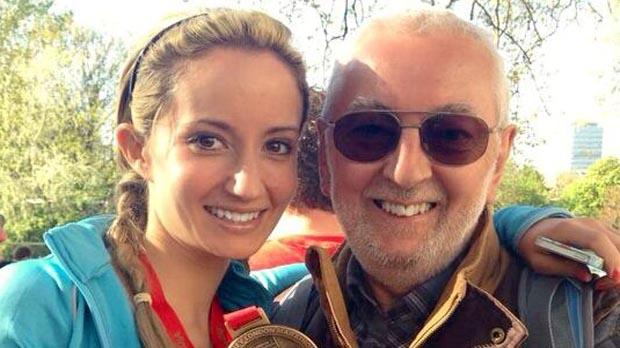 "I think it's really important that people keep signing up to these type of trials to push research forward."