A trial looking at low dose cyclophosphamide and nintedanib for ovarian cancer (METRO-BIBF)
Please note - this trial is no longer recruiting patients. We hope to add results when they are available.
This trial is looking at a low dose of cyclophosphamide chemotherapy and a new drug called nintedanib for ovarian cancer, fallopian tube cancer or primary peritoneal cancer that has come back after chemotherapy. These cancers are all treated in the same way, so when we use the term ovarian cancer in this summary, we are referring to all 3. This trial is supported by Cancer Research UK.
More about this trial
Doctors usually treat ovarian cancer with surgery, followed by chemotherapy. But ovarian cancer may come back after chemotherapy and researchers are looking for new treatments to help women in that situation. In this trial, they are looking at 2 drugs called cyclophosphamide and nintedanib (pronounced nin-ted-a-nib).
Cyclophosphamide is a chemotherapy drug that has been used as a treatment for ovarian cancer in the past. Recent research has found that a low dose of the drug as a tablet can control ovarian cancer.
Nintedanib (BIBF 1120) is a type of biological therapy. It stops signals that cancer cells use to grow.
Doctors want to see if low dose cyclophosphamide with nintedanib is a better treatment than low dose cyclophosphamide alone. They also want to find out more about the side effects and how the treatment affects your quality of life.
Who can enter
You may be able to enter this trial if
You have had your womb removed (hysterectomy) or your womb, ovaries and fallopian tubes removed, or you have gone through your menopause  and have not had a period for at least 2 years
You have had at least 2 different types of chemotherapy and it is not considered useful for you to have any more treatment into your veins (intravenous chemotherapy
You are unable to have chemotherapy using platinum drugs either because you are not able to tolerate them or because your cancer continued to grow despite having this treatment
You are well enough to be up and about for at least half the day (performance status 0, 1 or 2)
You have satisfactory blood test results
Your cancer can be measured
You are at least 18 years old
You cannot enter this trial if
You have a type of ovarian cancer called germ cell, sarcoma or stromal tumour
Your cancer has spread to your spinal cord or brain unless you have no symptoms and your condition has been stable for at least 4 weeks
You have already had cyclophosphamide tablets or nintedanib (or a similar drug)
You have had chemotherapy in the past 4 weeks
You have had certain types of biological therapy in the last 4 weeks (your doctors can advise you about the types)
You have had hormone therapy for your ovarian cancer in the last 2 weeks
On a scan your tumour looks like it has died or shows a hollowed out area within a shell of cancer tissue (cavitation), and it has grown into major blood vessels nearby
You still have major side effects from previous treatment
You have a wound, ulcer or bone fracture that is not healing
You have had any other cancer in the last 5 years, unless it was a very early stage and has been successfully treated (the trial team can advise you about this)
You have had a heart attack in the last 6 months or have certain other heart problems (the trial doctors can advise you about this)
You have had a stroke, a mini stroke (TIA), or any bleeding in your brain in the last 6 months
You have had a blood clot in your lungs or legs in the last 6 months (if this has happened, but you are taking a stable dose of medication to thin your blood, you may be able to take part)
You have a condition which means you are likely to bleed (bleeding disorder)
You have diabetes that is not well controlled with medication or you take a medicine for your diabetes that belongs to the group called sulphonylureas such as gliclazide or glibenclamide (your doctor can advise you about this)
You are known to be allergic or very sensitive to cyclophosphamide or nintedanib including having a peanut or soya allergy
You have taken another experimental drug in the last 4 weeks
You have any condition which would stop you swallowing or absorbing tablets
You have HIV, hepatitis B or hepatitis C
You have any other condition that could affect you taking part in this trial
Trial design
This is a phase 2 trial. Researchers need 124 women to take part. It is a randomised trial. The women taking part are put into treatment groups by a computer. Neither you nor your doctor will be able to decide which group you are in. You will not know which group you are in either. This is called a double blind trial.
Everybody taking part will take cyclophosphamide tablets every day. Half the women taking part will also take nintedanib capsules twice a day. The other half will take dummy capsules (placebos

) twice a day.
You can continue taking the capsules for as long as your doctor feels they are helping to treat your cancer.
The trial team will ask you to fill in a questionnaire before starting treatment and then every 6 weeks. It will ask how you have been feeling and about any side effects you have. This is called a quality of life questionnaire.
Hospital visits
You see the doctor to have some tests before taking part. These tests may include
A physical examination
A heart trace (ECG )
Urine test
The first 12 women taking part in the trial will see the trial team and have a CA125 blood test every 3 weeks for 12 weeks and then every 6 weeks after that. Please note this part of the trial has now closed.
Everyone will see the trial team and have a CA125 blood test every 3 weeks for the first 6 weeks. You then see the team every 6 weeks.
Everybody taking part will have a CT scan every 12 weeks.
You will see the trial team every 6 weeks until your cancer starts to grow again, or the side effects become too much.
Side effects
As taking low dose cyclophosphamide and nintedanib together is a new treatment, there may be side effects we don't know about yet.
The common side effects of low dose cyclophoshamide are
The known side effects of nintedanib include
Feeling or being sick
A drop in your white blood cells leading to an increased risk of infection
Tiredness
A skin rash, itching or redness in areas exposed to sunlight
Nintedanib can increase the risk of a severe allergic reaction (anaphylaxis) to foods containing soya. People who are allergic to peanuts are also possibly allergic to soya and so may also be at an increased risk of an allergic reaction. You must tell the trial team if you have a soya or peanut allergy
 
We have more information about cyclophosphamide.
How to join a clinical trial
Please note: In order to join a trial you will need to discuss it with your doctor, unless otherwise specified.
Please note - unless we state otherwise in the summary, you need to talk to your doctor about joining a trial.
Supported by
Boehringer Ingelheim
Cancer Research UK
Experimental Cancer Medicine Centre (ECMC)
NIHR Clinical Research Network: Cancer
University College London (UCL)
Other information
This is Cancer Research UK trial number CRUKE/11/024.
CRUK internal database number:
Please note - unless we state otherwise in the summary, you need to talk to your doctor about joining a trial.
Charlie took part in a trial to try new treatments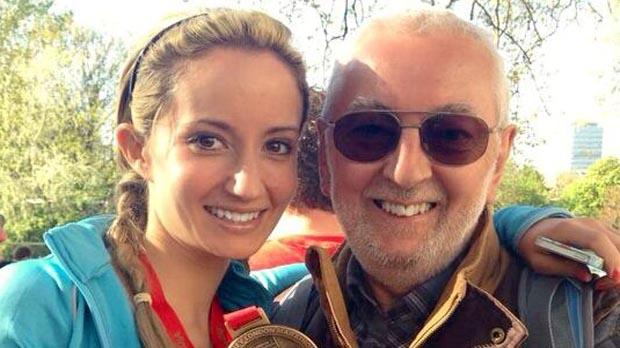 "I think it's really important that people keep signing up to these type of trials to push research forward."