A trial looking at combining two treatments for cancer of the liver (TACE 2)
This trial looked at the combination of sorafenib with chemoembolisation to treat cancer that started in the liver (primary liver cancer).
Cancer Research UK supported this trial.
More about this trial
There are different treatments for liver cancer. One is blocking the supply of oxygen and food that the cancer needs to grow (embolisation).
Doctors can do this by injecting small beads into the blood vessels near the cancer. The aim is to block the small blood vessels. The beads can also deliver chemotherapy directly to the cancer. This is called chemoembolisation.
Transarterial chemoembolisation (TACE) is a type of chemoembolisation used for liver cancer.
Sorafenib is a targeted cancer drug called a tyrosine kinase inhibitor. Tyrosine kinase is a chemical messenger (an enzyme) that signals cancer cells to grow. Sorafenib blocks these signals.
Sorafenib can also work by blocking the growth of new blood vessels that supply the cancer with food and oxygen.
Researchers thought that combining sorafenib with TACE might have been better than TACE alone for treating liver cancer that couldn't be removed by surgery.
The aims of this trial were to find out:
if combining sorafenib with TACE is better than TACE alone
what are the side effects of combining sorafenib with TACE
how this combination affects quality of life
Summary of results
The trial team found that adding sorafenib to TACE wasn't any better than TACE alone.
313 people took part in this phase 3 trial. It was a randomised trial. Neither the people or their doctor knew what group they were.
157 people had sorafenib and TACE
156 people had dummy drug (placebo ) and TACE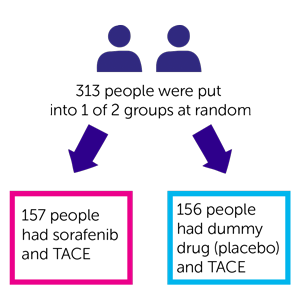 After an average follow up of just under 2 years the team looked at the average time it took before the cancer got worse. They found it was just over 7 ½ months for each group.
The team also looked at the average length of time people in each group lived. They found it was not significantly different between the two groups.
just over 21 months for those who had sorafenib
just over 19½ months for those who had the dummy drug
They also looked at how well the cancer was controlled in each group. This included people:
who had no sign of cancer (complete response)
whose cancer had shrunk (partial response)
whose cancer had stayed the same (stable disease)
They found it was similar in both groups:
117 people in the sorafenib group
121 people in the dummy drug group
The addition of sorafenib didn't seem to increase the side effects of TACE.
The major difference in the side effects of both groups was in the side effects well known to be caused by sorafenib. These included:
sore mouth
diarrhoea
hand foot skin reaction
bleeding
skin rash
These were more common in the sorafenib group.
During the trial at a planned meeting of the Data Monitoring Group

, the decision was made to close the trial. There were enough people in the trial to answer the question that the researchers were asking. Because at this point there was no sign that adding sorafenib to TACE was better at:
slowing the growth of the cancer
increasing the amount of time people lived
And it was unlikely that continuing the trial was going to show a difference.
The trial team concluded that adding sorafenib to TACE wasn't any better than TACE only to treat liver cancer. Other treatments in combination with TACE need to be tested for this group of people. The people taking part in this trial were all from the UK.
We have based this summary on information from the research team. The information they sent us has been reviewed by independent specialists (peer reviewed

) and published in a medical journal. The figures we quote above were provided by the trial team who did the research. We have not analysed the data ourselves.
How to join a clinical trial
Please note: In order to join a trial you will need to discuss it with your doctor, unless otherwise specified.
Please note - unless we state otherwise in the summary, you need to talk to your doctor about joining a trial.
Supported by
Bayer
Biocompatibles UK Limited
Cancer Research UK
Experimental Cancer Medicine Centre (ECMC)
NIHR Clinical Research Network: Cancer
University College London (UCL)
Other information
This is Cancer Research UK trial number CRUKE/08/022.
CRUK internal database number:
Please note - unless we state otherwise in the summary, you need to talk to your doctor about joining a trial.
Cara took part in a clinical trial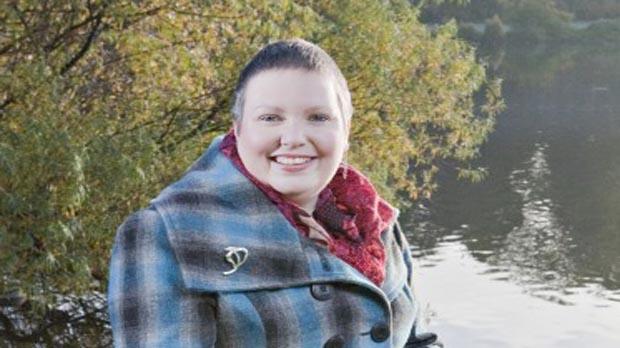 "I am glad that taking part in a trial might help others on their own cancer journey."