A trial looking at Xilonix for bowel cancer
Please note - this trial is no longer recruiting patients. We hope to add results when they are available.
Cancer type:
Bowel (colorectal) cancer
This trial is looking at a new drug called Xilonix for people whose bowel cancer has grown despite standard treatment

. It is recruiting people with bowel cancer that cannot be removed with surgery, or has spread to other parts of the body.
Doctors usually use chemotherapy to treat people whose cancer cannot be removed or has spread. But sometimes this doesn't work and the cancer continues to grow. People in this situation can also develop problems with muscle wasting (loss of muscle mass) and symptoms such as loss of appetite, tiredness and pain. Researchers would like to find ways to reduce these symptoms.
More about this trial
Xilonix (pronounced sil-on-nix) is a type of biological therapy called a monoclonal antibody. It may help to stop or slow down cancer growth and it may help to reduce some of the symptoms listed above. An earlier study showed that Xilonix helped people to regain some muscle mass. These people lived for longer than people who did not have an improvement in muscle mass. It also slowed the growth of cancer in some people.
The aims of this trial are to
Find out how well Xilonix can reduce muscle wasting and symptoms in people with bowel cancer
See if Xilonix can improve quality of life
Learn more about the side effects
Who can enter
You may be able to join this trial if all of the following apply. You
Have bowel cancer (colorectal cancer) that has spread to another part of your body, or you are unable to have surgery to remove your cancer
Have had all the available standard treatment  for your bowel cancer. This means that you have already had the drugs oxaliplatin (this may have been after your surgery to try to reduce the risk of your cancer coming back) or irinotecan
Have symptoms such as pain, loss of appetite, tiredness or unintended weight loss (the trial team can explain what this means in more detail)
Are well enough to be up and about for at least half the day (performance status 0, 1 or 2)
Have satisfactory blood test results
Are willing to use reliable contraception 1 month before you start treatment, during treatment and for 3 months afterwards if there is any chance that you or your partner could become pregnant
Are at least 18 years old
You cannot join this trial if any of these apply. You
Have a blockage in your bowel (bowel obstruction) that means you are not able to eat and drink enough
Have cancer that has spread to your brain
Have had chemotherapy, surgery, hormone therapy or biological therapy in the last 2 weeks (or treatment with interleukin 1 or anti tumour necrosis factor in the last 2 weeks)
Have had radiotherapy in the last 2 weeks, or have ever had radiotherapy to a large part of your bone marrow (the trial team can explain this to you in more detail)
Have had treatment for your tiredness (including steroids) in the last 2 weeks, or your doctor thinks you may need treatment with steroids in the next 2 months
Have certain heart problems (the trial team can advise you about this)
Are still having significant side effects from any other treatment (apart from hair loss)
Have problems with numbness and tingling in your hands and feet (peripheral neuropathy) unless this is only mild or moderate
Are known to be HIV, hepatitis B or hepatitis C positive
Are allergic to the drugs used in this trial
Have had a live vaccine  in the last month
Have any other serious medical condition or mental health problem that the trial team think could affect you taking part
Trial design
This is a phase 3 trial, the researchers need between 20 to 40 people from the UK to join.
It is a randomised trial, the people taking part are put into treatment groups by a computer. Neither you nor your doctor will be able to decide which group you are in. And neither of you will know which group you are in. This is a double blind trial.
People in one group have Xilonix. People in the other group have a dummy drug (placebo). Both groups also have best supportive care. This means that you have any treatment you need to make you comfortable, for example pain killers. For every 3 people taking part, 2 will have Xilonix and 1 will have the dummy drug.
You have Xilonix or the dummy drug through a drip into vein. This takes about 2 hours. You have it every 2 weeks for 8 weeks.
The trial team will ask you to fill out a questionnaire before you start treatment and after 8 weeks of treatment (or earlier than this if you have to stop treatment sooner). The questionnaire will ask about side effects and how you've been feeling. This is called a quality of life study.
You won't know if you have been having Xilonix or the dummy drug, but if after 8 weeks, your doctor thinks the treatment has helped, you can then have Xilonix. You can carry on having it every 2 weeks as long as your cancer does not start to grow, and you don't have any bad side effects.
Hospital visits
You will see the doctors and have some tests over about 2 weeks to help the doctors decide if you are able to take part in this trial. The tests include
Then you go to hospital every 2 weeks to have treatment. Each time you see a doctor and have some blood tests. You have scans again after the first 8 weeks of treatment.
If you finish treatment for any reason, you have a final hospital appointment with the trial team. You see a doctor, have urine and blood tests. They will also ask you about any side effects you've had.
Side effects
As Xilonix is a new drug there may be side effects we don't know about yet. Possible side effects include
Protein in your urine. Your nurse will test your urine regularly and if it contains protein you will need to do a 24 hour urine collection to check your kidneys are working properly
A drop in the cells that help the blood to clot causing an increased risk of bleeding
How to join a clinical trial
Please note: In order to join a trial you will need to discuss it with your doctor, unless otherwise specified.
Please note - unless we state otherwise in the summary, you need to talk to your doctor about joining a trial.
Supported by
NIHR Clinical Research Network: Cancer
XBiotech GmbH
CRUK internal database number:
Please note - unless we state otherwise in the summary, you need to talk to your doctor about joining a trial.
Charlie took part in a trial to try new treatments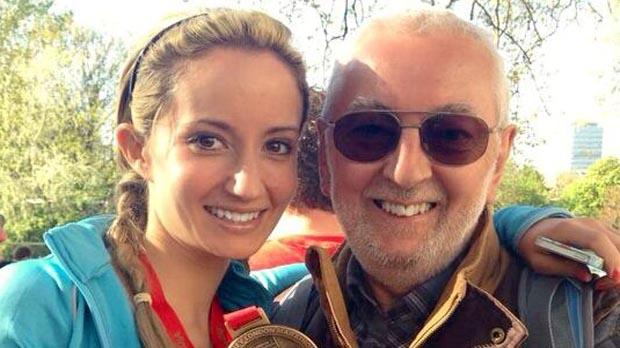 "I think it's really important that people keep signing up to these type of trials to push research forward."