A trial looking at vinorelbine for people with advanced pleural mesothelioma (VIM)
Coronavirus and cancer
We know it's a worrying time for people with cancer, we have information to help. If you have symptoms of cancer contact your doctor.
Please note - this trial is no longer recruiting patients. We hope to add results when they are available.
A trial for people with mesothelioma that started in the lining of the lungs (pleura) and that has continued to grow despite treatment (advanced cancer). 
It is for people who have had treatment that reached the whole body (systemic treatment

) with platinum chemotherapy

. 
Cancer Research UK supports this trial.
More about this trial
Mesothelioma can start in lining of the lungs or the abdomen

. When it starts in the lining of the lungs it is called pleural mesothelioma.
Pleural mesothelioma can be treated with chemotherapy. But sometimes the cancer can continue to grow or spread to other parts of the body. This is called advanced cancer. 
Vinorelbine (also called Navelbine) is a chemotherapy drug from a group called vinca alkaloids

. It is already used as a treatment for people with advanced pleural mesothelioma. 
Other treatment for advanced pleural mesothelioma is active symptom control. This includes:
painkillers
blood transfusions  
high calorie drinks
steroids
In this trial, people have either active symptom control or active symptom control and vinorelbine. 
The aims of this trial are to:
find how well vinorelbine work as a treatment 
learn more about side effects
Who can enter
The following bullet points list the entry conditions for this trial. Talk to your doctor or the trial team if you are unsure about any of these. They will be able to advise you. 
You may be able to join this trial if all of the following apply. You:
Have pleural mesothelioma that has grown or spread into another part of the body
Have had at least 1 type of chemotherapy that contained a platinum drug (such as cisplatin or carboplatin)
Have a sample of cancer (biopsy ) available from when you were diagnosed (the trial team will check this)  
Have satisfactory blood tests results
Have at least 1 area of cancer that can be seen and measured on a scan
Are well enough to carry out your normal activities, apart from heavy physical work (performance status of 0 or 1) 
Are able to swallow tablets
Are willing to give samples of blood and cancer tissue for research
Are at least 18 years old
Are willing to use reliable contraception during treatment and for 3 months after the final dose of vinorelbine if there is any possibility you or your partner could become pregnant. 
You cannot join this trial if any of these apply. You:
Have cancer that has spread to the brain or spinal cord (CNS) that is not being controlled by any treatment 
Have had another cancer apart from successfully treated cancer of the prostate, cervix, basal cell skin cancer and early bladder cancer 
Have had vinorelbine or any other vinca alkaloid chemotherapy 
Have had radiotherapy to the area where the doctors will measure your cancer in the past 4 weeks 
Have had treatment with a drug that isn't licensed in the past 30 days 
Have had a live vaccine in the last 30 days 
Are known to be sensitive to vinorelbine, any other vinca alkaloid drug or anything it contains
Have problems with your digestive system that could affect you swallowing or absorbing tablets 
Have serious problems with your liver such as hepatic insufficiency 
Have problems with your lungs and need oxygen
Have had surgery to remove part of your stomach or small bowel 
Are pregnant or breast feeding
Trial design
This is a phase 2 trial. The researchers need about 200 people across the UK to take part.  
This trial is randomised. The people taking part are put into 1 of the following treatment groups by computer: 
active symptom control 
active symptom control and vinorelbine 
Neither you nor your doctor are able to decide which group you are in. 
You are 2 times more likely to have active symptom control and vinorelbine than active symptom control alone.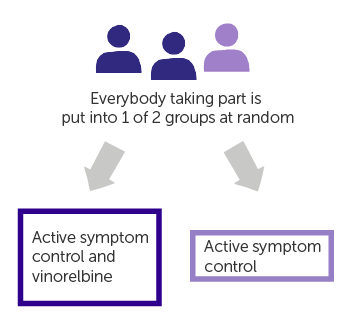 Active symptom control 
You have treatment to help control symptoms and keep you as well as possible, for as long as possible. 
The treatments you have depend on your symptoms. Your doctor can give you more information on the type of treatments you might have. 
You continue to have active symptom control even if your cancer gets worse.   
Active symptom control and vinorelbine 
As well as any treatment to help control symptoms you have vinorelbine capsules once a week. The dose you have depends on your weight. 
You take them with plenty of water and with something to eat. You swallow the capsules whole. 
You continue to have vinorelbine for as long as it is helping you and the side effects aren't too bad. 
If your cancer gets worse you stop taking vinorelbine, but continue to have active symptom control.     
Blood tests 
You have some extra blood tests as part of this trial. The researchers want to look for substances called biomarkers

to:
understand who benefits the most from vinorelbine
look for changes in the BRCA1 gene
You have blood tests before you start your treatment and if your cancer gets worse. This is called translational research. 
Tissue samples
The trial team may ask to use a sample of your cancer taken when you were diagnosed to look for biomarkers. This is part of the translational research.
If there is not a suitable sample available, they ask you to have one taken (a biopsy). 
If you have active symptom control and vinorelbine, researchers may ask you to have a new tissue sample if your cancer gets worse. 
You do not need to agree to this research if you don't want to. You can still take part in the trial. 
Hospital visits
You see a doctor and have some tests before taking part. These tests include: 
a physical examination
blood tests
You might also have a CT scan and a chest X-ray. 
During the trial, you see the trial doctor for blood tests and a physical examination every 3 weeks. 
If you have active symptom control and vinorelbine you also have blood tests every week. You may be able to go to your GP for this.  
You have a CT scan every 6 weeks. This continues as long as your cancer stays the same and does not get worse. If your cancer gets worse, you see the trial team after 30 days and then regularly for up to 1 year. 
Side effects
The trial team monitor you during the time you have treatment and you will be given a phone number to call them if you are worried about anything. The team will tell you about all the possible side effects before you start the trial.
The most common side effects of vinorelbine are: 
We have more information on vinorelbine.
How to join a clinical trial
Please note: In order to join a trial you will need to discuss it with your doctor, unless otherwise specified.
Please note - unless we state otherwise in the summary, you need to talk to your doctor about joining a trial.
Supported by
Cancer Research UK
Experimental Cancer Medicine Centre (ECMC)
Pierre Fabre Ltd, UK
University of Leicester
Wales Cancer Trials Unit (WCTU)
Other information
This is Cancer Research UK trial number CRUK/12/056
CRUK internal database number:
Please note - unless we state otherwise in the summary, you need to talk to your doctor about joining a trial.
Around 1 in 5 people take part in clinical trials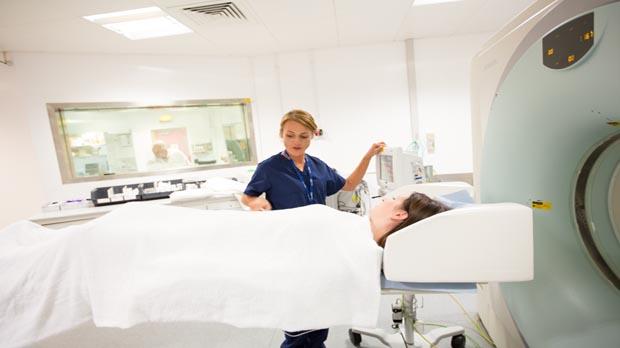 Around 1 in 5 people diagnosed with cancer in the UK take part in a clinical trial.