A trial looking at stereotactic body radiotherapy treatment (SBRT) for non small cell lung cancer
Please note - this trial is no longer recruiting patients. We hope to add results when they are available.
Cancer type:
Non small cell lung cancer
This trial is for people with lung cancer in the middle of the chest that has not spread to other parts of the body. Also, it is for patients who can't have surgery to remove their cancer, or do not want to have surgery. This trial is supported by Cancer Research UK.
More about this trial
When doctors can't remove non small cell lung cancer (NSCLC) with surgery, they may treat it with radiotherapy. Standard radiotherapy is very carefully planned so that treatment is as accurate as possible. But healthy tissue around the cancer can be affected by the treatment.
Stereotactic body radiotherapy treatment (SBRT) is different to standard radiotherapy because it directs radiotherapy beams at the cancer from different positions around the body. It delivers a very high dose of radiation to the cancer while surrounding tissues receive a low dose.
SBRT is already used to treat NSCLC in other parts of the chest. Doctors want to find out if this treatment would be useful for cancers in the middle of the chest. And whether people can cope with the side effects.   
The aims of this trial are to
find out how well SBRT controls the growth of NSCLC located in the middle of the chest

learn more about the side effects of this treatment
Who can enter
The following bullet points list the entry conditions for this trial. If you are unsure about any of these speak with your doctor or the trial team. They will be able to advise you.
You may be able to join this trial if all of the following apply. 
You have non small cell lung cancer (NSCLC) that is in the middle of your chest and has not spread elsewhere in the body
You have had a PET-CT scan to confirm the location and size of your cancer (if you have not had a PET-CT scan, the trial team will arrange for you to have one)
You are due to start SBRT within 6 weeks of this PET CT scan 
You have cancer that measures 7cm or less (T1-3) and there is no cancer in the lymph nodes (N0). If your cancer is T3 you must only have it in 1 place and it must not be next to your foodpipe (oesophagus)
You are not able to have surgery to remove the cancer or you don't want to have surgery
Your doctor thinks your lungs work well enough to have treatment in this trial
You are well enough to be up and about for at least half the day (performance status 0, 1 or 2)
You are willing to use reliable contraception during treatment if there is any chance that you or your partner could become pregnant
You are at least 18 years of age
You cannot join this trial if any of these apply. You
Have already had radiotherapy to your chest area
Have had chemotherapy in the last 3 months 
Have had biological therapy in the last 3 months
Have any other cancer, except basal cell skin cancer  which you have had treatment for. You might be able to take part if you have had another cancer in the past and this has not come back (recurrence) in the last 5 years. You might be able to take part if you have had another cancer in the past and this has not recurred in the last 2 years, providing your current diagnosis of NSCLC has been confirmed with a biopsy
Are taking a drug called amiodarone
Have a condition affecting your lungs called interstitial lung disease 
Have a serious heart condition that your doctor thinks could affect you taking part
Have any other serious medical condition or mental health problem that the trial team think could affect you taking part
Are pregnant
Trial design
This is a phase 2 trial. The researchers need 35 people to join from UK hospitals and 150 patients across Europe.
Everyone will have SBRT every other day, Monday to Friday, for 2 ½ weeks. So you have 8 treatments (or fractions

) altogether.
The radiographer will take some scans of your chest before each treatment to make sure that the SBRT is as accurate as possible. Each treatment with SBRT will take about 10 minutes and each session (including scans and treatment) will take between 30 minutes to an hour.
Hospital visits
You see the doctors and have some tests so that they can decide whether you are suitable for this trial. The tests include
A sample (biopsy ) of your cancer to confirm your diagnosis
Physical examination
Tests to check that your lungs are healthy (lung function tests )
CT scan of your chest and upper abdomen
If you have had any of these tests recently, you won't need to have them again.
If you are eligible to take part, you have another CT scan to help plan your SBRT.  Your planning session is normally a separate appointment and takes about 20 to 30 minutes.
After your treatment has finished you go back to clinic to see a doctor
about 6 weeks after your first day of treatment
every 3 months for the next 3 years
every 6 months for the following 2 years
At these appointments you may have a CT scan and lung function tests.  If your doctor thinks your cancer may be growing you may have a PET-CT scan and biopsy. After about 3 ½ years your doctor may decide you don't need to go to clinic as often as the above.
Side effects
You do not feel anything during SBRT, but it may be uncomfortable as you need to lie still.
The most common short term side effects (during and for a few weeks after treatment) of SBRT include
pain in the chest in the first 24 hours after treatment. This is usually mild and settles down quite quickly
a cough and coughing up sputum, this may sometimes be blood stained
difficulty in swallowing due to the food pipe (oesophagus) becoming inflamed – you may need to take painkillers and have a soft diet
shortness of breath- tell your doctor if this is becoming a problem as they may be able to treat this side effect with a course of steroids
loss of chest hair – this is temporary and usually grows back again a few weeks after the treatment ends
sore skin and or, a skin rash
The long term side effects (happening months or years after treatment) include
difficulty in swallowing due to narrowing of the food pipe – you may need a small operation to stretch and open up the food pipe
shortness of breath due to scarring (fibrosis) of the lung tissue
an increased risk of developing chest infections
How to join a clinical trial
Please note: In order to join a trial you will need to discuss it with your doctor, unless otherwise specified.
Please note - unless we state otherwise in the summary, you need to talk to your doctor about joining a trial.
Chief Investigator
Professor Corinne Faivre-Finn
Supported by
Cancer Research UK
Christie NHS Foundation Trust, Manchester
Experimental Cancer Medicine Centre (ECMC)
European Organisation for Research and Treatment of Cancer (EORTC)
NIHR Clinical Research Network: Cancer
Other information
This is Cancer Research UK trial number CRUK/14/025.
CRUK internal database number:
Please note - unless we state otherwise in the summary, you need to talk to your doctor about joining a trial.
Cara took part in a clinical trial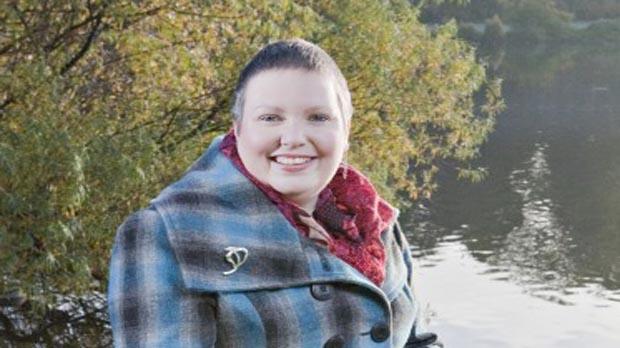 "I am glad that taking part in a trial might help others on their own cancer journey."