A trial looking at selumetinib and paclitaxel for a type of eye cancer called uveal melanoma (SelPac)
Please note - this trial is no longer recruiting patients. We hope to add results when they are available.
This trial is looking at selumetinib and paclitaxel for a type of eye cancer called uveal melanoma. It is for people whose uveal melanoma has spread elsewhere in the body. This trial is supported by Cancer Research UK.
More about this trial
Most melanomas start in the skin, but they can develop in other parts of the body, including the eye. Melanoma that starts in the uvea (the middle tissue layer of the eyeball or choroid) is called uveal melanoma.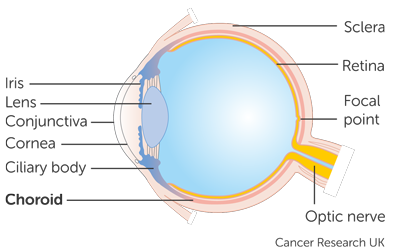 Doctors usually treat uveal melanoma that has spread with chemotherapy or biological therapy or a combination of the two. Researchers are continually trying to find the best drugs to use.
Selumetinib is a type of biological therapy. It works by targeting a protein called MEK (so it is called a MEK inhibitor)

. MEK is a protein that sends signals to cells telling them to divide and grow.
Previous trials have shown that selumetinib may help to treat uveal melanoma that has spread. Very early research in the laboratory suggests that using selumetinib alongside a chemotherapy drug called paclitaxel may improve treatment.
The aim of the trial is to see if selumetinib and paclitaxel works better than selumetinib alone for uveal melanoma. The researchers will also try to find the best way to give these 2 drugs together.
Who can enter
The following bullet points list the entry conditions for this trial. If you are unsure about any of these speak with your doctor or the trial team. They will be able to advise you. 
You may be able to join this trial if all of the following apply. You
Have a type of cancer called uveal melanoma that has spread to another part of the body 
Have cancer that can be measured using scans, or by the doctor examining you
Have satisfactory blood test results
Are able to swallow tablets 
Are well enough to be up and about for at least half the day (performance status 0, 1 or 2) 
Are willing to use reliable contraception during treatment if there is any chance that you or your partner could become pregnant
Are at least 18 years old
You cannot join this trial if any of these apply. You
Have cancer that has spread to your brain or is pressing on your spinal cord (spinal cord compression) and this hasn't been treated or is causing symptoms. You can take part if cancer spread to your brain has been treated with surgery or radiotherapy, has not got worse in the last 4 weeks and if you have not needed to take steroids or anti epileptic drugs in the last 4 weeks 
Had any kind of cancer treatment in the last 3 weeks
Have already had chemotherapy for your uveal melanoma (including chemotherapy into the liver's blood supply or chemoembolisation) . You may be able to take part if you have any other local treatments to the liver (that have not included chemotherapy) and your cancer has continued to grow despite this treatment 
Are still having side effects from any anti cancer treatment, apart from hair loss
Have already had treatment with drugs that block the action of certain proteins called MEK, Ras or Raf 
Are allergic to the drugs used in this trial
Have had any other cancer in the last 3 years apart from non melanoma skin cancer that was successfully treated 
Have certain heart problems
Are HIV positive
Have hepatitis B or hepatitis C
Have a medical condition or have had treatment that means your body cannot absorb tablets so well. For example, conditions such as coeliac  disease or past surgery to remove part of your bowel of stomach 
Have any other serious medical condition or mental health problem that the trial team think could affect you taking part
Are pregnant or breastfeeding
Trial design
This is a phase 2 trial. The researchers need 123 people to join. 
It is a randomised trial. The people taking part are put into 1 of 3 treatment groups by a computer. Neither you nor your doctor will be able to decide which group you are in.  
Everyone has selumetinib. People in the other 2 groups also have paclitaxel. 
One group has selumetinib on its own
Another group has selumetinib and paclitaxel
The other group has selumetinib and paclitaxel except for 2 days before each treatment with paclitaxel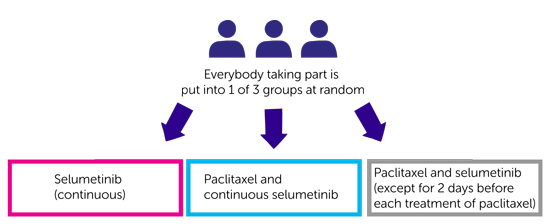 If you are in the 1st group, you have 3 selumetinib capsules twice a day, every day, at least 12 hours apart. You take the capsules with 240 mls of water. You need to have these on an empty stomach, no food and drink (other than water) for 2 hours before and 2 hours after. 
If you are in 2nd group, you have selumetinib capsules in the same way as the 1st group. You go to hospital to have paclitaxel through a drip into a vein (an infusion), this takes about 1 hour. You have this once every week for 3 weeks, then no paclitaxel in the 4th week. Each 4 week period is called a cycle of treatment. 
If you are in the 3rd group, you have selumetinib and paclitaxel in the same way as the 2nd group. Except that you do not take any selumetinib for 2 days before each paclitaxel treatment. You then start taking your capsules again on the day of your chemotherapy treatment.
If you are having paclitaxel, you have up to 6 cycles. Then you continue taking selumetinib twice a day, every day.
You continue selumetinib treatment for as long as it is helping you and you don't have any serious side effects. 
The researchers will ask for your permission to look at a sample of your cancer removed when you had surgery or a biopsy

. They may also ask if they can carry out a biopsy of your cancer at the end of your treatment. They want to look for biomarkers

 to find out why treatment might work for some people and not for others. 
You are asked to provide extra blood samples as part of this trial at various points throughout the trial. Where possible you have these at the same time as your routine blood tests. These samples will be used to help the researchers learn more about uveal melanoma.
You don't have to agree to these extra blood and cancer samples if you don't want to. You can still take part in the trial.
Hospital visits
You will see the doctors and have some tests before you start treatment. The tests include 
Blood tests
Physical examination
Heart trace (ECG )
Heart scan (echocardiogram ) or MUGA scan
Eye examination
CT scan of your chest and abdomen
You may also have an MRI scan. Everyone has further have blood tests before each cycle of treatment (every 4 weeks).  If you are having paclitaxel, you also have blood tests in the 2nd and 3rd week of each cycle (before each paclitaxel infusion).
During treatment you have 
•    CT scans (and possibly an MRI scan) about every 2 months 
•    An echocardiogram or MUGA scan every 3 months
If you develop any problems with your vision, you have regular eye examinations during and after treatment if necessary. 
If you stop treatment in this trial, you have a final appointment with a doctor in the trial team. They will examine you and ask about any side effects.  Your care will then continue with your own doctor who can discuss other treatment options and support with you.
If you stop treatment in this trial and your cancer has stayed the same and not started to grow (stable disease), you may have a CT scan every 2 months.
Side effects
As selumetinib is a new drug, there may be side effects we don't know about yet. If you have any of the following you should contact your medical team or study doctor immediately as you may need treatment 
Breathing difficulties and coughing
Chest pain or palpitations
Blurred vision
Swelling of face, arms and legs due to a build up of fluid (oedema)
Side effects also include
Tiredness (fatigue)
Skin changes such as rash, peeling, dryness and being more sensitive to the sun
An increase in blood pressure, your nurse will check your blood pressure regularly
The most common side effects of paclitaxel are 
A drop in blood cells causing an increased risk of infection, bleeding problems, tiredness and breathlessness 
Feeling or being sick
Low blood pressure, your nurse will check your blood pressure regularly
Sore mouth
Diarrhoea
Hair loss 
Aching joints and muscles 
Numbness and tingling in your hands and feet (peripheral neuropathy)
We have more information about paclitaxel.
How to join a clinical trial
Please note: In order to join a trial you will need to discuss it with your doctor, unless otherwise specified.
Please note - unless we state otherwise in the summary, you need to talk to your doctor about joining a trial.
Supported by
AstraZeneca
Cancer Research UK
Experimental Cancer Medicine Centre (ECMC)
NIHR Clinical Research Network: Cancer
University of Liverpool
Other information
This is Cancer Research UK trial number CRUK/13/033.
CRUK internal database number:
Please note - unless we state otherwise in the summary, you need to talk to your doctor about joining a trial.
Charlie took part in a trial to try new treatments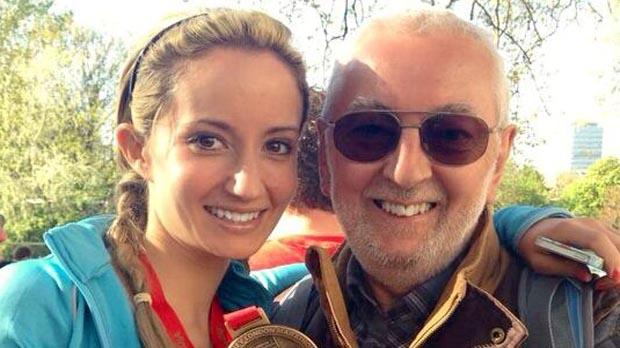 "I think it's really important that people keep signing up to these type of trials to push research forward."