A trial looking at saracatinib for pain caused by cancer spread to the bone (SarCaBon)
Cancer type:
Cancer spread to the bone
This trial was to see if a drug called saracatinib could reduce the pain that cancer spread to the bones can cause. 
This trial was open for people to join between 2014 and 2017, and the team published the results in 2019.
More about this trial
Cancer sometimes spreads from where it started to the bones. You may hear this called secondary bone cancer or bone metastases. Secondary bone cancer can make the bones break down and cause pain. The type of pain that secondary bone cancer causes can be difficult to control.
Researchers are trying to improve pain control for this group of people. In this trial they looked at a drug called saracatinib. It blocks a molecule called Src which may be involved with bone pain that cancer can cause. The team thought that having it could reduce pain levels. But they weren't sure so wanted to find out more. 
In this trial some people had saracatinib. And some people had a dummy drug (placebo)

. 
The main aims of the trial were to:
see if the pain that people reported was less with saracatinib than with the dummy drug
find out if people took fewer painkillers with saracatinib than with the dummy drug
see if symptoms related to pain and quality of life  improved with saracatinib
find out if saracatinib affected the rate at which cancer breaks down bone
Summary of results
The trial team found that saracatinib was not better than the dummy drug. It didn't help with the pain caused by cancer spread to the bone. But the researchers did find that it helped slow the rate at which cancer breaks down bone.
About this trial
The trial included people with bone pain who were having strong painkillers such as morphine. But the pain was difficult to control despite this. 
12 people joined this trial. The trial team had hoped to recruit more people but this was difficult to do for a number of reasons. For example the number of hospital visits and the fact that they may have had to take the dummy drug. 
The people who took part were put into 1 of 2 treatment groups at random

:
6 people had saracatinib
6 people had the dummy drug 
Everyone had treatment for 4 weeks. The people taking part also carried on taking their regular painkillers.
Results
The team looked at how well treatment worked. To do this they looked at how much pain people reported. 
The team measured their pain using a pain scale. Everyone filled in a pain diary at regular timepoints during the trial. The research team asked everyone to rate their pain in the previous 24 hours. They measured their:
worst pain
least pain
average pain
pain at the time of completing the questionnaire 
They rated this on a scale, from 0 to 10.
After 4 weeks of treatment the team didn't find a difference between the 2 groups in the levels of pain that people reported.
They also looked to see if there was a change in how many painkillers people took. But they didn't find that people who had saracatinib took fewer painkillers than those who took the dummy drug. 
Quality of life 
The team looked at how people rated their quality of life. The team found  there was very little difference between the 2 groups. 
Blood samples
The trial team looked at what happened to levels of saracatinib in the body. To do this they took blood samples during treatment and analysed them. They found that the levels of saracatinib in the body were good enough for it to target the Src molecule. 
Side effects
Most people who took part had side effects. About the same number of people in each group reported side effects and most of them were mild. 
The most common side effects of saracatinib included. 
changes in things such as memory and language (cognitive disturbance)
dizziness
extreme tiredness (fatigue)
feeling sick
One person developed hair loss and stopped taking part in the trial as a result. 
Conclusion
The research team say the trial showed that saracatinib wasn't better than the dummy drug to reduce pain. But they did find that it might reduce bone breakdown.  
The team say that it was difficult to get enough people to take part in the trial. So it was hard for them to draw firm conclusions.
All trial results help doctors and researchers understand more about different cancers and the best way to treat them. 
Where this information comes from    
We have based this summary on information from the research team. The information they sent us has been reviewed by independent specialists (peer reviewed

) and published in a medical journal. The figures we quote above were provided by the trial team who did the research. We have not analysed the data ourselves.
How to join a clinical trial
Please note: In order to join a trial you will need to discuss it with your doctor, unless otherwise specified.
Please note - unless we state otherwise in the summary, you need to talk to your doctor about joining a trial.
Supported by
AstraZeneca
Experimental Cancer Medicine Centre (ECMC)
Medical Research Council (MRC)
NIHR Clinical Research Network: Cancer
Sheffield Teaching Hospitals NHS Foundation Trust
University of Sheffield
If you have questions about the trial please contact our cancer information nurses
Freephone 0808 800 4040
CRUK internal database number:
Please note - unless we state otherwise in the summary, you need to talk to your doctor about joining a trial.
Charlie took part in a trial to try new treatments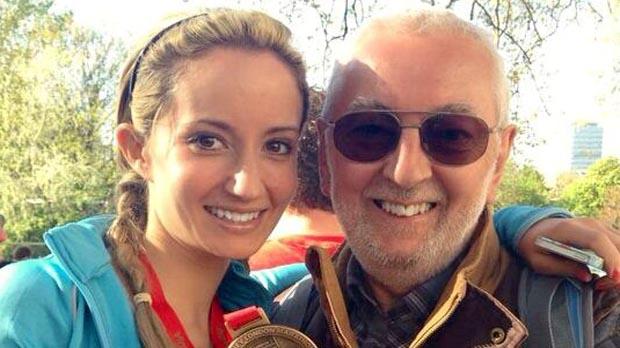 "I think it's really important that people keep signing up to these type of trials to push research forward."