A trial looking at pain control after surgery for a gynaecological cancer (TAPAS)
Please note - this trial is no longer recruiting patients. We hope to add results when they are available.
Cancer type:
Womb (uterine or endometrial) cancer
This trial is looking at numbing the tummy (abdomen) to control pain after surgery to remove cancer of the womb or ovaries. 
This trial is open to women who are having surgery at the Hammersmith Hospital London to remove ovarian cancer or womb (endometrial or uterine) cancer.
More about this trial
Doctors use surgery to remove most of the cancer before starting chemotherapy. People can have different levels of pain after this type of surgery but sometimes it can be severe. 
One method that can be used to help control the pain is to block the nerves that go to the skin of the abdomen. This is called a TAP nerve block. For this method a thin tube is put in the abdomen. A drug that numbs a small area (local anaesthetic) is given through the tube. 
TAP nerve block is already used but it isn't certain if it actually works. This is because of the big differences in the amount of pain that people experience after surgery. 
Also it could be that the local anaesthetic is being absorbed into the blood. And as a result the pain is relieved. 
In this trial everyone will have the local anaesthetic. Half will have it just under the skin (subcutaneously). The other half will have it as the TAP nerve block. 
The aim of this trial is to find if the TAP nerve block does improve pain control after surgery to remove cancer the ovaries or womb. 
Who can enter
The following bullet points list the entry conditions for this trial. Talk to your doctor or the trial team if you are unsure about any of these. They will be able to advise you. 
You may be able to join this trial if you are having surgery at the Hammersmith Hospital, London to remove one of the following cancers:
And you are between 30 and 75 years old.
You cannot join this trial if any of these apply. 
You are having a laparoscopy procedure done 
Your kidneys aren't working well enough. Your doctor will test for this 
You have ongoing (chronic) pain and are taking medication for it
You have a major problem such as haemophilia or a problem with your platelets that affects the way your blood clots 
You can't have a painkiller called ibuprofen because you have a peptic ulcer or asthma that is affected by taking ibuprofen
You are allergic to a local anaesthetic medication called lidocaine
You are taking an experimental medication or using a device as part of another clinical trial 
You are pregnant 
Trial design
This is a randomised trial. The researchers need 42 women to join. 
Everyone taking part is put into 1 of 2 groups. Neither you or your doctor can choose which group you are in. And neither you or the staff looking after you will know which group you are. This is called a double blinded trial. 
The 2 groups are:
a local anaesthetic just under the skin (subcutaneous)
a local anaesthetic alongside the nerves that go between the muscles from your spine to your skin (TAP)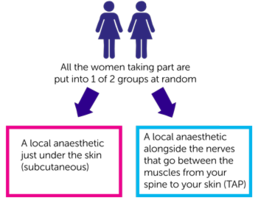 You have your surgery as usual to remove your cancer. During the surgery the surgeon will put a thin tube on each side of your tummy (abdomen). These are used for pain relief as you recover after surgery. 
You have the local anaesthetic (lidocaine) through these 2 tubes. These are attached to a pump that gives a continuous amount of lidocaine over 3 days. 
You also have a drip into a vein attached to a small machine (a PCA machine) that you control. When you feel any pain you press a button and strong painkilling drug is given. 
A member of the research team will see you daily for 4 days after your surgery and ask if: 
you have any pain 
you have felt sick
you have any itching
your bowels have returned to normal
They will also ask you to blow into a small machine:
before you go to surgery 
each day for 4 days after your surgery
This is to test how well your lungs are working. 
On day 3 they will ask you to fill in a questionnaire. It takes about 5 minutes to do. The questions are about your recovery since surgery. This is called a quality of recovery questionnaire. 
On days 1 and 2 after surgery extra blood samples are taken for the trial team. This is to check the amount of lidocaine in your blood. These are taken at the same time as your routine blood tests after surgery. 
Hospital visits
Taking part in the trial won't affect your surgery in any way. 
There are no extra hospital visits if you agree to take part in the trial. 
Side effects
Lidocaine is widely used and regarded as a safe drug. But if you get tingling around the mouth or a metallic taste in your mouth tell your nurse or doctor immediately. They can slow down how fast the lidocaine is given. 
TAP nerve block is widely used and is safe. The most common complication is the needle might not end up in the right place. But there have been no serious complications reported from using the TAP nerve block. 
Your doctor will talk to you about the surgery and TAP nerve block before you agree to take part. 
How to join a clinical trial
Please note: In order to join a trial you will need to discuss it with your doctor, unless otherwise specified.
Please note - unless we state otherwise in the summary, you need to talk to your doctor about joining a trial.
Supported by
Imperial College Healthcare NHS Trust
CRUK internal database number:
Please note - unless we state otherwise in the summary, you need to talk to your doctor about joining a trial.
Around 1 in 5 people take part in clinical trials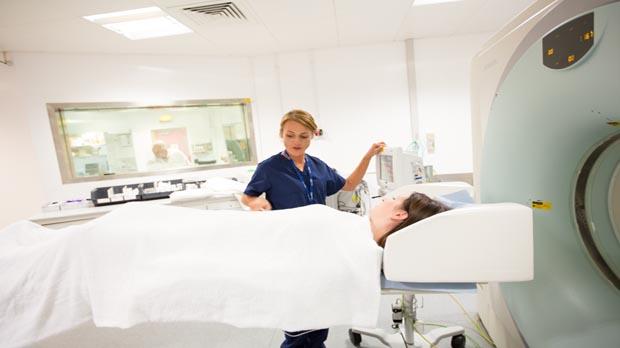 Around 1 in 5 people diagnosed with cancer in the UK take part in a clinical trial.