A trial looking at lapatinib before surgery for breast cancer
This trial looked at having a drug called lapatinib before surgery for breast cancer. This trial was supported by Cancer Research UK.
Lapatinib has already been tested in some clinical trials. The results showed that it may slow or stop cancer cells from growing, but we needed more research to understand how it worked and who it would help most.
There are a number of growth factor receptors on breast cancer cells. When these receptors are triggered, they tell the cell to grow and divide into 2 new cells. Lapatinib is a growth factor blocker. It blocks the activity of 2 of these receptors - EGFR

(Epidermal Growth Factor Receptor) and HER2

(Human Epidermal Growth Factor Receptor).
Doctors wanted to find out if lapatinib would work on breast cancers that do not have a high level of HER2 (HER2 negative). As all treatments have side effects, it was important that patients don't have treatments that don't work.
The aims of this trial were to
Find out what effect lapatinib had on breast cancer cells which were HER2 negative
Learn more about the side effects
Summary of results
The study team found that overall lapatinib didn't have much of an effect on breast cancer cells which were HER2 negative.
This was a phase 2 study. It recruited 31 women. Everyone had 4 to 6 weeks of lapatinib before their surgery.
The study team looked at a tissue sample (biopsy

) taken before surgery and another after surgery. They were looking for a drop in the levels of a particular protein made by cells when they divide and grow.
Of the 31 women, the team were able to look at the biopsies of 28. Although overall they didn't find a drop in the protein levels, in 4 of the biopsies they did find a significant drop.
25 women also had an ultrasound scan when they started lapatinib and after finishing it. The researchers did this to look at the change in the size of the cancer. Of these 25 women, the researchers found that the scan showed that in
4 women the cancer had shrunk – partial response
17 women the cancer had stayed the same size – stable disease
4 women the cancer had continued to grow
The most common side effects of lapatinib were
Tiredness (fatigue)
Tummy (abdominal) pain
Wheezing
The study team also did an extra study (sub study) using PET scans. They wanted to find out how good these scans were at showing how well the breast cancer responded to lapatinib.
6 women took part in this sub study. The team took a PET scan before the women started lapatinib and another after they finished. When the team compared the 2 PET scans of each woman they found that for 3 women the scans showed a response and for 3 the scans didn't.
The study team concluded that although lapatinib didn't affect the majority of HER2 negative breast cancers, there may be a small number where it does.
We have based this summary on information from the team who ran the trial. The information they sent us has been reviewed by independent specialists (peer reviewed

) and published in a medical journal. The figures we quote above were provided by the trial team. We have not analysed the data ourselves.
How to join a clinical trial
Please note: In order to join a trial you will need to discuss it with your doctor, unless otherwise specified.
Please note - unless we state otherwise in the summary, you need to talk to your doctor about joining a trial.
Chief Investigator
Professor Charles Coombes
Supported by
Cancer Research UK
Experimental Cancer Medicine Centre (ECMC)
GlaxoSmithKline (GSK)
Imperial Clinical Trials Unit – Cancer (ICTU-Ca)
Imperial College London
National Institute for Health Research Cancer Research Network (NCRN)
Other information
This is Cancer Research UK trial number CRUK/06/033.
If you have questions about the trial please contact our cancer information nurses
Freephone 0808 800 4040
CRUK internal database number:
Please note - unless we state otherwise in the summary, you need to talk to your doctor about joining a trial.
Caroline took part in a clinical trial for breast cancer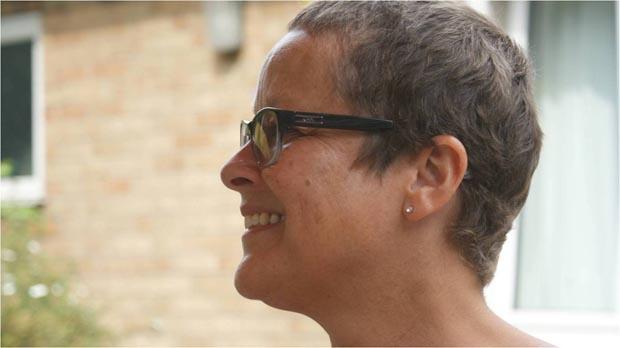 "I had treatment last year and I want to give something back."