A trial looking at immunotherapy for people with acute lymphoblastic leukaemia using CAR T-cells (ALLCAR19)
Cancer type:
Acute lymphoblastic leukaemia (ALL)
This trial is looking at changing immune cells to recognize and attack acute lymphoblastic leukaemia (ALL) cells. The changed immune cells are called CD19CAR T-cells.
It is for people who have either:
ALL with a high risk of coming back after treatment (high risk ALL)
ALL that has come back after treatment (relapsed)   
More about this trial
The CD19CAR T-cell treatment is a type of gene therapy that uses a type of white blood cells called T cells. These cells are part of your immune system. T cells are very good at fighting infection but not so good at recognising and attacking cancer cells.
In this trial, doctors use your own T cells to make the CD19CAR T-cell treatment. Doctors will take some of your white cells using a procedure called leucapheresis.
They grow your white cells in the laboratory alongside a virus called lentivirus. The lentivirus has been changed so it can't cause an infection. The lentivirus has a gene that can recognise a protein called CD19. Some ALL cancer cells have a high number of CD19 proteins on their surface.
Doctors hope that this gene will be passed on to your T cells. So, when you have the changed T cells back (the CD19CAR T-cells treatment), they recognise and attack the ALL cells.
The main aims of this trial are to learn more about this type of treatment, how well it works and its side effects.
Who can enter
The following bullet points list the entry conditions for this trial. Talk to your doctor or the trial team if you are unsure about any of these. They will be able to advise you.
Who can take part
You may be able to join this trial if all of the following apply:
you have high risk ALL or your ALL has come back after treatment (relapsed)
your ALL cells have the protein CD19 on its surface (your doctor will check for this)
you have satisfactory blood tests results
doctors think you can have leucapheresis
you are between 16 and 65 years old
you might need help but can mostly care for yourself (Karnofsky performance status 60 and above)
you are willing to use reliable contraception during treatment and for a year afterwards
Who can't take part
You cannot join this trial if any of these apply.
Cancer related
You:
have ALL that has spread to your brain or spinal cord
have ALL outside the bone marrow (extramedullary)
developed a condition called graft versus host disease (GVHD) after having a donor transplant (stem cell transplant), and this is causing you moderate or severe problems
Medical conditions
You:
have breathing problems, the amount of oxygen in your blood (oxygen saturation) is lower than 90% or you need oxygen therapy
have problems with the rhythm of your heart (arrhythmias) or any other significant heart problems
have problems with your brain, spinal cord and nerves
have an infection
have HIV
have active hepatitis B or hepatitis C (you will be able to take part if you have had these conditions in the past)
Other
You:
are allergic to albumin or dimethyl sulfoxide (DMSO)
are pregnant or breastfeeding 
Trial design
This is a phase 1 trial. The researchers need around 20 people to take part.
Everyone has treatment with CD19CAR T cells. There are 3 steps to your treatment:
leucapheresis
lymphodepletion
CD19CAR T-cells drip
Leucapheresis
Leucapheresis means having white blood cells removed from your bloodstream.
You lie on a bed or reclining chair and have a tube into a vein in each arm. One tube removes blood and passes it into a machine that removes white blood cells. The rest of your blood cells and blood fluid (plasma) go back into your body through the tube in your other arm.
The white cells are taken to the laboratory and grown alongside the lentivirus. Growing the white cells in the laboratory might not always work. Your doctor will talk to you about this and about what other treatments that might be available, if this happens.
Lymphodepletion
A week before you have the CD19CAR T-cells drip, you have chemotherapy. This helps the CD19CAR T-cells to grow in your body.
You have:
CD19CAR T-cells drip
You have the changed white cells (CD19CAR T-cells) as a drip into your bloodstream.You have it as 2 separate doses. You have the first dose 2 days after you finish chemotherapy and the second dose 9 days after the first. It takes about 10 minutes each time you have it.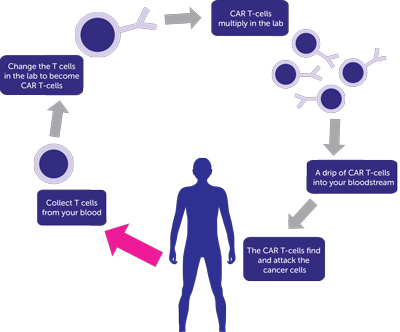 Hospital visits
You see a doctor and have some tests before taking part. These tests might include:
a physical examination
blood tests
You go to hospital to have leucapheresis. This is done as a day case. It takes about 2 weeks for the changed T cells to be made in the laboratory. Your doctor or nurse will tell you when you need to go back to the hospital to have chemotherapy.
You see a doctor before having the CD19CAR T-cells treatment and have:
a physical examination
blood tests
bone marrow test
You stay in hospital for some time after having the CD19CAR T-cells treatment. You have regular blood tests, physical examinations and bone marrow tests. Your doctor will tell you how long you need to stay in hospital for. It can be for up to 2 weeks.
You may be able to stay in a hotel close to the hospital if you are well enough. Your doctor will talk to you about this.
After treatment, you see the doctor every 4 weeks for 6 months. You then see them:
every 6 weeks for 6 months
every 3 months for a year
then every year for up to 8 years
Side effects
Your doctor will talk to you about the possible side effects of all the treatment before you agree to take part in this trial.
Leucapheresis is a safe procedure and most people don't have side effects. The side effects might include:
feeling lightheaded
a drop in the level of calcium in your blood causing numbness and tingling in the hands, feet and around the mouth
muscles spasms
Your doctor can give you treatment for the low level of calcium if this happens.
We have information about the side effects of cyclophosphamide and fludarabine.
You might have side effects when you are having the CD19CAR T-cells drip. These might include:
high temperature (fever) and shivering
difficulty breathing
skin rash
feeling sick
a condition called cytokine release syndrome (CRS) – symptoms of CRS can be mild (fever and muscle ache), moderate (such as low blood pressure and difficulty breathing), or severe (can cause death)
confusion and difficulty speaking
fits (seizures)
an increased risk of getting an infection
an increased risk of having another cancer (this is rare) 
How to join a clinical trial
Please note: In order to join a trial you will need to discuss it with your doctor, unless otherwise specified.
Please note - unless we state otherwise in the summary, you need to talk to your doctor about joining a trial.
Supported by
University College London (UCL)
National Institute for Health Research (NIHR)
CRUK internal database number:
Please note - unless we state otherwise in the summary, you need to talk to your doctor about joining a trial.
Cara took part in a clinical trial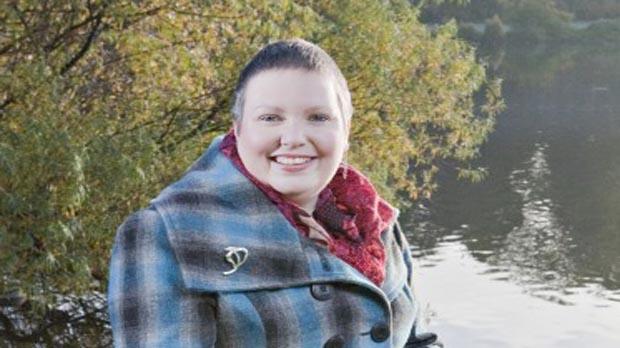 "I am glad that taking part in a trial might help others on their own cancer journey."