A trial looking at a drug called ch14.18/CHO for neuroblastoma in children and young people (GD2)
Please note - this trial is no longer recruiting patients. We hope to add results when they are available.
This trial is looking at different ways of giving a drug called ch14.18/CHO as treatment for neuroblastoma. The trial is supported by Cancer Research UK.
This trial is for children and young people up to and including the age of 21. We use the term 'you' in this summary, but of course if you are a parent, we are referring to your child.
More about this trial
Neuroblastoma develops in specialised nerve cells and most commonly starts in the nerve cells of the adrenal glands

. Doctors can use different treatments for neuroblastoma including surgery, chemotherapy, radiotherapy and a stem cell transplant.
But even if neuroblastoma has responded well to treatment, it still tends to come back later, and is difficult to treat successfully. Doctors are looking for new ways to treat neuroblastoma and stop it coming back.
In this trial, they are looking at a drug called ch14.18/CHO, which is a type of biological therapy called a monoclonal antibody.  These can seek out cancer cells by looking for particular proteins on the cancer cells..
We know from other trials that this antibody can help people with neuroblastoma, but without a strong painkiller such as morphine, it causes severe pain. Children and young people having this treatment have had to stay in hospital and be given strong painkillers. But we also know from research that giving each dose of ch14.18/CHO more slowly, over a longer period of time, reduces the pain it causes.
In this trial, researchers are looking at different ways of giving the drug over a number of days, to see if this means people could have the treatment more comfortably and not need to be in hospital all the time having strong painkillers. You will need to take painkillers by mouth or use skin patches.
Who can enter
You may be able to enter this trial if
You have neuroblastoma and have already had at least 1 high dose treatment followed by a stem cell transplant
Your neuroblastoma responded slowly to the first line of treatment , or your disease came back after treatment but has responded again to further treatment
You are at least 1 year old but no more than 21 years old
You are well enough to take part – if you are over 16 years old this means that you are able to care for yourself but may not be able to carry on with all your normal activities or do active work (Karnofsky score of more than 70), for children under 16 it means that you are up and around but may not play as energetically as usual (Lansky score of more than 70)
You finished any other treatment at least 2 weeks ago and have recovered from any side effects
You have satisfactory blood test results
You are willing to use reliable contraception if you are sexually active and there is any chance you or your partner could become pregnant
You cannot enter this trial if you
Have neuroblastoma that your doctors can see is getting worse at this time
Have cancer that has spread to your brain or spinal cord (central nervous system) unless this has been successfully treated, scans show that it has not got any worse for at least 4 weeks and you have not needed to take steroids in the last 4 weeks
Are currently having any other treatment for your neuroblastoma, or you need to have chemotherapy, radiotherapy or surgery to treat symptoms at the time of joining the trial
Have had major surgery in the last 4 weeks or have not fully recovered from earlier surgery
Have already had the trial drug or another antibody called ch14.18/SP2/0
Need to have transfusions of platelets
Need to take steroids or other drugs that can affect your immune system
Have any other medical condition that the trial doctors think could affect you taking part
Are HIV or hepatitis B positive
Are pregnant or breastfeeding
Trial design
This is a phase 1/2 trial. The researchers hope that about 300 people will join the trial in total.
In the first part of the trial, the researchers were looking for the best way to give the monoclonal antibody ch14.18/CHO. Everybody had ch14.18/CHO, a drug called aldesleukin and a drug called isotretinoin.
Aldesleukin may help the antibody to work better against neuroblastoma. Isotretinoin makes any neuroblastoma cells left in the body less active.
The 2nd part of the trial is looking at how much this treatment helps.
Results from the first part of this trial and from another trial for neuroblastoma suggested that the drug aldesleukin caused a number of side effects. And it wasn't clear whether aldesleukin really does help the antibody to work. So this second part of the trial is randomised. The people taking part are put into 1 of 2 treatment groups by computer. Neither you nor your doctor can decide which group you are in.
People in one group have ch14.18/CHO, aldesleukin and isotretinoin. People in the other group have ch14.18/CHO and isotretinoin (without aldesleukin).
You have ch14.18/CHO slowly though a drip into a thin tube that goes directly into one of the blood vessels in your chest. This is called a central line. If you don't already have a central line, you will have one put in before you start treatment.
The antibody drip will take 10 days. You have treatment in cycles. The length of the cycle is 35 days. You have up to 5 cycles of treatment all together lasting around 6 months.
If you are in the group having aldesleukin,  you have it as injections under your skin (subcutaneous injection). You have an injection once a day for 5 days before you have the antibody drip and then on the first 5 days that you have the drip.
People in both groups have isotretinoin (also known as 13-cis retinoic acid) in each cycle of treatment. You take isotretinoin by mouth or through a feeding tube twice a day for 2 weeks, starting shortly after you finish the antibody drip.
Hospital visits
Before you start treatment, you see the trial doctors and have some tests. The tests include
Physical examination
Blood tests and urine tests
Heart trace (ECG )
Heart ultrasound (echocardiogram )
Chest X-ray
Tests to see how well your lungs are working (lung function tests )
A test that looks at the activity in your brain (EEG )
You will also have other scans and a bone marrow test.
During the trial treatment, you have regular blood tests. You have more scans after 2 cycles of treatment. You may also have another bone marrow test.
In the 1st cycle of treatment, you stay in hospital to have the antibody drip and the aldesleukin injections. After that, the trial team may talk to you about having part of the treatment at home with very regular visits to the hospital.
When you finish the treatment, you have more blood tests, a heart trace and a heart ultrasound, lung function tests, an EEG and a bone marrow test. They trial team will collect information about how you are getting on for at least 3 years.
Side effects
As ch14.18/CHO is still quite a new drug, there may be side effects we don't know about yet. The known side effects include
Pain – this can be in the back, tummy, arms, legs or other parts of the body
Numbness and tingling in your hands and feet (peripheral neuropathy)
Changes in your blood pressure
Fast heartbeat which may cause pain in your chest
Itching
High temperature (fever)
Low levels of salt in your blood
Loss of appetite
The side effects of aldesleukin include
High temperature (fever) and chills
Flu like symptoms such as headache, tiredness, aches and pains
Loss of appetite
Weakness or tiredness (fatigue)
A drop in your blood pressure
Rash or itching
A build up of fluid causing swelling – this can be in your face, neck, arms, tummy or legs
An increase in the number of white cells in your blood
A drop in the number of red blood cells and platelets causing bleeding problems and tiredness
The side effects of isotretinoin include
Dryness of the skin around the mouth and nose which can cause bleeding
Dry, cracked or bleeding lips
An increased risk of sunburn
Aches and pains in your joints
Back pain
An increase in the amount of fat and calcium in your blood
The trial team will talk to you about all the possible side effects before you agree to join the trial.
How to join a clinical trial
Please note: In order to join a trial you will need to discuss it with your doctor, unless otherwise specified.
Please note - unless we state otherwise in the summary, you need to talk to your doctor about joining a trial.
Supported by
Cancer Research UK
Experimental Cancer Medicine Centre (ECMC)
International Society of Paediatric Oncology European Neuroblastoma (SIOPEN) Group
National Institute for Health Research Cancer Research Network (NCRN)
Neuroblastoma Children's Cancer Alliance
Other information
This is Cancer Research UK trial number CRUK/11/035.
CRUK internal database number:
Please note - unless we state otherwise in the summary, you need to talk to your doctor about joining a trial.
Cara took part in a clinical trial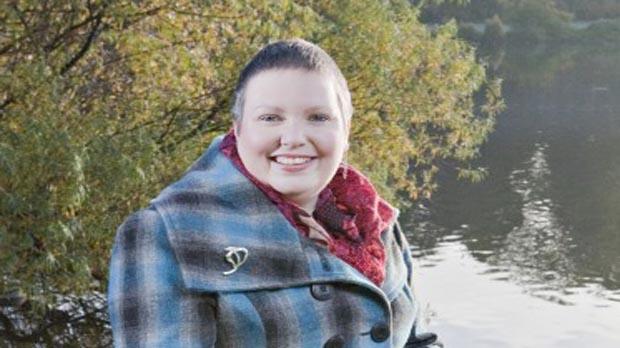 "I am glad that taking part in a trial might help others on their own cancer journey."