A trial looking at cetuximab and radiotherapy for pancreatic cancer (PACER)
This study looked at conformal radiotherapy combined with a new biological therapy called cetuximab as a treatment for pancreatic cancer that had not grown outside the pancreas (localised pancreatic cancer). This trial was supported by Cancer Research UK.
If you cannot have surgery to remove your pancreatic cancer and it hasn't spread to other parts of your body, doctors may suggest treatment with radiotherapy on its own, or with chemotherapy. But unfortunately, the cancer can continue to grow and spread despite treatment. So doctors are keen to see if newer treatments have better results.
Cetuximab (Erbitux) is a type of biological therapy, called a monoclonal antibody. Doctors have tested it in people with head and neck cancers and bowel cancer, and the results were promising. They hoped that cetuximab would help radiotherapy to work better for people with pancreatic cancer.
In this trial people had cetuximab with conformal radiotherapy. This is a different way of planning and giving radiotherapy. It uses computer technology that allows the cancer to be seen in 3 dimensions (3D). This helps to shape the radiotherapy beam so it fits more exactly to the area where the cancer is.
The aims of this trial were to find out how well cetuximab and conformal radiotherapy worked together for localised pancreatic cancer and to find out more about the side effects.
Summary of results
The trial team found that cetuximab and radiotherapy had fewer side effects compared with other treatments. It worked well to control the localised cancer. But it didn't work as well as other treatments in recent clinical trials did at preventing the cancer from spreading.
A small number of people responded well, with good long term control of their localised cancer. This suggests that the treatment might be suitable for particular people. The study also showed that people were able to have skin and blood samples taken for analysis which may help identify those particular people who could gain the greatest benefit from this treatment in the future.
This was a phase 2 trial. It recruited 21 people. Everyone had cetuximab and radiotherapy over a 7 week course of treatment.
6 months after treatment, the researchers were able to measure the treated pancreatic cancer in 14 people to find out how well they responded. They found that for
2 people their cancer had shrunk – partial response
11 people their cancer had not changed very much– stable disease
1 person their cancer had continued to grow
For about 9 out of every 10 people cetuximab and radiotherapy was good at slowing down their cancer growth. This is better than other treatments.
The researchers also looked at whether the cancer had spread to other parts of the body in 18 people. They found that for
5 people the cancer hadn't spread
13 people the cancer had spread
For about 3 out of every 10 people cetuximab and radiotherapy had stopped the cancer from spreading for 6 months. This is not as good as some other treatments where the spread of the pancreatic cancer can be delayed for longer in more people.
The most common side effects were
The researchers concluded that cetuximab and conformal radiotherapy had few side effects and was good at controlling localised pancreatic cancer. Further research is needed to
Find out why it worked well in some people but not in others
Identify which people would respond well
Find better ways of preventing pancreatic cancer from spreading
We have based this summary on information from the team who ran the trial.  As far as we are aware, the information they sent us has not been reviewed independently (peer reviewed

) or published in a medical journal yet. The figures we quote above were provided by the trial team. We have not analysed the data ourselves.
How to join a clinical trial
Please note: In order to join a trial you will need to discuss it with your doctor, unless otherwise specified.
Please note - unless we state otherwise in the summary, you need to talk to your doctor about joining a trial.
Chief Investigator
Dr Juan Valle
Prof Pat Price
Dr Andrew Jackson
Supported by
Cancer Research UK
Experimental Cancer Medicine Centre (ECMC)
Merck Serono UK
National Institute for Health Research Cancer Research Network (NCRN)
The Christie NHS Foundation Trust
Other information
This is Cancer Research UK trial number CRUK/07/036.
CRUK internal database number:
Please note - unless we state otherwise in the summary, you need to talk to your doctor about joining a trial.
Charlie took part in a trial to try new treatments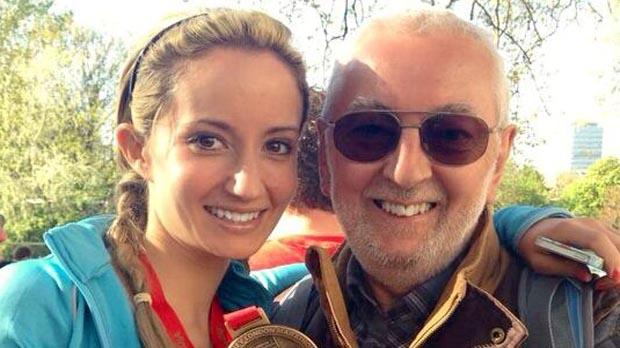 "I think it's really important that people keep signing up to these type of trials to push research forward."