A trial looking at azacitidine for acute myeloid leukaemia or myelodysplasia (AMADEUS)
Cancer type:
Acute myeloid leukaemia (AML)
Myelodysplastic syndrome (MDS)
This trial is looking at having a drug called azacitidine after a stem cell transplant. 
It is for people who are having a stem cell transplant

 with somebody else's cells. This is called an allogeneic transplant

. 
More about this trial
Chemotherapy is the usual treatment for acute myeloid leukaemia (AML) and high risk myelodysplastic syndrome (MDS). 
MDS blood cells have changes in them that make them develop abnormal cells. They might not need treatment for many years, but some go on to develop into acute myeloid leukaemia (AML). High risk MDS means there is more chance it might develop into AML over time. High risk MDS is treated in a similar way to AML. 
After chemotherapy some people go on to have a stem cell transplant. But sometimes the leukaemia comes back. So researchers are looking for ways to improve treatment. They know from research that having treatment after a transplant in some blood cancers reduces the risk of the leukaemia coming back. 
In this trial, they are looking at a drug called azacitidine. It is already a treatment for AML in people who can't have chemotherapy and a stem cell transplant. 
Some people have azacitidine. And some have a dummy drug (placebo

).
The main aims of the trial are to:
find out if azacitidine reduces the risk of AML or MDS coming back after a stem cell transplant 
learn more about the side effects
Who can enter
The following bullet points list the entry conditions for this trial. Talk to your doctor or the trial team if you are unsure about any of these. They will be able to advise you. 
Who can take part
You may be able to join this trial if all of the following apply. You:
have AML or high risk MDS
are having a stem cell transplant with someone else's cells
can start treatment between 42 days and 84 days after your stem cell transplant
are well enough to be up and about for at least half the day (performance status 0, 1 or 2)
have satisfactory blood test results  
are willing to use 2 forms of reliable contraception during treatment and for 3 months afterwards if there is any chance you or your partner could become pregnant 
are at least 16 years old 
As well as the above, the following must also apply. 
Before you have the stem cell transplant. 
You hadn't had a stem cell transplant in the past.
If you have high risk MDS less than 10% of your bone marrow  was made up of immature cells called blasts.
If you have AML, you had less than 5% of blasts in your blood. 
After you have the stem cell transplant. 
If you have AML, you had about 5% blasts or less in your bone marrow.
If you have MDS, the transplant worked well and you had a blast count of 5% or less in the blood marrow.
Who can't take part
You cannot join this trial if any of these apply. 
Cancer related
You:
are having chemotherapy or a targeted drug   after your stem cell transplant
have had azacitidine, decitabine or a similar drug in the past
have had lenalidomide, thalidomide or pomalidomide in the last 28 days
had a type of stem cell transplant called a haploidentical or a cord blood transplant
have moderate to severe graft versus host disease (GVHD ) that is causing symptoms (you may be able to take part if you have GVHD that is controlled with low dose steroids
are taking high doses of steroids
have had any other cancer apart from cancer treated 5 years ago with the aim to cure and there have been no signs of it since apart from basal cell skin cancer , squamous cell skin cancer , CIS  of the cervix, LCIS , very early prostate cancer, chronic myelomonocytic leukaemia (CMML) or AML caused by MDS
Medical conditions
You:
have inflammatory bowel disease, for example Chron's disease, ulcerative colitis or any other digestive problem or disorder that can affect how you absorb medication 
have problems with your heart, such as a heart attack in the last 6 months
have a condition where your blood doesn't clot properly
have an active infection that isn't getting better with treatment
have HIV 
have an active hepatitis B or hepatitis C infection
have any other medical condition or mental health problem that the trial team think would affect you taking part
Other 
You: 
are allergic or sensitive to azacitidine or mannitol
are pregnant or breastfeeding 
Trial design
This is a phase 3 trial. The researchers need 324 people from the UK to take part. 
It is a randomised trial. A computer puts you into treatment groups. Neither you nor your doctor will be able to decide which group you are in. This is called a double blind trial. 
You have 1 of the following:
azacitidine
a dummy drug (placebo )
Azacitidine and the dummy drug are tablets. You start treatment between 42 days and 84 days after your stem cell transplant. You have treatment in cycles. Each 28 day period is a
cycle of treatment.
  Day 1 is the first day of each treatment cycle. 
You:
take 1 tablet every day on day 1 to 14
don't take any tablets on day 15 to 28
You have treatment for up to a year. 
You fill in a patient diary to record the treatment you take each day.
Quality of life
The trial team ask you to fill out a questionnaire before you start treatment and at set times during treatment. The questionnaire asks about side effects and how you've been feeling. This is called a quality of life study. 
Samples for research
You give some extra blood samples and a bone marrow sample

 during treatment. You give the samples at specific times and the trial team give you more information about this. 
They plan to use the samples to see how well treatment is working.
Hospital visits
You see a doctor and have some tests before you can take part. These include:
physical examination
blood tests
a heart scan (echocardiogram )
You might also need to have a bone marrow test. 
You have the above tests again during and after your treatment. Where possible you have the blood tests at the same time as your routine blood tests. 
When you finish treatment, you see the doctor for a check up:
1 month later
3 months for 2 years 
Side effects
The trial team will monitor you during the time you have treatment and you'll have a phone number to call if you are worried about anything. 
As azacitidine is a new treatment for people with AML or MDS after a stem cell transplant, there might be some side effects we don't know about yet. 
The most common side effects of azacitidine are:
a drop in blood cells causing an increased risk of infection, bleeding problems, tiredness and breathlessness
an increased risk of infection including pneumonia 
feeling tired, unwell or weak
fever
sore throat with swelling or nostril pain
low blood levels of potassium in the blood which may cause tiredness, muscle weakness or cramps, or an irregular heart beat
pain (including muscles, joints, back, chest or stomach)
dizziness
headache
difficulty sleeping
shortness of breath
bruising, including tiny red or purple spots under the skin or other tissue
nosebleeds
 
How to join a clinical trial
Please note: In order to join a trial you will need to discuss it with your doctor, unless otherwise specified.
Please note - unless we state otherwise in the summary, you need to talk to your doctor about joining a trial.
Chief Investigator
Professor Charles Craddock
Supported by
Birmingham University
IMPACT partnership 
CRUK internal database number:
Please note - unless we state otherwise in the summary, you need to talk to your doctor about joining a trial.
Charlie took part in a trial to try new treatments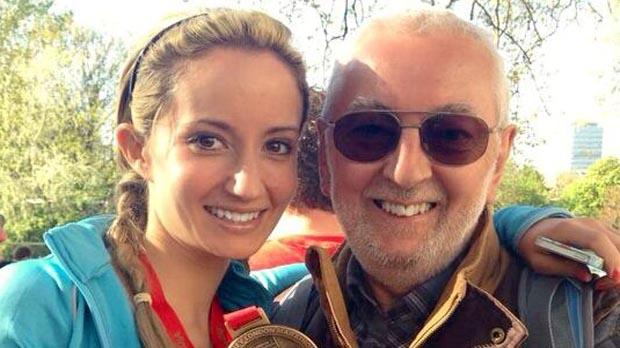 "I think it's really important that people keep signing up to these type of trials to push research forward."