A trial looking at a lifestyle programme for people who have had cancer treatment (ASCOT)
Coronavirus and cancer
We know it's a worrying time for people with cancer, we have information to help. If you have symptoms of cancer contact your doctor.
Please note - this trial is no longer recruiting patients. We hope to add results when they are available.
Cancer type:
Bowel (colorectal) cancer
This trial is looking at promoting a healthy lifestyle for people who have had treatment for one of the following types of cancer.
More about this trial
The researchers running this trial have developed a lifestyle programme. The programme is a lifestyle booklet that provides advice on diet and exercise and tips on how to lead a healthy lifestyle.
In this trial, they would like to find out more about what patients think about the programme and if it helps them to change their current habits and lead a healthier lifestyle.
The aim of the trial is to see how useful people find the lifestyle programme after their treatment for cancer. They hope that the information they get from this trial will help them to design better lifestyle programmes for people who have had treatment for breast, bowel or prostate cancer.
Who can enter
You may be able to join this trial if all of the following apply. You
Were diagnosed with breast, prostate or bowel cancer in 2012, 2013, 2014 or 2015 and the cancer hadn't spread to another part of your body
Speak and understand English
Are at least 18 years old
You cannot join this trial if you
Are having regular treatment in hospital for your cancer such as radiotherapy or chemotherapy (you may still be able to take part if you are having tablets that you take at home )
Wouldn't be able to complete the questionnaires due to problems with your memory or concentration (cognitive impairment)
Trial design
This is a pilot trial. The researchers need 2,500 people to take part. It is randomised. The people taking part are put into 1 of 2 groups by a computer. Neither you nor the researchers will be able to decide which group you are in.
People one group will be given the lifestyle booklet
People in the other group continue with their usual lifestyle
At the beginning of the trial, the researchers will phone you to ask some detailed questions about your diet. They also send you a questionnaire. It will ask about your diet, level of physical activity, if you smoke and drink and how you are feeling (your quality of life).  They will send you another questionnaire 3 months later and 6 months after that.
At each of these times, they will also send you a small device that you attach to your clothes to measure the number of steps you take. This is called a pedometer. You wear it for a week each time and then return it to the trial team.
At the end of the trial, the team may interview you about your experiences of taking part. This interview will take about an hour.
Hospital visits
You won't have any extra hospital appointments as a result of taking part in this trial.
Side effects
There are no side effects as a result of taking part in this trial.
How to join a clinical trial
Please note: In order to join a trial you will need to discuss it with your doctor, unless otherwise specified.
Please note - unless we state otherwise in the summary, you need to talk to your doctor about joining a trial.
Chief Investigator
Dr Abigail Fisher
Dr Rebecca Beeken
Supported by
Experimental Cancer Medicine Centre (ECMC)
NIHR Clinical Research Network: Cancer
University College London
CRUK internal database number:
Please note - unless we state otherwise in the summary, you need to talk to your doctor about joining a trial.
Charlie took part in a trial to try new treatments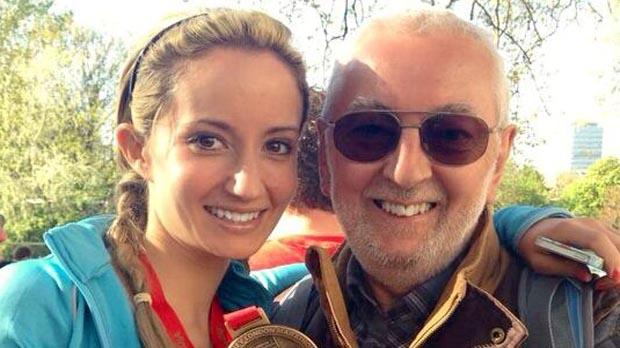 "I think it's really important that people keep signing up to these type of trials to push research forward."