A trial looking at 2 new tests to help select chemotherapy before surgery for breast cancer (ROSCO)
Coronavirus and cancer
We know it's a worrying time for people with cancer, we have information to help. If you have symptoms of cancer contact your doctor.
Coronavirus and cancer
We know it's a worrying time for people with cancer, we have information to help. If you have symptoms of cancer contact your doctor.
This trial is looking at 2 tests called CEP17 and TOP2A to help doctors decide the best type of chemotherapy to give before surgery for invasive breast cancer. This trial is supported by Cancer Research UK.
More about this trial
Doctors often give chemotherapy first to help shrink tumours before surgery for breast cancer. If you have invasive breast cancer you might be offered a combination of drugs that includes a taxane such as docetaxel (also called Taxotere). Or you might have combination that includes an anthracycline such as epirubicin.
At the moment, doctors usually give both drugs one after the other. These drugs work in different ways to kill cancer cells. For some people epirubicin works well and for other people docetaxel works well. But doctors aren't sure which drugs work best for which people. All  drugs have side effects and doctors don't want to give drugs that people don't need.
In this trial, researchers are looking at 2 new tests. The tests are called CEP17 and TOP2A. They may help doctors to work out who benefits most from having epirubicin or who would benefit from having docetaxel.
The aims of the trial are to find out
How well the tests work in showing who will benefit from having a taxane and who will benefit from having an anthracycline
More about quality of life
Who can enter
The following bullet points list the entry conditions for this trial. If you are unsure about any of these speak with your doctor or the trial team. They will be able to advise you.
You may be able to join this trial if one of the following apply.
If you have one tumour,
     o It measures more than 20mm across or
     o It is any size and has spread into the skin, chest wall or both or
     o It is an inflammatory breast cancer tumour (a cancer in which the overlying skin is red, swollen painful to the touch)
If you have more than 1 tumour, the total measured areas of the tumours are at least 20mm
If you have cancer spread to the glands under the arm (axilla), a tissue sample (biopsy) confirms the cancer has spread to lymph nodes under the arms or the lymph nodes
As well as the above, all of the following must apply.
You have invasive breast cancer
Your doctor thinks you are suitable to have chemotherapy before surgery
You are fit enough to have chemotherapy
The trial team can test a sample of tissue (biopsy) you had taken before having chemotherapy
You are well enough to take part (performance status 0 or 1)
You have satisfactory blood test results
You are willing to use reliable contraception during treatment and for 6 months afterwards if there is any chance that you or your partner could become pregnant
You are at least 18 years old
You cannot join this trial if any of these apply. You
Have a tumour that is low or medium grade and has receptors for the hormones oestrogen (is oestrogen receptor positive and progesterone receptor positive)
Have had invasive breast cancer in the past
Have cancer that has spread to another part of the body
Have had chemotherapy
Have had a lot of radiotherapy to your bone marrow
Have had hormone therapy before surgery unless you had it for less than 6 weeks
Are currently having chemotherapy, hormone therapy or any other treatment for breast cancer
Have had a heart attack in the last 6 months and you are HER 2 positive
Have significant heart problems
Have high blood pressure that isn't well controlled with medication
Have bleeding problems
Have an infection that isn't getting better with medication
Have had another cancer in the last 5 years apart from successfully treated early cancers or any other cancer that has been treated with the aim to cure and there hasn't been any sign of it for at least 5 years
Have had a live vaccination in the last month
Have any other medical condition or mental health problem that the trial team think would affect you taking part in this trial
Are pregnant or breastfeeding
Trial design
This is a phase 3 trial. The trial team need 1,056 people to take part.
To begin with, a sample of tissue you had taken when you had a biopsy will be sent to a specialist laboratory. They test the sample for both CEP17 and TOP2A. If, for some reason, the researchers can't test your tissue sample for CEP 17 or TOP2A, you won't be able to take part in the trial.
This is a randomised trial. The people taking part are put into treatment groups by a computer. Neither you nor your doctor will be able to decide which group you are in.
One group have chemotherapy that includes a taxane drug
The other group have chemotherapy that includes an anthracycline drug
Everyone has chemotherapy followed by surgery.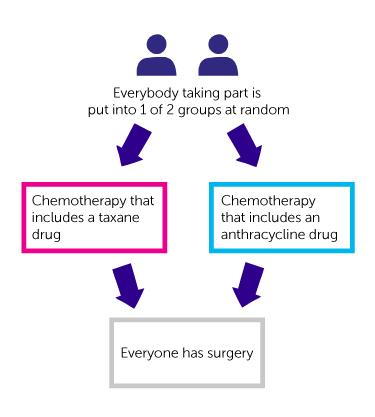 In this trial, the chemotherapy combination that includes a taxane drug is called TC. It includes 2 drugs called
Docetaxel (also called Taxotere)
Cyclophosphamide
The chemotherapy combination that includes epirubicin is called FEC. FEC includes 3 drugs called
5-Fluorouracil (also known as 5 FU)
Epirubicin
Cyclophosphamide
You have either FEC or TC once every 3 weeks. Each 3 week period is called a cycle of treatment. You have treatment as a drip into a vein. You have up to 4 cycles of treatment to begin with.
If your cancer is HER2 positive you also have trastuzumab alongside chemotherapy. This is usual treatment for people with HER2 positive breast cancer. You have it either as a drip into a vein or injections under the skin. You have it once every 3 weeks for up to 1 year.
After 4 cycles of treatment you have a scan. If it shows the cancer hasn't shrunk very much, you may have a further 4 cycles of chemotherapy before surgery.
If it has shrunk enough, you have surgery. Doctors look at the tissue removed during the operation to see if there is any cancer left. If the cancer has completely disappeared, you may or may not have 2 more cycles of chemotherapy. This is up to you and your doctor to decide. If the cancer hasn't completely disappeared, you have further chemotherapy after surgery.  If you had FEC initially you have TC. If you had TC initially you now have FEC.
The researchers are also doing a small sub study looking at test called a sentinel node biopsy.
It is usual to have an ultrasound scan to look at the lymph glands (sometimes called lymph nodes) under your arm. If they look abnormal you have a biopsy. If there is cancer in the nodes, you have all the nodes under the arm removed during surgery. This is called an axillary dissection or axillary clearance.
The doctors can also check the lymph nodes during surgery using a sentinel node biopsy. But they don't know if sentinel node biopsy is a reliable way of telling if the cancer has completely disappeared if it was in the nodes before you had chemotherapy. In this trial, doctors would like to do a sentinel node biopsy and an axillary clearance all at once during surgery. This will make the operation slightly longer.
This part of the trial is only open to people with cancer under their arm found before they start treatment. If you don't want to take part in the sub study, you don't have to. You can still take part in the trial.
The trial team will ask you to fill out a questionnaire before you start treatment and at set times during treatment and after you finish treatment. The questionnaire will ask about side effects and how you've been feeling. This is a quality of life study.
Hospital visits
You see the doctor to have some tests before taking part in the trial. These include
You have your chemotherapy and surgery at the hospital. How long you stay in hospital after surgery depends on the type of operation you have. Your doctor can tell more about this.
You see the trial team
For a check up 6 weeks after surgery
Once a year for 5 years
Side effects
The most common side effect of chemotherapy drugs include
A common side effect of epirubicin is heart damage, but this usually happens with higher doses than the doses used in this trial.
The most common side effects of docetaxel are
Nerve damage such as numbness and tingling in your hands and feet (peripheral neuropathy)
Joint aches and muscle pain
We have more information on the side effects of
How to join a clinical trial
Please note: In order to join a trial you will need to discuss it with your doctor, unless otherwise specified.
Please note - unless we state otherwise in the summary, you need to talk to your doctor about joining a trial.
Supported by
Cancer Research UK
Experimental Cancer Medicine Centre (ECMC)
University of Birmingham
Other information
This is Cancer Research UK trial number CRUK/12/046.
Questions about cancer? Contact our information nurses
CRUK internal database number:
Please note - unless we state otherwise in the summary, you need to talk to your doctor about joining a trial.
Caroline took part in a clinical trial for breast cancer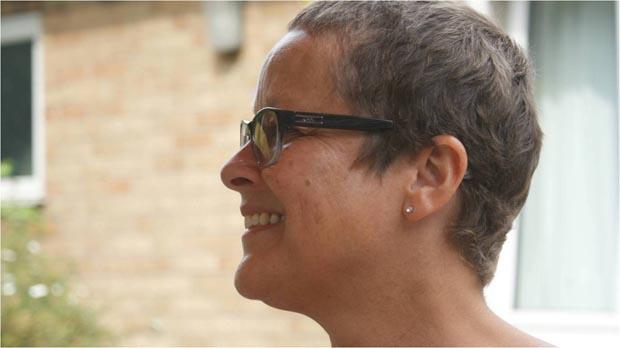 "I had treatment last year and I want to give something back."