A trial looking at denosumab for early breast cancer (D-CARE)
Please note - this trial is no longer recruiting patients. We hope to add results when they are available.
This trial is trying to find out if denosumab can stop or delay breast cancer spreading to the bones. It is for women who have early breast cancer and their doctors think there is a high risk of it coming back or spreading to their bones.
Doctors treat early breast cancer with surgery, radiotherapy, hormone therapy, chemotherapy or biological therapy. Most women begin treatment with surgery to remove their cancer. But they often have one or more other treatments to lower the chance of the cancer coming back in the breast, or spreading elsewhere in the body. This is called adjuvant therapy.
In this trial, researchers are looking at a drug called denosumab as adjuvant therapy. It is a type of biological therapy called a monoclonal antibody. Denosumab may help to stop breast cancer spreading to the bones.
The aims of the study are to
See if having denosumab, as well as standard treatment for early breast cancer, can stop the cancer spreading to the bones, or increase the length of time before this happens
Learn more about the side effects
Who can enter
You can enter this trial if you
Have breast cancer that is stage 2 or 3
Have cancer that your doctors think has a high risk of coming back – this may be because you have cancer cells in the lymph nodes under your arm, or the tumour is larger than 5cm across or has grown into the skin or chest wall (stage T3 or T4)
Have had, or are going to have surgery to completely remove your breast cancer as well as having standard treatments to reduce the risk of cancer coming back – these may include chemotherapy, hormone therapy or biological therapy before or after surgery
Have satisfactory blood test results
Are well enough to carry out all your normal activities, apart from heavy physical work (performance status of 0 or 1)
Are willing to use reliable methods of contraception during the trial treatment and for 7 months afterwards if there is any chance you could become pregnant
Are female and at least 18 years old
You cannot enter this trial if you
Have cancer that has spread to another part of your body (metastatic cancer)
Have had breast cancer in the past – you can still take part if you have had ductal carcinoma in situ (DCIS) or lobular carcinoma in situ (LCIS)
Have osteoporosis that is being treated or that your doctor thinks is likely to need treating soon
Have ever had an infection in the bone (osteomyelitis) or a rare condition called osteonecrosis of the jaw
Need to have surgery to your teeth or mouth, or you have had surgery to your teeth or mouth and it has not healed up yet
Have ever had drugs called bisphosphonates through a drip into a vein, or have taken any bisphosphonate drugs by mouth in the last year
Have ever had denosumab
Have had an experimental drug as part of another clinical trial in the last month
Have any other medical condition that the trial doctors think would affect you taking part in this trial
Are pregnant or breastfeeding
Trial design
The trial will recruit about 4,500 people in a number of countries around the world. It is a randomised trial. The people taking part are put into 1 of 2 treatment groups by a computer. Neither you nor your doctor will be able to decide which group you are in. And neither you nor your doctor will know which group you are in either. This is called a double blind trial.
People in group 1 have denosumab as an injection under the skin (subcutaneous injection ) once a month for 6 months and then once every 3 months for the next 4 and a half years
People in group 2 have injections in the same way, but they are a dummy drug (placebo )
Everybody taking part in the study will take vitamin D and calcium supplements every day. Your doctor will prescribe these for you free of charge.
If you have already had surgery to remove your cancer, the researchers will get a sample of the cancer tissue removed. They will study this, along with blood samples, to learn more about how characteristics of your tumour or certain genes may affect the way breast cancer grows and how people respond to denosumab.
The researchers will use some of your blood and cancer tissue samples to look for biomarkers. These are substances in the body that doctors can measure to help them tell how a disease is developing or how a treatment is working. They hope that in the future, biomarkers may help them to work out who is most likely to benefit from denosumab.
If results from this trial show that denosumab helps to stop cancer spreading to the bones, any woman still having treatment will be able to have denosumab for the remainder of their 5 years of treatment. If the results show that denosumab does not help, then all women will stop taking study treatment. In that case, your doctor will talk to you about other possible treatment options that are available.
Hospital visits
You will see a doctor and have some tests before you start treatment. The tests include
Physical examination (including an examination of your mouth)
Mammogram (unless you have had a total mastectomy)
Blood tests
You will go to the hospital every 3 or 4 weeks for the first 6 months and then every 3 months for the next 4 and a half years. You will have blood tests and an injection under the skin each time. These visits will last about 1 to 2 hours. Every 6 months, you will have an examination of your mouth to check that your mouth and jaw are healthy. And every 3 months, the trial team will ask you to give a urine sample.
Every year during the trial treatment you will have a
Bone scan
CT scan or MRI
Mammogram
After you finish treatment, the trial team will see you at the hospital one more time, and you have more tests and scans. This visit will take 2 to 3 hours. For the next 6 months after this visit the trial team will contact you by phone or see you at the hospital once a month. These phone calls should take no more than about 15 minutes.
After 6 months, you will have another blood test at the hospital. After this, a member of the trial team will contact you every 3 or 6 months to see how you are doing. You may also have bone scans and CT or MRI scans once a year.
Side effects
As denosumab is still quite a new drug, there may be some side effects we don't know about yet. From earlier trials, we know the possible side effects include
Low levels of calcium in the blood which can cause tingling or muscle cramps (you take calcium and vitamin D supplements to help stop this happening)
Osteonecrosis of the jaw
Skin infections
How to join a clinical trial
Please note: In order to join a trial you will need to discuss it with your doctor, unless otherwise specified.
Please note - unless we state otherwise in the summary, you need to talk to your doctor about joining a trial.
Supported by
Amgen
Experimental Cancer Medicine Centre (ECMC)
NIHR Clinical Research Network: Cancer
If you have questions about the trial please contact our cancer information nurses
Freephone 0808 800 4040
CRUK internal database number:
Please note - unless we state otherwise in the summary, you need to talk to your doctor about joining a trial.
Caroline took part in a clinical trial for breast cancer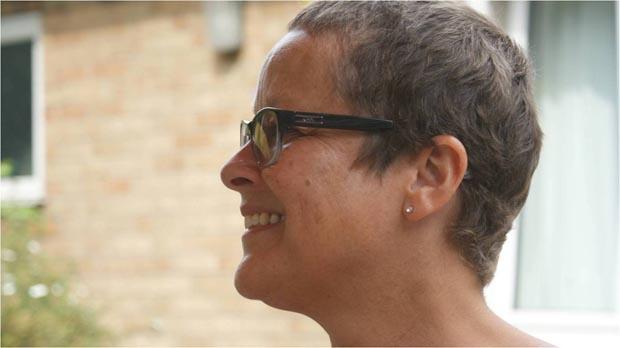 "I had treatment last year and I want to give something back."