A trial of chemotherapy and hyperthermia for early bladder cancer (HIVEC II)
Please note - this trial is no longer recruiting patients. We hope to add results when they are available.
This trial is looking at mitomycin C alongside a new treatment called hyperthermia for people with early stage bladder cancer. It is for people with newly diagnosed bladder cancer or bladder cancer that has come back after initial treatment.
More about this trial
Doctors usually treat early bladder cancer with surgery and a chemotherapy drug called mitomycin C. You have the chemotherapy into the bladder. This is called intravesical treatment. But sometimes the cancer can come back. So doctors want to improve treatment for people in this situation.
Hyperthermia is a new treatment that involves treating the bladder with heated chemotherapy. A device heats the mitomycin C to between 42° and 44° degrees centigrade and the chemotherapy is washed through the bladder.
In this trial doctors are comparing hyperthermia and mitomycin C with mitomycin C alone. The aim of this trial is to find out
Which treatment is better at controlling cancer growth
More about the side effects
How the treatment affects quality of life
Who can enter
You may be able to join this trial if all of the following apply. You
Have recently been diagnosed with early stage bladder cancer that has not grown into the muscle wall (stage Ta or  T1) or you have had surgery to remove tumours from your bladder in the past and your cancer has come back but has not grown into the muscle wall
Have a medium risk of your bladder cancer coming back (the trial doctor can advise you about this)
Are well enough to be up and about for at least some of the day even if you need help looking after yourself (performance status of 0 or 1)
Have satisfactory blood test results
Are at least 18 years old
Are willing to use reliable contraception during treatment and for up to 6 weeks afterwards if there is any chance that you or your partner could become pregnant
You cannot join this trial if any of these apply.
Your bladder cancer has grown through the muscle wall of the bladder or further (T2, T3 or T4 bladder cancer)
You have a type of early stage bladder cancer called carcinoma in situ
You have a high risk of your cancer coming back after treatment (your doctor can advise you about this)
You have only one small area of cancer that is low grade
Your cancer is also in your prostate or either kidney
You have had chemotherapy into your bladder (intravesical chemotherapy) in the last 6 months, unless it was a single treatment after your surgery for bladder cancer
Your bladder can only hold  a limited volume
You are known to be allergic to mitomycin C
You are currently having chemotherapy for bladder cancer
You have had any other cancer in the last 5 years, unless it was a very early stage and has been successfully treated (the trial team can advise you about this)
You are pregnant or breastfeeding
Trial design
This is a phase 2 trial. The researchers need 259 people to join the trial. Everyone will have had surgery to remove the tumours from their bladder as part of their standard treatment.
It is a randomised trial. The people taking part are put into treatment groups by a computer. Neither you nor your doctor will be able to decide which group you are in.
People in one group have hyperthermia and mitomycin C. People in the other group have mitomycin C alone.
Everyone has treatment once a week for 6 weeks.
To have treatment into the bladder (intravesical treatment), you have a catheter (tube) put into your bladder through your urethra

. A device heats the mitomycin C to between 42° and 44°degrees centigrade. Your doctor puts the heated chemotherapy drug into the tube. If you are in the group having hyperthermia, you won't feel the raised temperature in your bladder. But you may feel some discomfort during the procedure. If necessary you can have painkillers.
If you agree to take part in this trial, the researchers may ask for extra blood samples, urine samples, and samples of your cancer (a biopsy

). These samples will be stored safely and used only for research. They may help researchers learn more about bladder cancer and how to treat it.
If you don't wish to give these extra samples for research, you don't have to. You can still take part in the trial.
The trial team will ask you to fill out a questionnaire before you start treatment, and every 3 months after you finish treatment. The questionnaire will ask about side effects and how you've been feeling. This is called a quality of life study.
Hospital visits
You will see the doctors and have some tests before you start treatment. The tests include
Physical examination
Blood tests and urine tests
CT scan of your kidneys
You will see the trial doctor for a checkup and an examination of the inside of your bladder (a cystoscopy) 6 weeks after treatment finishes. And then,
Every 3 months in the 1st  year after treatment
Every 6 months in the 2nd year after treatment
Side effects
The most common side effects of hyperthermia and mitomycin C are
Pain or bladder spasms
Pain when passing urine or having to pass urine more often
The side effects of mitomycin C into the bladder are usually mild. This is because the drugs tend to stay in your bladder. Very little gets into the bloodstream.
We have more information about the side effects of mitomycin C.
How to join a clinical trial
Please note: In order to join a trial you will need to discuss it with your doctor, unless otherwise specified.
Please note - unless we state otherwise in the summary, you need to talk to your doctor about joining a trial.
Supported by
Combat Medical Ltd
Experimental Cancer Medicine Centre (ECMC)
NIHR Clinical Research Network: Cancer
Queen Mary University of London
If you have questions about the trial please contact our cancer information nurses
Freephone 0808 800 4040
CRUK internal database number:
Please note - unless we state otherwise in the summary, you need to talk to your doctor about joining a trial.
Charlie took part in a trial to try new treatments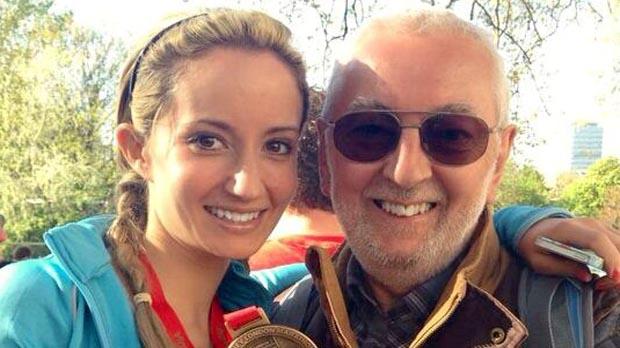 "I think it's really important that people keep signing up to these type of trials to push research forward."