A study of WT1 Immunotherapeutic alongside other standard treatments before surgery for breast cancer
Coronavirus and cancer
We know it's a worrying time for people with cancer, we have information to help. If you have symptoms of cancer contact your doctor.
Coronavirus and cancer
We know it's a worrying time for people with cancer, we have information to help. If you have symptoms of cancer contact your doctor.
Please note - this trial is no longer recruiting patients. We hope to add results when they are available.
This study is looking at a new treatment that may help your immune system to attack breast cancer cells. It is for people who have breast cancer that produces a protein (antigen

) called WT1.
Doctors sometimes give treatments such as chemotherapy, hormone therapy or biological therapy before surgery to remove breast cancer. It can help to shrink the cancer and make it more likely that you can have breast conserving surgery. Treatment before surgery is called neo adjuvant therapy.
Everybody taking part in this trial will have the neo adjuvant therapy that their doctor thinks is most suitable for them. This will be a standard treatment

and may be chemotherapy, hormone therapy or a combination of chemotherapy and a type of biological therapy called Herceptin. Some people taking part will also have a new treatment called WT1 Immunotherapeutic (also known as GSK2302024A).
WT1 Immunothearpeutic is a type of immunotherapy

that aims to train the immune system to kill cancer cells. You have injections of a product containing a protein (an antigen) called WT1. To help your immune system, the product also contains another substance called an adjuvant. The adjuvant is a mixture of natural and manmade substances that help the immune system to respond.
The WT1 protein is the same protein that is made by some breast cancer cells. If you have breast cancer that produces WT1, it is called a WT1 positive breast cancer. Before you can take part in this study, the trial doctors check whether or not your breast cancer is WT1 positive.
The aims of this trial are to find out
If WT1 Immunotherapeutic can trigger the immune system to produce cells that could kill WT1 positive breast cancer cells
What effect this has on breast cancer
How much it helps people with breast cancer
More about the side effects
Who can enter
You may be able to enter this trial if
You have been diagnosed with breast cancer that is stage 2 or 3
Your cancer cells produce the WT1 protein (the trial doctors will test for this before you can take part)
You are well enough to carry out all your normal activities, apart from heavy physical work (performance status of 0 or 1)
You have satisfactory blood test results
An echocardiogram or MUGA scan shows that your heart is working well
You are willing to use reliable contraception for a month before the treatment starts, during treatment and for 2 months afterwards if there is any chance you could become pregnant
You are at least 18 years old
You cannot enter this trial if you
Have breast cancer that has spread to another part of your body (apart from your lymph nodes)
Have breast cancer that was diagnosed by having an excision biopsy
Have already had any breast cancer treatment
Have had any other type of cancer unless the trial doctors think it is very likely this cancer has now been completely cured
Have had another experimental drug or treatment in the last month
Have an autoimmune disease (people who have a skin condition called vitiligo can take part)
Need to take steroids , or other drugs that damp down your immune system for more than 7 days at a time, unless it is a very low dose (you can take part if you use a steroid inhaler or steroid creams on your skin) – it is important that you don't stop taking steroids without speaking to your doctor
Have high blood pressure that is difficult to control with medication
Have a heart problem that is cause for concern or problems with other vital organs such as your liver or lungs
Have problems with your blood clotting or take drugs to thin your blood such as warfarin or heparin – you may be able to take part if you take a low dose of aspirin or heparin and it doesn't cause you problems with bleeding
Have had allergic reactions in the past which the trial doctors think could make it a problem for you to have the trial drug
Have any other serious medical condition that the trial doctors think could affect your taking part or would make it unsafe for you to do so
Are known to be HIV positive
Are pregnant or breastfeeding
Trial design
This is an international study that will recruit about 250 people. There are 4 different groups (cohorts)
It is a randomised trial. The people taking part are put into 1 of 2 treatment groups by a computer. Neither you nor your doctor will be able to decide which group you are in. And neither of you will know which group you are in either. This is called a double blind trial.
People in 1 group have WT1 Immunotherapeutic injections as well as standard neo adjuvant treatment
People in the other group have dummy injections (placebo ) as well as standard neo adjuvant treatment
There will be more people in the group having the trial drug - 2 out of 3 people joining the trial will be in the WT1 Immunotherapeutic group.
You have the injections into your upper arm or thigh once every 3 weeks. Each 3 week period is called a cycle of treatment. The number of times you have the injections depends on the other neo adjuvant therapy you are having and whether or not you have side effects. You may have up to 8 cycles of treatment, lasting nearly 6 months.
The trial team will ask your permission to use some of your blood and tissue samples for further research. They want to learn more about breast cancer and how this treatment works. They hope that in the future this will help doctors to work out who is most likely to benefit from the treatment. This is optional and if you don't want your samples to be used for this research, you can still take part in the trial.
Hospital visits
You will see the trial doctors and have some tests before you start treatment. The tests can include
Physical examination
Blood and urine tests
Heart trace (ECG )
Heart ultrasound (MUGA scan )
Chest X-ray
Ultrasound scan of your liver
If you are having chemotherapy and Herceptin or chemotherapy alone as your standard treatment, you have the WT1 Immunotherapeutic injections every 3 weeks when you go to hospital to have chemotherapy. So there will be no extra hospital visits.
If you are having hormone therapy tablets that you take at home, you will have an extra hospital visit once every 3 weeks to have the injections.
At each visit, you have blood tests and the trial doctor will examine you. At some visits you have tests to check how well your heart and kidneys are working. You have a scan in the 4th cycle of treatment.
At the end of the treatment you see the trial doctors and have another scan. You then have breast cancer surgery within the next 6 weeks. The researchers will keep a sample of tissue that is removed when you have surgery to see how the treatment has affected the cancer.
You see the trial doctors again a month after your surgery and then every 6 months for 3 years. In the following 3 years, the trial team will phone you or your GP every 6 months to see how you are.
Side effects
As WT1 Immunotherapeutic is a new drug, there may be some side effects we don't know about yet. In trials so far, the side effects have included
Redness, swelling, pain or itching where you have the injections
High temperature (fever) or chills and flu like symptoms
Tiredness (fatigue) or weakness
Aching muscles or joints
Headache
Some normal cells in your kidneys and heart produce the WT1 protein, so it is possible that the treatment could cause damage to these organs. This has not happened to people in other cancer trials looking at this type of treatment. But during this trial, you will have tests to see how well your heart and kidneys are working.
It is also possible that the injections could cause an allergic reaction. The trial team will monitor you closely for at least half an hour after each injection and treat any problems straight away. Serious reactions to this type of treatment are very rare.
We have more information about the side effects of Herceptin, chemotherapy and hormone therapy for breast cancer.
How to join a clinical trial
Please note: In order to join a trial you will need to discuss it with your doctor, unless otherwise specified.
Please note - unless we state otherwise in the summary, you need to talk to your doctor about joining a trial.
Supported by
Experimental Cancer Medicine Centre (ECMC)
GlaxoSmithKline (GSK)
NIHR Clinical Research Network: Cancer
Questions about cancer? Contact our information nurses
CRUK internal database number:
Please note - unless we state otherwise in the summary, you need to talk to your doctor about joining a trial.
Caroline took part in a clinical trial for breast cancer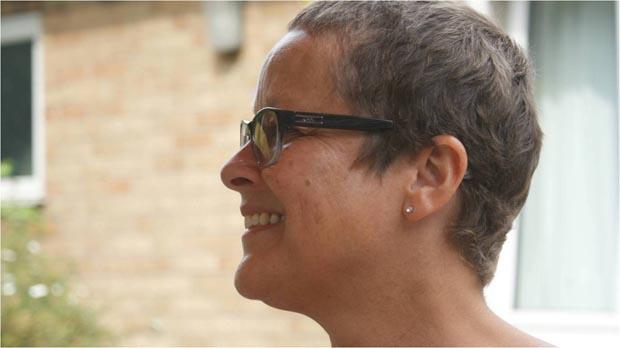 "I had treatment last year and I want to give something back."