A study using mobile phones to report side effects of chemotherapy (eSMART)
Please note - this trial is no longer recruiting patients. We hope to add results when they are available.
Cancer type:
Bowel (colorectal) cancer
This study is open to people having chemotherapy for breast cancer, bowel (colorectal) cancer, non Hodgkin lymphoma and Hodgkin lymphoma.
More about this trial
Chemotherapy is a common treatment for people with your cancer. Like all treatments it has side effects. When side effects aren't managed well they can affect your quality of life

. 
You can often manage side effects at home without advice from the healthcare team such as a doctor or nurse. But there might be times you can't and need some advice from the healthcare team. 
In this study researchers are looking at using a mobile phone to report side effects of chemotherapy. You answer a short questionnaire on the mobile phone and record your temperature. This information is analysed and if necessary a member of the healthcare team will phone you back. 
The researchers want to compare using the mobile phone with the standard way of managing side effects to find if it is better or worse.
Who can enter
The following bullet points list the entry conditions for this study. Talk to your doctor or the study team if you are unsure about any of these. They will be able to advise you. 
You may be able to join this study if you have one of the following
And all of the following apply
You are about to start having chemotherapy
Your treatment cycle for chemotherapy is every 2 weeks, 3 weeks or 4 weeks 
You are having at least 3 cycles of chemotherapy treatment 
You are at least 18 years old
You cannot join this study if any of these apply
Your cancer or lymphoma has spread to another part of the body 
Your cancer or lymphoma has come back after previous treatment (relapsed)
You are having radiotherapy with chemotherapy (chemoradiation ) 
You are having chemotherapy every week
You have had chemotherapy in the past 5 years
You have had another cancer in the past 5 years
You have any other medical or mental health condition that the team think could affect you taking part
Trial design
The study team need 1,108 people to join. 
This is a randomised study. You are put into 1 of 2 groups by a computer. Neither you nor your doctor can choose which group you are in.
People using the mobile phone to manage their side effects
People managing their side effects in the usual way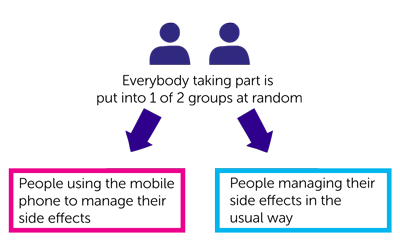 Mobile phone users
You have a mobile phone and a thermometer to take your temperature. A member of the team will show you how to use both the phone and the thermometer. You also have a booklet with instructions about how to use the phone and numbers to contact for help. 
During your chemotherapy you fill in a short questionnaire on the mobile phone. You do this once a day and anytime you feel unwell. The questionnaire will ask if you are at home or in hospital and about your side effects. You also take your temperature and record it on the phone. This should take no longer than 5 minutes. 
Your information is sent to a computer. It analyses the information. An alert is sent to the hospital if your side effects are moderate or severe. Then the following actions take place.
A doctor or nurse will phone you: 
for moderate side effects they'll do this within 4 to 8 hours if they feel that your symptoms need further attention 
for severe side effects it will be within 30 minutes
They will ask you about your side effects and give advice as appropriate. 
They will phone on your home number (landline) or your own mobile number. 

For people who say they are 'in hospital' your information is collected by the computer. But no alert is sent. 
On the mobile phone you are also able to get information about how to manage some side effects.
People not using the mobile phone
Your doctor or nurse will talk to you about managing your side effects and what to do if you need to contact someone for advice. 
Questionnaires
When you start chemotherapy and before the start of each treatment cycle you fill in a few questionnaires. This takes about 40 to 60 minutes. The questions are about: 
your quality of life
your confidence in doing tasks
any health needs
any anxiety
any work issues
using health care services such as seeing your GP
You complete the same questionnaires: 
a week after finishing chemotherapy
then at 3, 6, 9 and 12 months  
You might be asked about your side effects halfway through your chemotherapy treatment cycles. A member of the study team will phone you and ask a few questions. They won't be giving any advice on how to manage your side effects during the call.
Hospital visits
There are no extra hospital visits expected if you take part. 
You might be asked to come into hospital after talking to the doctor or nurse on the phone if they think this is best for your health and safety. 
Side effects
There are no side effects if you take part.
How to join a clinical trial
Please note: In order to join a trial you will need to discuss it with your doctor, unless otherwise specified.
Please note - unless we state otherwise in the summary, you need to talk to your doctor about joining a trial.
Supported by
European Commission's FP7 health programme
NIHR Clinical Research Network: Cancer
University of Strathclyde
CRUK internal database number:
Please note - unless we state otherwise in the summary, you need to talk to your doctor about joining a trial.
Around 1 in 5 people take part in clinical trials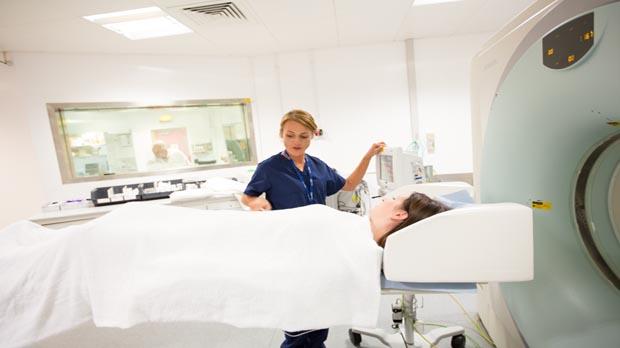 Around 1 in 5 people diagnosed with cancer in the UK take part in a clinical trial.