A study using isatin sulfonamide in PET-CT scans for lymphoma
Please note - this trial is no longer recruiting patients. We hope to add results when they are available.
This study is for people with lymphoma who are due to have chemotherapy.
Researchers are looking at ways to improve the way they diagnose and treat cancer. This study uses a new radioactive

drug (tracer) called isatin sulphonamide with PET-CT scans

. Doctors want to find out if it shows the changes in the activity of cancer cells more clearly. 
More about this trial
Doctors use PET scans to look at the changes in the activity of cancer cells during a treatment like chemotherapy

. CT scans give detailed pictures of the inside of the body.  
When doctors use a PET-CT scan, it shows them 
the changes in activity of the cancer cells
where it is happening
Isatin sulfonamide is a new radioactive drug (tracer). It may help doctors to see if lymphoma cancer cells that are dying from chemotherapy are sensitive to it. Researchers want to use it with PET-CT scans for lymphoma as it may help them to see where the cells are dying from chemotherapy.  
The aim of this study is to see how well dying lymphoma cancer cells absorb isatin sulfonamide. This way the researchers know how well your chemotherapy is working. Researchers also want to know how your body processes the drug
Who can enter
The following bullet points list the entry conditions for this study. Talk to your doctor or the study team if you are unsure about any of these. They will be able to advise you. 
You may be able to join this study if all of the following apply. You
Have a diagnosis of lymphoma
Are due to have chemotherapy for lymphoma
Have satisfactory blood test results
Have satisfactory kidney and liver function
Are well enough to be up and about for at least half the day (performance status 0, 1 or 2)
Are willing to use reliable contraception during the study and for 3 months after the last dose of isatin sulfonamide  if there is any chance you or your partner could become pregnant
Are 18 or older 
You cannot join this study if any of these apply. You
Have had chemotherapy, immunotherapy , biological therapy or treatment in another study in the last 14 days before getting your first dose of isatin sulfonamide
Have had anti-cancer drug treatment that has not cleared from your body to a satisfactory level before getting your first dose of isatin sulfonamide
Are being checked for radiation exposure due to your work
Are pregnant or breastfeeding
Trial design
This is a pilot study. The researchers need 20 people to join.
Screening visit
You have a screening visit before the start of the study. At this visit the researchers get all the necessary information they need from you. If all your results are satisfactory, you may take part in the study.
PET-CT scan visits
You have 2 PET-CT scans as part of the study
one before you start treatment
the second within 2 weeks of your first dose of chemotherapy
At each visit, you have a physical examination first.  
You have a drip into a vein in your arm. You have the radioactive isatin sulfonamide (tracer) through this before you have the scan.
The doctors also put a plastic needle into your forearm to take blood from. You have about 90mls (6 tablespoonfuls) of blood taken during the scan. The doctor takes blood samples at 5, 20 and 50 minutes after you have received the injection of isatin sulfonamide.
The scan takes about 70 minutes to do. You have to lie very still on your back during this time. Movement causes the pictures on the scan to blur. You can listen to music during the scan.
Extra blood samples
The researchers will ask you for up to 2 extra blood samples before each scan. These are for a test to measure dying cancer cells. They may keep these blood samples for future research after the study has finished.
The study finishes 48 hours after you've had your second PET-CT scan.  
You continue to have your normal follow up with your medical team.
Hospital visits
You visit the hospital for a screening visit and then for 2 PET-CT scan visits.  
During the screening visit the doctor
asks you your past medical history
asks about the medicines you are taking
does a physical examination
A paid taxi brings you to hospital for the PET-CT visits. You can have the screening visit and the first PET-CT scan on the same day.  
You may have extra hospital visits for routine tests before and during your chemotherapy. These tests are separate from the study.
Side effects
The study team will discuss any risks of the study with you in more detail.
You might feel dizzy immediately after the scan from lying flat and having blood samples taken
You might have some discomfort and bruising from the plastic needle in your arm afterwards
PET– CT scans are safe, but you get a small amount of radioactive isatin sulfonamide with each scan. This is the same amount of radiation that you would get from 9 years of normal background radiation in the UK  
We have information about having a PET-CT scan.
How to join a clinical trial
Please note: In order to join a trial you will need to discuss it with your doctor, unless otherwise specified.
Please note - unless we state otherwise in the summary, you need to talk to your doctor about joining a trial.
Supported by
European Union Innovative Medicines Initiative
Imperial College London
Medical Research Council (MRC)
National Institute for Health Research (NIHR)
CRUK internal database number:
Please note - unless we state otherwise in the summary, you need to talk to your doctor about joining a trial.
Around 1 in 5 people take part in clinical trials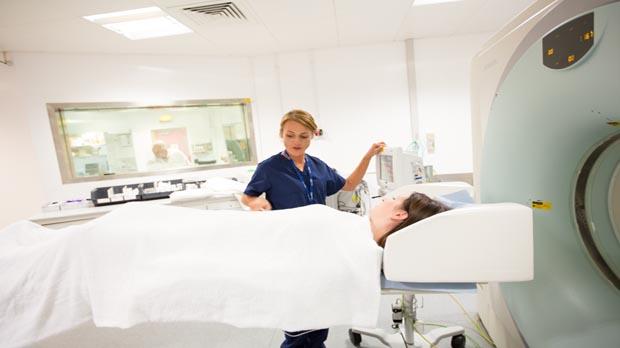 Around 1 in 5 people diagnosed with cancer in the UK take part in a clinical trial.