A study to prevent shoulder problems after breast cancer treatment (PROSPER)
Please note - this trial is no longer recruiting patients. We hope to add results when they are available.
In this study researchers want to see if a physiotherapist led exercise programme can reduce the risk of shoulder problems after surgery and radiotherapy.
More about this trial
Most women with breast cancer have surgery to the breast and armpit (axilla). Some also have radiotherapy. Having surgery or radiotherapy to your armpit puts you at a higher risk of getting shoulder problems. These problems can limit your activities and affect your quality of life

. Getting over treatment can also take longer. 
Starting shoulder exercises soon after surgery can prevent shoulder problems.
After breast cancer surgery in the NHS women usually get information leaflets. These recommend upper body movements. They might also see a physiotherapist

. But under the 23 hour breast care pathway, women go home soon after surgery and often don't see a physiotherapist.
The aim of this study is to find the best ways to prevent and treat shoulder problems after treatment for breast cancer. It will compare prescribed exercises with the usual care on an information leaflet.
Who can enter
The following bullet points list the entry conditions for this study. If you are unsure about any of these speak with your doctor or the study team. They will be able to advise you. 
You may be able to join this study if all of the following apply. You
Have invasive or non-invasive primary  breast cancer
Are due to have surgery to remove the cancer
Are at high risk of getting shoulder problems after surgery. This means you
 

Are due to have an axillary node clearance
Are due to have radiotherapy to your armpit or to the lymph nodes above your collar bone (supraclavicular) or to both areas
Already suffer from shoulder problems
Have a BMI of 30 or more
​Are to have surgery to your armpit following a sentinel lymph node biopsy that is related to your surgery for the cancer in your breast
 

Are told that you need radiotherapy to your armpit or to the lymph nodes above your collar bone (supraclavicular) or to both areas at a later stage (within 6 weeks of surgery)
Are 18 or older
Please note, you can still join the study if you:
Have had previous breast surgery for example a benign cancer or breast cyst
Have had a mastectomy on the opposite side in the past
You cannot join this study if any of these apply. You
Are male
Are having reconstructive surgery soon after surgery
Are having a sentinel lymph node biopsy with or without breast surgery unless you have other risks that put you at high risk of getting shoulder problems 
Are having breast surgery on both sides
Have signs of metastatic breast cancer at the time that you join the study
Trial design
This is a randomised study. This means a computer puts the people taking part into 1 of 2 treatment groups. Neither you nor your doctor will be able to decide which group you are in.
The researchers need 350 people to join this part of the study.
Group 1
You get information leaflets written by Breast Cancer Care commonly used in the NHS. The leaflets tell you about your surgery and give you exercises to do at different times after your surgery.
Group 2
You also get leaflets from Breast Cancer Care. But in addition you see a physiotherapist. 
Most people in group 2 will know that they need radiotherapy after surgery.  For others doctors will decide after their surgery that they need radiotherapy as well.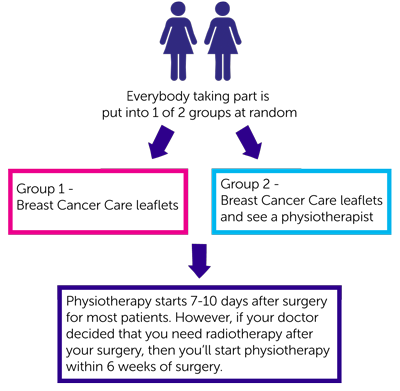 The physiotherapist does an assessment within 7 to 10 days after your surgery. If your doctor decides that you need radiotherapy after you've had your surgery, the physiotherapist will do an assessment within 6 weeks of your surgery.  
They give you a programme of arm and shoulder exercises. They then follow you up at 4 to 6 weeks after surgery and then at 12 to 16 weeks. You can see your physiotherapist more often if you need.
The researchers ask you to fill in questionnaires about your
feelings in general
arm and shoulder movement
usual daily activities
The questionnaires will be at the start of the study, at 6 and then 12 months. You return them via free post. If you give your permission, the researchers will send you a mobile text message to remind you that a questionnaire is due.
The researchers also contact you by post or telephone at 6 weeks after surgery to ask about your pain and wound.
You can stop taking part in the trial at any time without giving a reason. It will not affect your future care.
Interview Study
If you decide to take part in the trial, you can also agree to take part in the qualitative research study that is being run alongside the trial. 
In this study, you might
have an individual interview with a researcher
Or
you may take part in a small group discussion, called a focus group
The interviews will be recorded and written up. They help the researchers to learn about your feelings about joining the exercise study.
In some interviews, the researcher also wants to know what's hard about taking part in the exercise programme, and what motivates you.
If you don't want to take part in the trial but would like to tell the researchers why, you are still able to take part in the interview study.
Hospital visits
If you are in Group 1, you attend your usual follow up appointments at your hospital.
If you are in Group 2, you have 
1 assessment appointment with a physiotherapist in the beginning lasting 45 to 60 minutes 
Up to 6 face to face or telephone appointments with a physiotherapist (at least 3 of these will be face to face). 
Where possible, the physiotherapy appointments are on the day of your other clinic appointments.
The researchers will follow you up until 12 months after you joined the trial.
Side effects
You may have sore muscles in the beginning. This is a natural response if you're not used to doing exercises. The soreness should not last long.
How to join a clinical trial
Please note: In order to join a trial you will need to discuss it with your doctor, unless otherwise specified.
Please note - unless we state otherwise in the summary, you need to talk to your doctor about joining a trial.
Supported by
National Institute for Health Research (NIHR)
University of Warwick 
University Hospitals Coventry and Warwickshire
CRUK internal database number:
Please note - unless we state otherwise in the summary, you need to talk to your doctor about joining a trial.
Caroline took part in a clinical trial for breast cancer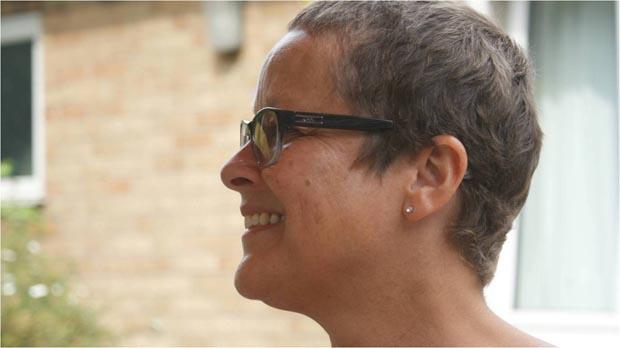 "I had treatment last year and I want to give something back."