A study to prevent heart damage that some chemotherapy drugs for breast cancer and non-hodgkin lymphoma can cause (PROACT)
Please note - this trial is no longer recruiting patients. We hope to add results when they are available.
This study is looking at a drug to stop heart damage caused by certain chemotherapy drugs for breast cancer and non-Hodgkin lymphoma.
More about this trial
Chemotherapy is a usual treatment for breast cancer and non-Hodgkin lymphoma (NHL). And anthracyclines are one of the common types of drug that you might have. Epirubicin and doxorubicin are types of anthracyclines. 
All chemotherapy drugs have side effects. One of the side effects of anthracycline drugs is damage to the heart. The drug damages the heart at the time of treatment but the symptoms might only begin years later. There is a small risk for some that it can cause long term heart damage. At the moment there isn't a treatment to stop heart damage caused by these drugs.
In this study, researchers are looking at a heart drug called enalapril. It is already a treatment for high blood pressure and other heart conditions. Early research shows that it might stop heart damage that chemotherapy can cause. So researchers want to find out more.
Some people in the study will have their chemotherapy as usual. And some will have chemotherapy and enalapril.
The aims of the trial are to:
find out if enalapril stops heart damage
learn more about the side effects
Who can enter
The following bullet points list the entry conditions for this study. Talk to your doctor or the study team if you are unsure about any of these. They will be able to advise you.
Who can take part
You may be able to join this study if all of the following apply.
You:
have breast cancer or NHL
have had surgery for breast cancer (for breast cancer patients only)
are due to have 6 cycles of epirubicin or doxorubicin
are willing to use reliable contraception if there is any chance you or your partner could become pregnant
Who can't take part
You cannot join this study if any of these apply.
Cancer related
You:
have cancer spread elsewhere in the body
have had treatment as part of a clinical trial in the last 6 months
have already had chemotherapy with an anthracycline drug such as epirubicin or doxorubicin
have had Herceptin in the past or you have planned treatment with Herceptin within 4 weeks of having anthracycline chemotherapy
have had or have been treated for any other type of cancer in the past 5 years
Medical conditions
You:
have any signs of damage to the heart
have had a heart attack in the past
have a problem with how the left side of your heart pumps blood around the body
have low blood pressure or high blood pressure that isn't well controlled with medication
are already taking an ACE inhibitor, or another type of drug called angiotensin receptor blocker (ARB)
can't have a type of drug called an ACE inhibitor for any reason, for example, you have a problem with how your kidneys work
your kidneys don't work very well
have high levels of potassium in the blood
have any other medical condition or mental health problem that the study team think would affect you taking part
Other
You are pregnant or breastfeeding
Trial design
This is a phase 3 study. The researchers hope 170 people will take part.
It is a randomised study. You are put into 1 of the 2 treatment groups by a computer. Neither you nor your doctor will be able to decide which group you are in.
You have 1 of the following treatments:
chemotherapy
chemotherapy and enalapril
The chemotherapy drugs you have will include the anthracycline drug epirubicin or doxorubicin. You have 1 of the following combinations of chemotherapy:
epirubicin and cyclophosphamide (EC)
fluorouracil, epirubicin and cyclophosphamide (FEC)
(rituximab), cyclophosphamide, doxorubicin, vincristine, prednisone (R-CHOP or CHOP)
Your doctor will decide which is the best combination of chemotherapy for you.
You have these as a drip into a vein or through a small syringe connected to a pump. Your doctor will tell you more about these drugs and how often you have them.
Enalapril is a tablet. You take the tablets twice a day. You start taking them at least 2 days before chemotherapy starts. You stop taking them 3 weeks after chemotherapy finishes. Your doctor or nurse will tell you when to stop taking them.
You start on a low dose of enalapril and the doctor will increase the dose slowly until they find a dose that suits you best.
You keep a diary if you take enalapril to record how much you take each day.
Research samples
The study team will ask to take some extra blood samples. They plan to use them for possible future research.
They would also like to take a swab at the start of the study from the inside of your mouth. They will store the sample. It might be useful to help work out why some people develop heart damage and some don't. 
Hospital visits
You see a doctor and have some tests before you join the study. These include:
urine tests
blood tests
heart scan (echocardiogram )
If you take enalapril, you may have up to three extra visits before chemotherapy starts to find the dose that suits you best.
You have your chemotherapy at the hospital once every 3 weeks.
The nurse will check your blood pressure at each hospital and you will have blood tests.
You see the study team 1 month after your last dose of chemotherapy. You have a repeat heart scan and some blood tests.
The research team would like to continue to follow you up and ask you to visit the hospital again from about 1 year after your treatment finishes. They will check your medical notes to find out information about your heart. They might also ask you to have another heart scan.
Side effects
Enalapril is a common treatment for people with high blood pressure and several heart problems.
The most common side effects are:
cough
dizziness
feeling sick
lack of energy
blurred visions
high levels of potassium in the blood
Your doctor will talk to you about all the possible side effects of treatment.
We have information about the side effects of:
How to join a clinical trial
Please note: In order to join a trial you will need to discuss it with your doctor, unless otherwise specified.
Please note - unless we state otherwise in the summary, you need to talk to your doctor about joining a trial.
Supported by
NIHR Research for Patient Benefit (RfPB) Programme (funder)
South Tees Hospitals NHS Foundation Trust
If you have questions about the trial please contact our cancer information nurses
Freephone 0808 800 4040
CRUK internal database number:
Please note - unless we state otherwise in the summary, you need to talk to your doctor about joining a trial.
Around 1 in 5 people take part in clinical trials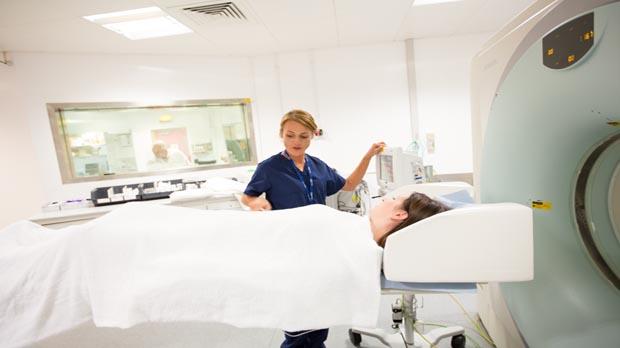 Around 1 in 5 people diagnosed with cancer in the UK take part in a clinical trial.