A study to find who needs to be screened for bowel cancer
Coronavirus and cancer
We know it's a worrying time for people with cancer, we have information to help. If you have symptoms of cancer contact your doctor.
Please note - this trial is no longer recruiting patients. We hope to add results when they are available.
Cancer type:
Bowel (colorectal) cancer
This study is looking at finding who is at risk of bowel cancer and needs a colonoscopy. It is also looking at people with a risk of inflammatory bowel disease (IBD). 
The people taking part in this study have already provided a poo (stool) sample and have been asked by their doctor to have a colonoscopy. It is for people going to the NHS Tayside colorectal service.  
More about this trial
If you have bowel problems, such as diarrhoea, bleeding from the back passage and tummy pain your GP will want you to have some tests. The main test is a colonoscopy. But it can be difficult to know who needs to have this test and who doesn't.
One way to look for bowel cancer is by testing a small amount of poo (faeces

) for blood. This is called faecal immunochemical test for haemoglobin (FIT).
If the results show there is blood in your poo, you have a colonoscopy. But most people who have blood in their poo don't have bowel cancer.
In this study, researchers want to see if factors such as
age
weight
gender
lifestyle
can be used, with the FIT results, to help decide who needs a colonoscopy and who can avoid having one. 
Who can enter
The following bullet points list the entry conditions for this study. Talk to your doctor or the study team if you are unsure about any of these. They will be able to advise you.
You may be able to join this study if you are going to the NHS Tayside colorectal service and all of the following apply
Your doctor has asked you to have a colonoscopy
You have had a FIT test 
You have had a blood test to check the number of red cells, white cells and platelets (full blood count) – doctors usually ask for this test before a colonoscopy
You are at least 16 years old
You cannot join this study if you are not able to have a colonoscopy for any reason. 
Trial design
The researchers need about 4000 people who are having a colonoscopy at the Tayside colorectal service to take part.
Everyone completes a questionnaire before their colonoscopy. It takes about 10 minutes to complete. You can have help to complete this if you need it.
The questionnaire asks
what you eat
how much physical activity you do
if you have diabetes
if you have problems with your bowels
whether you take any medication
if you smoke or drink alcohol
if you have family members with bowel problems
All the answers you give and the information collected about you is kept confidential

. It will not change any treatment you might need.
The researchers look at the answers, the results of the colonoscopy and the results of the blood and FIT test. They want to see if this information can show who is at a risk of bowel cancer and would need to have a colonoscopy.
Hospital visits
You don't have any extra visits as part of this study. Your colonoscopy will be done as part of your normal care. 
Side effects
There are no side effects associated with taking part in this study but you might have some side effects from the colonoscopy.
We have information about having a colonoscopy. 
How to join a clinical trial
Please note: In order to join a trial you will need to discuss it with your doctor, unless otherwise specified.
Please note - unless we state otherwise in the summary, you need to talk to your doctor about joining a trial.
Chief Investigator
Professor Robert JC Steele
Supported by
Chief Scientist Office (CSO)
NHS Tayside
NIHR Clinical Research Network: Cancer
University of Dunde
CRUK internal database number:
Please note - unless we state otherwise in the summary, you need to talk to your doctor about joining a trial.
Alan took part in a clinical trial for bowel cancer patients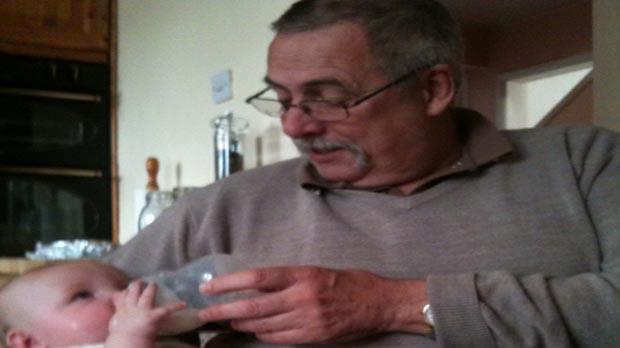 "I think it's essential that people keep signing up to these type of trials to push research forward."