A study of nivolumab and ipilimumab for people with advanced non small cell lung cancer (CA209817)
Please note - this trial is no longer recruiting patients. We hope to add results when they are available.
Cancer type:
Non small cell lung cancer
This study is testing a standard dose of nivolumab in people whose cancer has spread or come back (advanced cancer). Doctors usually work out your dose of nivolumab individually but recent research has found that the same dose could work for everyone.
In this study, the doctors want to find out how safe this dose is alongside ipilimumab and how well it works.
More about this trial
We know from research that nivolumab (Opdivo) and ipilimumab (Yervoy)  have helped some people with advanced non small cell lung cancer (NSCLC).
Nivolumab and ipilimumab are both types of targeted cancer treatments called immunotherapies. These drugs attach to cells that are part of the immune system

 called T cells, and stimulate the immune system to seek out cancer cells and kill them.
There are 2 parts to this study. Part A is for people having their first treatment for advanced NSCLC. Part A is now closed to recruitment with some exceptions. Part B is for people having their 2nd treatment. This part of the trial is still open.
The aims of the study are to find out:
if it is safe to have the same dose of nivolumab alongside ipilimumab
how well the dose of nivolumab works alongside ipilimumab
more about the side effects
Who can enter
The following bullet points list the entry conditions for this study. Talk to your doctor or the study team if you are unsure about any of these. They will be able to advise you.
To join part A, the following must apply.
You have non small cell lung cancer that has come back after treatment or spread elsewhere in the body
You haven't had any other treatment that reaches your whole body (systemic treatment) for advanced cancer- you might be able to join if you had chemotherapy before or after surgery to remove your cancer, or radiotherapy after surgery as long as you finished this treatment at least 6 months ago
To join part B, the following must apply.
You have non small cell lung cancer that has come back or spread elsewhere in the body and you have had a number of different treatments such as surgery or chemoradiation  for this
Your cancer got worse during or after treatment with a platinum drug such as cisplatin or carboplatin
For both groups, the following must also apply.
The study team can test a sample of your cancer (biopsy) that was removed when you had surgery or a biopsy for a protein called PD- L1. They may be able to use a sample you have had taken previously, if not you must be willing to have a new sample taken
Your cancer can be seen on a scan done within 28 days of starting study treatment
If you are having radiotherapy for symptoms (palliative radiotherapy ) this was completed at least 2 weeks before starting study treatment
You are well enough to carry out all your normal activities, apart from heavy physical work (performance status 0 or 1)
You have satisfactory blood test results
You are willing to use reliable contraception during the study and for up to 7 months afterwards there is any chance you or your partner could become pregnant
You are at least 18 years old
You cannot join this study if any of these apply.
Cancer related
You:
Have cancer that has spread to your brain or spinal cord (the central nervous system) unless this has been successfully treated and you haven't taken steroids in the past 2 weeks or you are on a low stable dose
Have cancer that has spread to the tissues surrounding your brain (carcinomatous meningitis)
Have cancer that has changes to genes affecting proteins called EGFR or ALK and there might be another treatment available
Have already had a drug that targets PD-1, PD-L1, PD-L2, CD137 or CTLA-4
Have already had ipilimumab or another drug that works in a similar way
Have any other cancer that needs treatment
Medical conditions
You:
Haven't recovered from major surgery or you have had a bad (traumatic) injury in the last 2 weeks
Have an autoimmune disease  unless it is vitiligo, type 1 diabetes, hair loss (alopecia), thyroid problems that are controlled by medications or a skin condition called psoriasis that doesn't need treatment  
Have been taking steroids or other medication that dampen down your immune system - you can take part if you use steroid creams, inhalers or eye drops
Have a condition called interstitial lung disease that is causing symptoms
Have any other medical condition or mental health problem that the study team think would affect you taking part in this study
Other
You:
Are allergic or sensitive to any of the treatments in this study
Are pregnant or breastfeeding
The study team also hope to include 200 people who might not fit some of the above exclusion criteria. For example, you might be able to take part if you are well enough and:
you have HIV
you have cancer spread to your brain that hasn't been treated and isn't causing symptoms and you aren't taking steroids or medication to stop you having fits
your kidneys and liver aren't working very well
Or, if you are up and about more than half the day and you can look after yourself, but can't work (performance status 2) and your doctor thinks you can tolerate study treatment
The study doctors can tell you more if the above apply and if you might be suitable to join this part of the study. 
Trial design
This phase 3/4 study is taking place worldwide. The researchers need 1,000 people to join including 37 from the UK.
You join:
part A if this is your first treatment for advanced cancer (this part of the trial is closed with some exceptions)
part B if this is your 2nd treatment for advanced cancer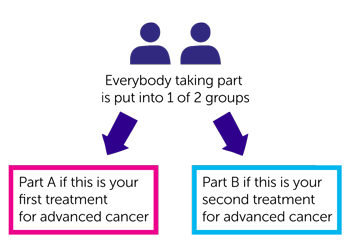 Everyone taking part has the same dose of nivolumab alongside ipilimumab. Your dose of ipilimumab is worked out individually as usual. You have all the treatment as a drip into a vein. You have nivolumab once every 2 weeks. You have ipilimumab once every 6 weeks. You have treatment for as long as it is working and the side effects aren't too bad.
Research samples
The researchers will ask for samples of your cancer (a biopsy

) that were removed when you had surgery or a biopsy in the past. They will ask you to have a biopsy done if there isn't a tissue sample available to test. The doctors will also ask to take some extra blood samples. Where possible, you have these at the same time as your routine blood tests.
They plan to look at: 
what happens to ipilimumab and Nivolumab in the body (pharmacokinetics )
substances called biomarkers  to help work out why treatment might work for some people and not for others
changes (mutations ) to any genes
Quality of life
The study team will ask you to fill out a questionnaire before you start treatment and at set times during treatment. The questionnaire asks about side effects and how you've been feeling. This is called a quality of life study.
Hospital visits
You see a doctor and have some tests before you can take part. These include:
a physical examination
heart trace (ECG)
blood tests
a tissue sample (biopsy) if there isn't one available to test
You might also have a brain scan.
You go to hospital to have treatment. You shouldn't need to stay overnight.
You have a CT scan every:
6 weeks for a year
3 months
When you finish treatment, you see the study team every 3 months to see how you are getting on. The 2 first visits will be hospital appointments and the after that they will phone you. 
Side effects
The most common side effects of having nivolumab and ipilimumab together include:
changes in liver function blood tests
tiredness (fatigue)
We have more information about:
How to join a clinical trial
Please note: In order to join a trial you will need to discuss it with your doctor, unless otherwise specified.
Please note - unless we state otherwise in the summary, you need to talk to your doctor about joining a trial.
CRUK internal database number:
Please note - unless we state otherwise in the summary, you need to talk to your doctor about joining a trial.
Cara took part in a clinical trial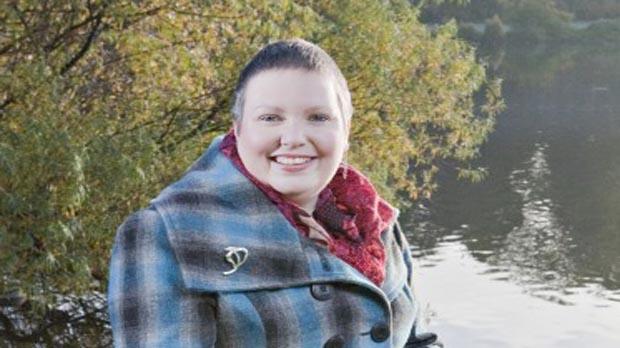 "I am glad that taking part in a trial might help others on their own cancer journey."