A study of gamma delta T cells for advanced melanoma, renal cell kidney cancer or non small cell lung cancer
Please note - this trial is no longer recruiting patients. We hope to add results when they are available.
Cancer type:
Non small cell lung cancer
This study is looking at the safety and usefulness of a new treatment called ImmuniCell that boosts the immune system.
It is open to people with melanoma skin cancer, renal cell kidney cancer or non small cell lung cancer:
that has spread to another part of the body (advanced cancer) or
is slow growing and your doctors thinks this treatment might help
More about this trial
Researchers are looking for new ways to treat advanced cancer when usual treatment has stopped working. In this study, they want find out if a new treatment that boosts the body's immune system can help. The treatment is called ImmuniCell.
ImmuniCell is made by using your own blood cells. It helps a type of white blood cell called a T cell to fight cancer.
T cells are part of the immune system and help to protect the body against illness and infection. One type of T cell is called a gamma delta T cell. Researchers think that these cells play an important role in fighting cancer.
But the body might not have enough of them or be unable to attack the growing number of cancer cells. So they hope that injecting large numbers (billions) of gamma delta T cells might help.
The study team take some of your T cells and change them in the laboratory. They stimulate the growth of the gamma delta T cells and then give them back to you.
This study is in 2 parts:
part 1 is trying to find the safest dose. This part of the trial is now closed.
part 2 will test the best dose in a larger number of people
The aims of the study are to:
find the safest dose
see how well treatment works
learn more about the side effects
Who can enter
The following bullet points list the entry conditions for this study. Talk to your doctor or the study team if you are unsure about any of these. They will be able to advise you.
You might be able to join this study if all of the following apply.
You have melanoma skin cancer, renal cell kidney cancer or non small cell lung cancer that has spread elsewhere in the body and you have already had standard treatment or you have a slow growing (indolent) cancer and your doctor thinks having treatment to boost your immune system might help
Your cancer can be seen and measured on a scan
The laboratory can make enough gamma deltaT cells from the blood sample you gave to check you are suitable to take part
You have satisfactory blood test results
You are well enough to carry out all your normal activities, apart from heavy physical work (performance status of 0 or 1)
You are at least 18 years old
You cannot join this study if any of these apply.
Cancer related
It has been less than 4 weeks since you had anti cancer treatment (this may have included chemotherapy, biological therapy , immunotherapy , hormone therapy  or radiotherapy) or more than 6 weeks since you had chemotherapy drugs called nitrosureas  or mitomycin
Medical conditions.
You have had any other cancer in the last 2 years apart from carcinoma insitu of the cervix or non melanoma skin cancer  that was successfully treated
You have problems with your heart, such as a heart attack in the last 6 months, angina that is not well controlled or an abnormal rhythm of your heart
You have ulcerative colitis, inflammatory bowel disease or a condition called Addison's disease
You have a severe infection that isn't controlled with treatment
You have active HIV, hepatitis B, hepatitis C, human t cell lymphocytic virus (HTVL) or syphilis infection
Other
You are having steroid treatment to your whole body (systemic treatment) or other treatment that dampens down your immune system
You have had treatment with drugs called bisphosphonates such as zoledronate in the last 3 months
You are taking another experimental drug as part of a clinical trial or you have had treatment as part of a clinical trial in the last 30 days
You have a problem with drugs or alcohol
There is any reason that you might not be suitable for the study for example you can't have the procedure that removes white blood cells from your body (leukapheresis)
You have any other serious medical condition or mental health problems that the study team think could affect you taking part
You are pregnant or breastfeeding
Trial design
This is an international phase 1/2 study. The study is in 2 parts. The study team needed between 5 and 12 people to join part 1.  This part of the trial is now closed. Part 2 is open the the team hope 42 people will join.
There are 3 steps in your treatment.
Step 1
You have some white blood cells removed from your blood. This procedure is called leukapheresis.
You lie on a bed or reclining chair with a tube into a vein in each arm. One tube removes blood and passes it into a machine that removes some white blood cells. The rest of your blood cells and normal blood fluid (plasma) go back into your body through the tube in your other arm. You might have this done through a central line
Step 2
The white blood cells are taken to the laboratory. In the laboratory your T cells are stimulated to grow. This takes about 2 weeks.
Step 3
You have your white blood cells (ImmuniCell) that were stimulated to grow given back to you. You have them as a drip into a vein. You have 6 infusions every 2 weeks. It takes about an hour each time.
In part 1, people had a low dose of ImmuniCell. If they didn't have any serious side effects, they had a higher dose.  And so on, until they found the best dose. This is called a dose escalation study. The researchers have found the best dose and this part of the trial has closed.
In part 2, you have the best dose found in part 1.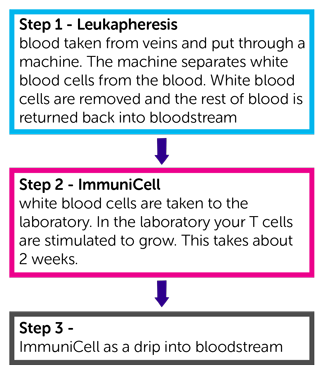 Samples for research
The researchers will ask for some extra blood samples. If you join part 2 they will also ask you to have a tissue sample (biopsy) taken. All the samples are used to look for substances called biomarkers

 that might show how well the treatment is working. 
Hospital visits
You see the study doctors and have some tests before you start treatment. These include:
a physical examination
blood tests
heart trace (ECG )
chest x-ray
You also visit the clinic where they collect the white blood cells to meet the nurses who can tell you more about the procedure.
When you have had all the tests and if you are suitable to take part, you have your white cells collected. This takes about 4 to 5 hours. You can then go home if you are feeling alright.
You go to hospital:
the following day for a check up and some more blood tests
once a week for 3 months
At each visit you see the doctors for a check up and some blood tests. You have your treatment and an ECG every 2 weeks.
You have a CT scan every:
6 weeks for 6 months
3 months for the next 6 months
In total, you are in the study for 3 months.
When you finish treatment, you see the study team for a check up and some blood tests every 1 to 3 months for a year. After that, they phone you every 3 months to see how you are getting on
Side effects
As ImmuniCell is a new treatment, there might be some side effects that the study team don't know about yet. They monitor you closely during the time you have treatment and you will have a phone number to call them if you are worried about anything.
The most common side effects so far are flu like symptoms and include:
fever and chills
tiredness
a low level of white blood cells in the blood 
How to join a clinical trial
Please note: In order to join a trial you will need to discuss it with your doctor, unless otherwise specified.
Please note - unless we state otherwise in the summary, you need to talk to your doctor about joining a trial.
CRUK internal database number:
Please note - unless we state otherwise in the summary, you need to talk to your doctor about joining a trial.
Cara took part in a clinical trial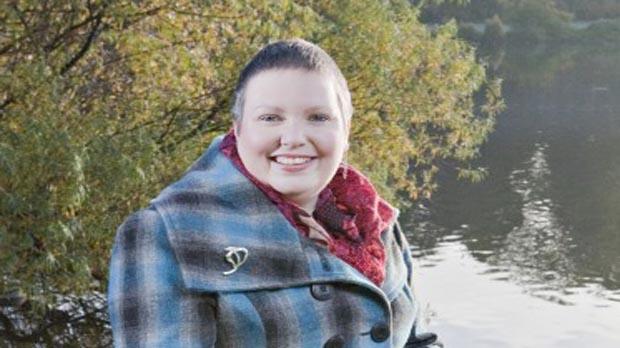 "I am glad that taking part in a trial might help others on their own cancer journey."