A study of BTG-002814 for cancer in the liver (VEROnA)
Please note - this trial is no longer recruiting patients. We hope to add results when they are available.
Cancer type:
Bowel (colorectal) cancer
This study is looking at a new treatment called BTG-002814 for cancer that started in the liver or bowel cancer that has spread to the liver. It is for people who have surgery planned to remove the tumours in their liver. 
More about this trial
You might also have chemoembolisation. It is also called trans arterial chemoembolisation (TACE). It means having chemotherapy directly to the area of your liver that contains the cancer and then blocking off the blood supply to the tumour.
DEB TACE is a way of giving chemoembolisation. It uses tiny beads that contain an anti cancer drug. These beads are called drug eluting beads. 
DEB TACE works in 2 ways. The beads:
block blood vessels that the tumour uses for its blood supply
release high doses of an anti cancer drug around the tumour and kill remaining cancer cells
BTG-002814 is a new type of DEB TACE. It is made up of beads that contain a targeted cancer drug called vandetanib. It is a
cancer growth blocker
. It stops the signals that cancer cells use to divide and grow. 
The researchers hope it will work better than routine DEB TACE as you can see BTG-002814 on a scan. This means the doctors can check if they have put the beads in the right place. This isn't possible with other types of DEB TACE. 
In this study, you have 1 treatment with BTG-002814, followed by your surgery as planned. The researchers want to find out:
if it is safe to have
more about the side effects 
Please note - you might not benefit from taking part in this study. But the researchers hope this research will improve treatment for people with cancer in the liver in the future.
Who can enter
The following bullet points list the
entry conditions
for this study. Talk to your doctor or the study team if you are unsure about any of these. They will be able to advise you. 
Who can take part
You may be able to join this study if all of the following apply. 
You:
have a type of primary liver cancer called hepatocellular cancer (HCC) and your liver is working normally or you have bowel cancer that has spread to the liver (metastatic bowel cancer) 
are suitable to have surgery
will recover after surgery
are willing to give some blood and tissue samples for research purposes
are well enough to be up and about for at least half the day (performance status 0,1 or 2)
have satisfactory blood test results 
are willing to use reliable contraception if you are a woman and there is any chance you could become pregnant
are at least 18 years old
Who can't take part
You cannot join this study if any of these apply. 
Cancer related
You:
have had chemotherapy in the 3 months before joining the study or you are due to have chemotherapy before surgery 
have had chemoembolization, radiotherapy, radiofrequency ablation  or radioembolization  in the past
have had treatment as part of another clinical trial within 4 weeks of joining this study
Medical conditions
You:
are having treatment for a heart condition that isn't under control 
have any other medical condition that means it would be unsafe for you to have the treatment in this study 
Other 
You:
can't have vandetanib because you are allergic to it, you have a heart condition called QTc prolongation or for any other reason 
can't have the procedure to put the beads into the liver, for example, you have a clot in the main vein in your liver
are pregnant or breast feeding
are allergic to iodine used in contrast dye
can't have a CT scan, MRI scan or other scans
Trial design
This
phase 0 study
is taking place in London. The study team need 12 people to join this study.
To start with, 3 people will have treatment. After their treatment, a committee that monitors the safety of trials will look at how they are doing. The committee will then decide if it is safe to continue. 9 more people will take part, if the study continues.
You have 1 treatment with BTG-002814 at least 1 week before your surgery. You then have your surgery as planned. Your doctor can tell you more about the surgery and how long you stay in hospital for afterwards.
Having BTG-002814
It takes about 90 minutes to have BTG-002814. You have it in the x-ray department. 
First, you have a local anaesthetic injection into your groin to numb the area. The doctor puts a thin tube (catheter) into the largest blood vessel in your groin and threads it up to the artery that feeds the liver. Once they are sure that the catheter is in the right place, the doctors will inject the beads containing vandetanib directly into your liver. The doctors will then remove the tube from your groin. 
The beads block the blood flow and deliver the drug to the cancer.
You then have your planned surgery 1 to 3 weeks later.
Research samples
The researchers will ask you to have extra blood samples. They will also ask to look at tissue samples (
biopsies

) the doctor took when you had a previous surgery or biopsy. 
They plan to use the samples to:
find out how much vandetanib gets into the tumour and how much enters the bloodstream
find out where in the liver treatment will work best
look for substances in the blood and tissue that tell us about the effect of treatment on the cancer 
They will also ask to use any leftover samples for future research. You don't have to agree to this you don't want to. You can still take part in the study.
Hospital visits
You'll see a doctor and have some tests before you can take part.
These include:
a physical examination
blood tests
a heart trace (ECG )
Before having treatment, the doctors might repeat some of the above tests. You might also have the following tests for research:
You have BTG-002814 at the hospital and stay overnight. 
You have 6 extra hospital visits as a result of taking part in this study. These are for tests or check ups. You have the final study visit 30 days after surgery. 
Side effects
This is the first time people have had BTG-002814. The study team will monitor you during the time you have treatment and you'll have a phone number to call them if you are worried about anything.
You usually have vandetanib as a tablet that you take by mouth. This is the first time it is being put into tiny beads and injected into tumours. You will be having 1 treatment with vandetanib. The researchers expect that most of the drug will stay in your liver rather than travel around your body and cause side effects.
The most common side effects we know about if you take vandetanib as a tablet include:
tummy pain
skin rash, acne or nail disorders
depression
tiredness (fatigue)
upset tummy (dyspepsia)
loss of appetite 
weakness 
high blood pressure
headache
trouble sleeping (insomnia)
inflammation of the nasal passages or main air passages to the lungs
chest infections
urinary tract infections
numbness or tingling of the skin or abnormal sensations
dizziness
pain
swelling caused by excess fluid (oedema)
stones or calcium deposits in the urinary tract (nephrolithiasis)
blurred vision
sensitivity of the skin to sunlight
The most common side effects of having the beads put in (DEB TACE) include:
feeling or being sick
fever (high temperatures)
tiredness
tummy (abdomen) pain
How to join a clinical trial
Please note: In order to join a trial you will need to discuss it with your doctor, unless otherwise specified.
Please note - unless we state otherwise in the summary, you need to talk to your doctor about joining a trial.
Supported by
Biocompatibles UK Ltd
UCL Cancer Trials Centre
CRUK internal database number:
Please note - unless we state otherwise in the summary, you need to talk to your doctor about joining a trial.
Charlie took part in a trial to try new treatments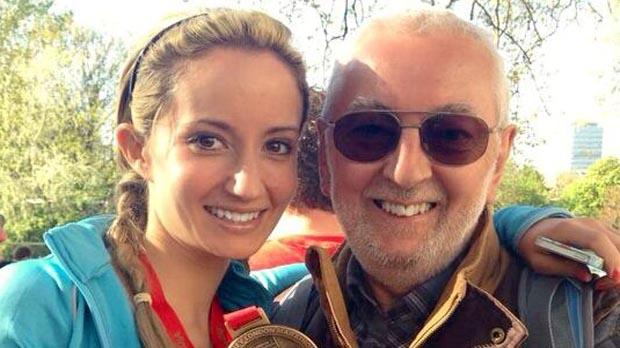 "I think it's really important that people keep signing up to these type of trials to push research forward."