A study of a new drug called OMO-1 for people with advanced solid tumours
Please note - this trial is no longer recruiting patients. We hope to add results when they are available.
This study is for people who have an advanced solid tumour (particularly lung cancer). 
It is for people who have 1 of the following:
cancer that has spread or continued to grow despite other treatments
cancer that is newly diagnosed, has spread and can't be treated with standard treatment
A solid tumour is any type of cancer apart from leukaemia or lymphoma. 
An advanced solid tumour is a cancer that has grown into surrounding tissues (locally advanced) or spread elsewhere in the body (advanced). 
 
More about this trial
Researchers are looking at ways to improve treatment for people with advanced solid tumours. In this study, they are looking at a new drug called OMO-1. It is a type of targeted drug. OMO-1 is a small molecule inhibitor of the enzymatic activity of the MET receptor tyrosine kinase. This means it stops signals that cancer cells use to divide and grow. 
We know from research that some cancer cells have a large number of copies of a gene called MET. Or they have a change (mutation) in the MET gene. 
Researchers think that OMO-1 will work better in people with a MET gene change or in people who have too many copies of this gene. Blocking the MET gene might stop the growth of cancer cells.
This is the first time people with cancer are having OMO-1. 
The aims of the study are to:  
find out how safe treatment is
find out what happens to the drug in the body
find out how well treatment works
learn more about the side effects
Who can enter
The following bullet points list the main entry conditions for this study. Talk to your doctor or the study if you are unsure about any of these. They will be able to advise you. 
Who can take part
You may be able to join this study if all of the following apply. 
You:
have a solid tumour (mainly lung cancer) that has grown into surrounding tissue, can't be removed with surgery or has spread elsewhere in the body and you aren't suitable to have standard treatment
can swallow tablets 
are well enough to carry out all your normal activities, apart from heavy physical work (performance status of 0 or 1) 
have satisfactory blood test results  
are willing to use reliable contraception during treatment and for 6 months after the last dose of OMO-1 if there is any chance you or your partner could become pregnant 
are at least 18 years old 
As well as the above, the following must also apply for some people who join: 
there is a tumour sample available for the study team to do some tests on or you are willing to give a new sample
the cancer cells have a lot of copies of a gene called MET or there is a change in the MET gene
you haven't had a drug that blocks MET such as capmatinib, tepotinib  or savolitinib in the past 
Who can't take part
You cannot join this study if any of these apply. 
Cancer related 
You can't take part if you:
have cancer in the brain or spinal cord that hasn't been stable in the last 9 weeks before you start OMO-1 
have moderate to severe side effects from past treatment apart from hair loss
are already having cancer treatment or an experimental drug
have had radiotherapy to the area where the cancer started (primary tumour) in the week before the tests to check you are suitable for the study
Medical conditions
You can't take part if you:
are taking certain medications such as amitriptyline, raloxifene or similar drugs
have fits (seizures)
have diabetes
are taking a medication called metformin
have had your spleen removed 
have swelling (inflammation) in your eye
have heart problems such as high blood pressure or angina that isn't controlled with medication
have an infection that need treatment
have had major surgery or you have planned surgery in the 12 weeks before having your first dose of OMO-1
have problems passing urine 
have HIV
have an active hepatis B, hepatitis C infection or an Epstein Barr Virus infection 
have any other medical condition or mental health problem that the study team think would affect you taking part
Other
You can't take part if you:
are allergic to OMO-1 or anything it contains
are pregnant or breastfeeding 
 
Trial design
This is a phase 1/2 study. The researchers need people 80 people to take part including as many as possible from the UK.
There are 2 parts to this trial. Part A and Part B. In Part A, the researchers are looking at the best dose of OMO-1. This part is now complete.
 In Part B they will find out more about how well treatment works. Part B is open for people to join. 
Part B
OMO-1 is a capsule. You take it twice a day, everyday. You have treatment in cycles. Each 3 week period is a cycle of treatment. 
You have treatment for as long as it is working, and the side effects aren't too bad. You stop treatment if the cancer gets worse. 
Samples for research
The study team might ask you to give:
extra blood samples
a tissue sample
They plan to use the samples to look at your genetic material (DNA), in your blood and tissue cells. Knowing more about people's genetic material might help the doctors to understand more about cancer and how treatment works.
Depending on when you join the study, you don't have to give these samples if you don't want to. You can still take part in the study.
Hospital visits
You'll see a doctor and have some tests before you can take part. These include:
You might also have an eye test. 
The first day of each treatment cycle is called day 1. In the first treatment cycle you go to hospital on:
After that, you go to hospital on day 1 of each treatment cycle. 
At each visit you:
have a check up 
give blood and urine samples
You have a CT scan or MRI scan every 6 weeks. 
Follow up
When you finish treatment you go back to hospital 1 month later for a check up. 
Side effects
As OMO-1 is a new drug, there may be some side effects we don't know about yet. The study team will monitor you during the time you have treatment and you'll have a phone number to call if you are worried about anything. 
A few people have had OMO-1 so far. The possible side effects of OMO 1 include:
headaches
tiredness (fatigue)
diarrhoea
loss of appetite
fast heart rate 
How to join a clinical trial
Please note: In order to join a trial you will need to discuss it with your doctor, unless otherwise specified.
Please note - unless we state otherwise in the summary, you need to talk to your doctor about joining a trial.
CRUK internal database number:
Please note - unless we state otherwise in the summary, you need to talk to your doctor about joining a trial.
Around 1 in 5 people take part in clinical trials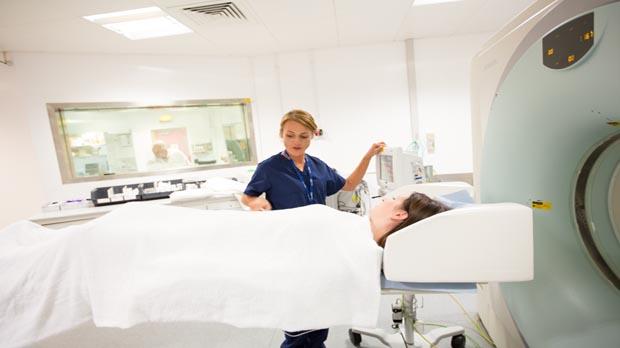 Around 1 in 5 people diagnosed with cancer in the UK take part in a clinical trial.