A study looking at treatment for children and young people with ALL that has come back (IntReALL SR 2010)
Coronavirus and cancer
We know it's a worrying time for people with cancer, we have information to help. If you have symptoms of cancer contact your doctor.
Please note - this trial is no longer recruiting patients. We hope to add results when they are available.
Cancer type:
Acute lymphoblastic leukaemia (ALL)
This trial is for children and young people up to the age of 18 who have acute lymphoblastic leukaemia (ALL) that has come back after treatment. They must also be in a group called a 'standard risk' group. 
Doctors use different risk groups according to: 
how quickly the leukaemia came back
where the leukaemia came back (for example in the bone marrow or central nervous system )
whether you have B-cell ALL or a T-cell ALL
Knowing the risk group helps doctors to choose the best treatment. If you don't know your risk group ask your doctor. They will be able to tell you. 
We use the term 'you' in this summary, but if you are a parent, we are referring to your child. 
More about this trial
The treatment for children and young people with ALL is usually successful. But sometimes it can come back (relapse). In this situation you are given more chemotherapy to treat the leukaemia. You may go on to have a bone marrow transplant. This depends on how many leukaemia cells are left in the bone marrow (this is called minimal residual disease or MRD).
In this study doctors want to compare the chemotherapy usually given for relapsed ALL in the UK with the chemotherapy usually given in Europe. 
The treatment given in the UK is called ALL R3. The European treatment is called ALL-REZ BFM 2002. Both treatments have shown to be useful for people who have relapsed ALL. In this study they want to see if one is better than the other. 
They also want to see if adding a new drug called epratuzumab alongside the chemotherapy improves treatment. Epratuzumab is a type of biological therapy called a monoclonal antibody. These can seek out cancer cells by looking for particular proteins.
Who can enter
The following bullet points list the entry conditions for this study. Talk to your doctor or the study team if you are unsure about any of these. They will be able to advise you. 
You may be able to join this study if all of the following apply. 
You have B-cell or T-cell ALL that has come back after treatment (relapsed)
You are in the standard risk group
If you are sexually active you must be willing to use reliable contraception during the study and for 2 years after you have finished treatment if there is any chance you or your partner could become pregnant
You are under 18 years old
You cannot join this study if any of these apply. 
Your ALL is Philadelphia chromosome positive
Your ALL has come back after you have had a stem cell transplant using stem cells from a donor (an allogeneic transplant) 
You took part in another clinical trial in the month before joining this trial unless this was a trial for your ALL
You have another serious medical condition or mental health problem that the study team think could affect you taking part
You are pregnant or breastfeeding
Trial design
 This is an international phase 3 trial. Doctors need 306 children and young people worldwide to take part. 
It is a randomised trial. The children and young people taking part are put into treatment groups by a computer. Neither you nor your doctor will be able to decide which group you are in.  
The groups are: 
ALL R3 with or without epratuzumab
ALL-BFM REZ 2002 with or without epratuzumab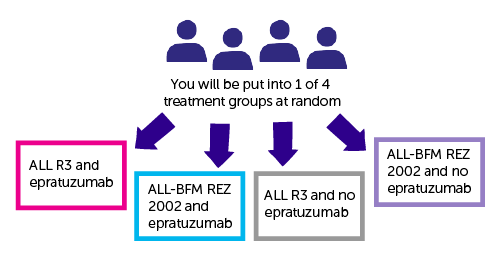 The way you have ALL R3 and ALL-BFM REZ 2002 is similar. They just use slightly different chemotherapy drugs. 
You might have all or some of the following drugs:
dexamethasone
prednisolone
vincristine
methotrexate
cytarabine
asaparginase
mitoxantrone
idarubicin
mercaptopurine
cyclophosphamide
thioguanine
Some of these drugs are tablets, some are given into your central line. And some are injected into the fluid around your spinal cord (an intrathecal injection

).
You have both ALL-R3 and ALL-BFM-REZ-2002 over a period of weeks called 'blocks'. These include: 
an induction block 
2 consolidation blocks
2 more consolidation blocks (also called interim maintenance) 
maintenance chemotherapy
If you are in a group having epratuzumab you have it once a week for 8 weeks during the first consolidation block. You have this as a drip into your central line. 
You may need to have a bone marrow transplant. This will depend on how many leukaemia cells are in your bone marrow after you have completed the induction block
Your doctor will talk with you about having a transplant if you need one. 
Blood and bone marrow samples
The doctors will ask if they can take a few more millilitres (a few teaspoons) of bone marrow when you have a routine bone marrow test.They want to use these samples to see if they can learn more about why ALL comes back in some people. They also want to see if they can find better ways to treat ALL. 
The samples may also be used for future research looking at treatment, diagnosis and the genetics of children's cancers. 
If you are in a group having epratuzumab you may need to have a small amount of extra blood taken at the same time as your routine blood tests. This is so the doctors can check the level of epratuzumab in your blood. 
Hospital visits
You will be in hospital for most of your treatment. You should be able to go home between treatments if you are well enough. But you will need to go to the hospital at least once a week so the doctors can see how you are. 
The study team will give you information about what you can expect if you take part in the study. 
Side effects
The most common side effects of the chemotherapy drugs used in this study include: 
a drop in blood cells causing an increased risk of infection, bleeding problems, tiredness and breathlessness 
weight loss
The main side effects of epratuzumab are mild reactions such as a high temperature (fever) and flu like symptoms when you have the drug.  
We have information on: 
How to join a clinical trial
Please note: In order to join a trial you will need to discuss it with your doctor, unless otherwise specified.
Please note - unless we state otherwise in the summary, you need to talk to your doctor about joining a trial.
Supported by
Central Manchester University Hospitals NHS Foundation Trust
Charité - Universitätsmedizin Berlin
EU Seventh Framework Programme (FP7)
NIHR Clinical Research Network: Cancer
University of Manchester
CRUK internal database number:
Please note - unless we state otherwise in the summary, you need to talk to your doctor about joining a trial.
Around 1 in 5 people take part in clinical trials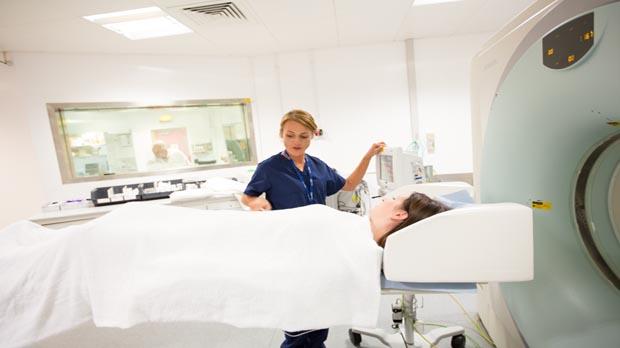 Around 1 in 5 people diagnosed with cancer in the UK take part in a clinical trial.