A study looking at different MRI scans to assess and predict treatment outcome in breast cancer (MAN-ACT)
Please note - this trial is no longer recruiting patients. We hope to add results when they are available.
This mini study, or 'sub study', is scanning women having chemotherapy before surgery as part of the ARTemis trial. If you have chemotherapy before surgery to treat your breast cancer (neo adjuvant chemotherapy), your doctor will need to check how well this treatment is working. You may have an ultrasound scan or MRI scan of your breast before, during and after this treatment.
We know from research that new types of MRI scan such as MRS, DWI MRI and DCE MRI may not only be able to show how well chemotherapy is working, but predict who will respond in advance. Diffusion weighted magnetic resonance imaging (DWI MRI) looks at the features of cancer cells. DCE MRI scans provide information about blood supply and could help show how the drug is reaching the cancer. Magnetic resonance spectroscopy (MRS) looks at chemical changes linked to disease in body tissues.
Researchers in this study will use these scans to monitor women having chemotherapy before surgery as part of the ARTemis trial. They hope these scans will help them collect information on how breast cancer behaves in response to chemotherapy. The main aim of this study is to see if the MRS scan they are using will be able to predict a complete response in women having this treatment. You will not have any direct benefit from taking part in this study, and it is unlikely to change your treatment plan in any way. But the results of the study will be used to help people with breast cancer in the future.
Who can enter
You can enter this study if you are due to start a course of chemotherapy as part of the ARTemis trial at Addenbrooke's Hospital in Cambridge.
You cannot enter this study if you
Have had any surgery or radiotherapy to the affected breast before
Have had any kind of serious injury to your breast in the last 3 months
Cannot have MRI scans (for example you have metal or a pacemaker in your body, or you cannot cope in small spaces)
Are allergic to MRI contrast dye
Are unable to lie face down in the MRI scanner
Trial design
This feasibility study will recruit between 20 and 30 people. If it goes well, the team will then recruit more people.
Everyone taking part will have 2 extra MRI scans. And extra pictures taken using MRS, DWI-MRI and DCE MRI scans at the same time as your standard MRI scans. You will have 5 MRI scans altogether.
MRI scan of the breast usually takes about half an hour. The extra pictures you have taken will add about 10 minutes on to this time.
You will also give a series of blood samples for the study. You do this every time you have an MRI scan, and again after your planned breast surgery, which is not part of this study. The team will use the blood samples for this study or for future studies to help them answer questions about diagnosis, expected outcome (prognosis) or treatment of breast cancer.
It is possible that the team may discover links between genes and breast cancer risk during this study. They will ask whether you or your family would like to hear about any findings in the future.
Hospital visits
You will have your MRI scans
Before you start chemotherapy (2 separate scan appointments)
Before your 2nd cycle of chemotherapy
After your 3rd cycle of chemotherapy
After your 6th cycle of chemotherapy
You give your study blood samples when you come for your MRI scans, and during your appointment after your planned surgery.
Side effects
You may have a small bruise where you gave your blood samples.
You can find out more about MRI scans on CancerHelp UK.
How to join a clinical trial
Please note: In order to join a trial you will need to discuss it with your doctor, unless otherwise specified.
Please note - unless we state otherwise in the summary, you need to talk to your doctor about joining a trial.
Supported by
Cambridge University Hospitals NHS Foundation Trust
Experimental Cancer Medicine Centre (ECMC)
University of Cambridge
CRUK internal database number:
Please note - unless we state otherwise in the summary, you need to talk to your doctor about joining a trial.
Caroline took part in a clinical trial for breast cancer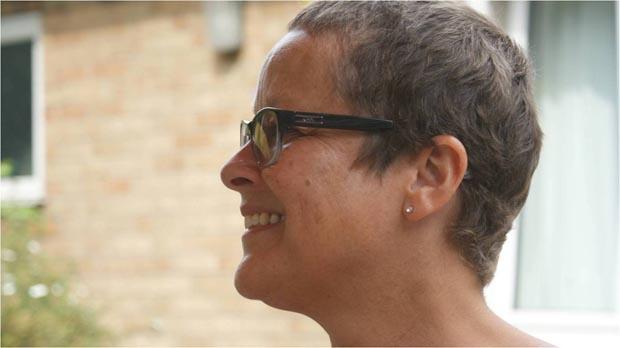 "I had treatment last year and I want to give something back."