A study looking at a combination of treatments for weight and muscle loss in people with lung or pancreatic cancer (pre MENAC)
Cancer type:
Non small cell lung cancer
More about this trial
Some people with cancer lose their appetite, lose weight and have extreme tiredness (fatigue). Your specialists might call this cachexia. At the moment, we don't know what kind of treatments work best for this.
In this study, researchers looked at possible treatments for cachexia. These were:
advice about exercise and diet
a nutritional supplement – a drink high in calories
a non steroidal anti inflammatory drug  called celecoxib
The aims of this feasibility study were to:
see if the treatment is safe
find out if it's possible to do a larger study using these treatments
The researchers were also interested if the combination of these treatments helped people with weight loss, lack of appetite and fatigue.
The study team aimed to start these treatments at an early stage, along with anti cancer treatment such as chemotherapy. This was to try and prevent or treat cachexia as soon as possible.
Summary of results
The trial team concluded that it is safe for people to have these treatments. And that people would be able to manage this alongside treatment for their cancer.
46 people took part in this phase 2 feasibility study. Everyone was put into one of 2 groups randomly by a computer.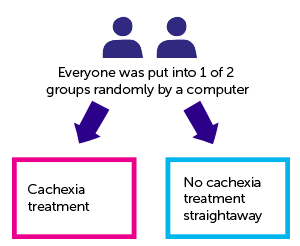 25 people were in group 1 -  this group had the cachexia treatment
21 people were in group 2 - this group didn't have the treatment straightaway
Group 1
Everyone in group 1:
were advised about the best way to make sure they ate enough food
were given a special supplement to drink twice a day
were given exercises to make their upper body and legs stronger, and were encouraged to do some aerobic exercise, like walking, for 30 minutes twice a week
took the drug celecoxib once a day
They had this treatment for 6 weeks.
Group 2
The people in group 2 didn't have this extra support straight away. This is so that the study team could see if the extra support people had in group 1 made a difference.
After 6 weeks, when the team had compared information, the people in group 2 were given this extra support for the same length of time.
41 people out of the 46 completed the study.
The researchers looked at how people followed the trial treatment plan. This is called compliance. From the 25 people in group 1:
19 took the celecoxib more than half the time
15 did the exercises more than half the time
12 took the supplement drink more than half the time
Fewer people were compliant with taking the supplement drink than the researchers had hoped.
The researchers also looked at weight loss, physical activity and fatigue. They did this in a number of ways. This included looking at:
CT scan results
questionnaire results about how people were feeling, what they were eating and how active they were
results from a small activity meter worn on the leg by the people taking part
The researchers found that on average people in group 1 gained just under 1kg. And those in group 2 on average lost just over 2kg.
The study team found no difference in physical activity, muscle mass or fatigue between the two groups. They also found that survival was similar between the groups.
Side effects
In both groups, the most common side effects included:
feeling or being sick (nausea)
pain
loss of appetite
taste changes
constipation
shortness of breath – or difficulty breathing
drop in white blood cell count
The side effects that people reported might been due to their cancer treatment, rather than the treatments in this study. None of the reported side effects were found to be due to the study drug.
The team concluded the treatments for cachexia in this study are safe. Most people were able to keep the treatments up. And they helped people gain weight.
The study team have designed a phase 3 trial to look at these combined treatments in more detail. The researchers used what worked well, and what didn't work as well, to help with the new trial design.
We have based this summary on information from the research team. The information they sent us has been reviewed by independent specialists (peer reviewed

) and published in a medical journal. The figures we quote above were provided by the trial team who did the research. We have not analysed the data ourselves.
How to join a clinical trial
Please note: In order to join a trial you will need to discuss it with your doctor, unless otherwise specified.
Please note - unless we state otherwise in the summary, you need to talk to your doctor about joining a trial.
Supported by
Beatson West of Scotland Cancer Centre
European Palliative Care Research Centre
Experimental Cancer Medicine Centre (ECMC)
NHS Greater Glasgow and Clyde
Norwegian University of Science and Technology
If you have questions about the trial please contact our cancer information nurses
Freephone 0808 800 4040
CRUK internal database number:
Please note - unless we state otherwise in the summary, you need to talk to your doctor about joining a trial.
Charlie took part in a trial to try new treatments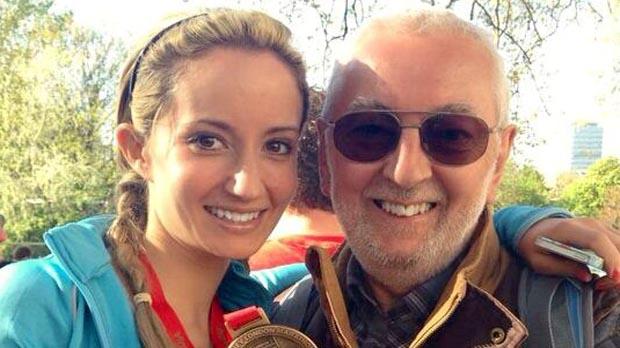 "I think it's really important that people keep signing up to these type of trials to push research forward."