A study looking for changes in blood flow after treatment for cancer of the ovary that has come back
Please note - this trial is no longer recruiting patients. We hope to add results when they are available.
This study is looking at MRI scans to see if they can spot changes in blood flow to ovarian cancer. It is open to women having treatment in the ICON 6 trial.
After cancers become larger than a couple of millimetres, they need to create their own blood supply to survive and grow. Doctors call this process angiogenesis. Drugs that block this process are called angiogenesis inhibitors.
This study is using 2 types of MRI scan to try and spot early changes in blood supply to the cancer in women having treatment to block blood vessel growth. Dynamic contrast enhanced magnetic resonance imaging (DCE MRI) looks at blood flow and leakiness of the cancer's blood vessels. Diffusion weighted magnetic resonance imaging (DWI MRI) looks at the features of the cells making up the cancer.
The team will recruit a number of women taking part in the ICON 6 trial, which is looking at chemotherapy and the blood vessel growth blocker cediranib, also called AZD2171 or Recentin. They hope to see if these scans show any differences between those taking part, as not everyone is having cediranib. And if there are any changes, whether there is a link between these, the type of treatment the woman had and their treatment outcome.
You will not have any direct benefit from taking part in this MRI study, and it is unlikely to change your treatment plan in any way. But the results of the study will be used to help women with cancer in the future.
Who can enter
This study is for women under the care of the Christie Hospital in Manchester, who are taking part in the ICON 6 trial. We have a summary of the ICON 6 trial which includes the entry criteria.
To take part in the MRI scanning study, you must
Be under the care of Professor Jayson or Dr Hasan at the Christie Hospital, Manchester, or Dr Lord at Clatterbridge Centre for Oncology, Wirral
Have cancer either in your liver, tummy area (abdomen) or the area between your hips (pelvis) that measures between 3 and 10cm that doctors would clearly see on the study MRI scans
You cannot enter the MRI scanning study if you
Are not able to have MRI scans (for example you have metal or a pacemaker in your body, or you cannot cope in small spaces)
Are allergic to the MRI contrast injection
Have kidney problems
Trial design
This study will recruit 40 women. Everyone will have a total of 4 study MRI sessions before, and during and after their first cycle of chemotherapy.
Before each scan session you have MRI contrast through an injection into a vein. You will have both types of study MRI scan during each session. As the scans use a large magnet, the team will ask you not to bring any metal objects into the room (for example glasses). You will hear a hammering sound during the scan, but the team will give you earplugs to wear. Each session will last about an hour.
The staff will replace your details with a unique number, so the study team will not be able to tell who the scan information is about. This is important because the main ICON 6 trial is a double blind trial. The doctors and women taking part do not know whether they are having the study treatment or a dummy drug (placebo). So they cannot influence any reports of side effects for example, without realising it. When they start looking at the trial results, the team will be able to link the scans to the women they belong to, and the treatment they had in ICON 6.
Hospital visits
You will have a study MRI session
On 2 separate days in the 2 weeks before you start chemotherapy
On day 2 of your first cycle of chemotherapy
On day 2 of your second cycle of chemotherapy
Side effects
Before you join this study the doctor in charge will make sure that it safe for you to have the MRI scans. We have more information about MRI scans.
How to join a clinical trial
Please note: In order to join a trial you will need to discuss it with your doctor, unless otherwise specified.
Please note - unless we state otherwise in the summary, you need to talk to your doctor about joining a trial.
Supported by
AstraZeneca
Experimental Cancer Medicine Centre (ECMC)
The Christie NHS Foundation Trust
CRUK internal database number:
Please note - unless we state otherwise in the summary, you need to talk to your doctor about joining a trial.
Around 1 in 5 people take part in clinical trials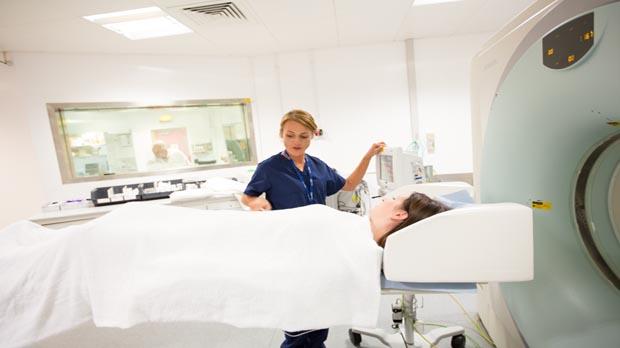 Around 1 in 5 people diagnosed with cancer in the UK take part in a clinical trial.