A study looking at a care package for people having chemoradiotherapy for cervical cancer or bladder cancer
Please note - this trial is no longer recruiting patients. We hope to add results when they are available.
This study is looking at providing a package of care (care bundle) for people having chemoradiation for cancer of the cervix (cervical cancer) or bladder cancer.
Doctors can use a combination of chemotherapy and radiotherapy (chemoradiation

) to try and cure cancer of the cervix and bladder cancer. Radiotherapy to the area between your hips (pelvis) can cause some problems with your bowel.
The researchers think that a care bundle might help people who are having bowel side effects during radiotherapy. If it does, it may improve their quality of life and help them to complete their treatment.
The aim of this study is to see if using the care bundle could help improve bowel side effects caused by radiotherapy and so improve people's quality of life.    
Who can enter
You may be able to enter this trial if you
Are having chemoradiotherapy with the aim of curing your cancer
Are at least 18 years old
You cannot enter this trial if you have any other disease of the digestive system

.
Trial design
This is a pilot study. It will recruit 60 people. It is a randomised trial. The people taking part are put into treatment groups by a computer. Neither you nor your doctor will be able to decide which group you are in.
There are 2 groups in this trial. People in group 1 have standard treatment. People in group 2 have standard treatment plus the care bundle.
During radiotherapy, people in group 1 will see the doctor as usual to see if they have any problems with eating or drinking. If you develop any side effects, for example diarrhoea, they will give you medication for it.
During radiotherapy, people in group 2 will see a specialist cancer dietician

every week. If you develop any side effects you will have the following 3 tests.
The first is to see if you are not able to digest a sugar found in dairy products (lactose intolerant). You cannot eat or drink anything, apart from water, for 12 hours before the test. You blow into a small tube for a few seconds and a sample of your breath is collected.
The second is to see if there are too many bacteria in your small bowel. A sample of your breath is collected in the same way as in the first test. You then have a sugar drink and a sample of your breath is taken at regular times over 2 to 3 hours.
The third is to see if your body is absorbing enough bile. You take a small tablet that gives off energy particles or waves (radiation) that can be seen on a scan. You have a scan on the day you take the tablet and then another scan 5 to 7 days later.  
If the result of any of these tests is positive, you will start medication.  
The trial team will ask you to fill out a questionnaire before you start treatment, during treatment and after your treatment. The questionnaire will ask about side effects and how you've been feeling. This is called a quality of life study.
Hospital visits
Before starting treatment everyone is seen by the doctor or a specialist dietician to look at what you are eating and drinking.
Those people who see the dietician will also have the following tests to find out how good their diet is. A test
Of the strength of your hand grip
To find out how much fat is in your body
During radiotherapy, you see the doctor or dietician weekly.
After radiotherapy, everyone will see the doctor at 1 week, 3 months and 1 year. People in group 2 will also see the dietician.  
How to join a clinical trial
Please note: In order to join a trial you will need to discuss it with your doctor, unless otherwise specified.
Please note - unless we state otherwise in the summary, you need to talk to your doctor about joining a trial.
Supported by
GE Healthcare
NIHR Clinical Research Network: Cancer
NIHR Research for Patient Benefit (RfPB) Programme
The Christie NHS Foundation Trust
CRUK internal database number:
Please note - unless we state otherwise in the summary, you need to talk to your doctor about joining a trial.
Cara took part in a clinical trial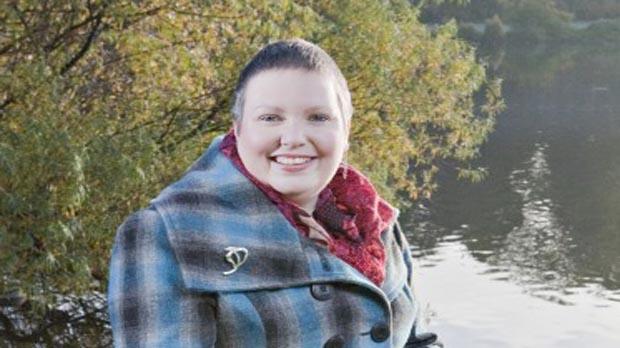 "I am glad that taking part in a trial might help others on their own cancer journey."