A study looking at PET-MRI scans for people with kidney cancer that has spread (REMAP)
This study is for people with a type of kidney cancer called renal cell cancer who are going to have treatment with a cancer drug
More about this trial
Renal cell cancer can sometimes spread to another part of the body. This is metastatic kidney cancer. 
You usually have treatment for metastatic kidney cancer with a targeted cancer drug (biological therapy). Targeted cancer drugs that can be used include:
Before you start, and during treatment, with a targeted cancer drug you usually have CT scans. This is to look at where the cancer is and how the treatment is working. 
In this study, researchers are looking at a new type of scan that combines a PET scan and an MRI scan (a PET-MRI scan). They think a PET-MRI scan might be better at showing not just the size of the cancer but how the cancer is behaving. This could mean that doctors could change your treatment sooner if it doesn't look like it is working well. 
The aim of the study is to see if a PET-MRI scan is better than a CT scan at showing how well treatment is working.
Who can enter
The following bullet points list the entry conditions for this study. Talk to your doctor or the study team if you are unsure about any of these. They will be able to advise you. 
You may be able to join this study if all of the following apply: 
You have renal cell cancer that has spread to another part of the body (metastatic)
You have 1 or more areas of cancer spread that measure at least 2 cm
You are going to have treatment with a targeted cancer drug such as sunitinib, sorafenib, pazopanib, axitinib, everolimus, temsirolimus or bevacizumab 
You are well enough to be up and about for at least half the day (performance status 0, 1 or 2) 
You are at least 18 years old
You cannot join this if any of these apply:
You have had radiotherapy
You are not able to have an MRI, CT or PET scan for any reason, for example you are sensitive to the injection given during scan (the contrast medium), you have metal implants such as a pacemaker, surgical clips, implants, pins, plates or you have a fear of being in closed spaces (claustrophobia)
You have another medical condition that isn't controlled by medication or other treatment 
Trial design
This is a pilot study. Researchers need around 38 people going to either Guy's or St Thomas' Hospital in London to take part. 
You have 3 PET-MRI scans in addition to your routine CT scans. 
You have the PET- MRI scan before the start of treatment and then after:
You cannot eat for 6 hours before each PET-MRI scan, but you can drink water. You have an injection of a radioactive substance (tracer) and a dye (contrast medium) and you rest for 1 hour. You then have the PET-MRI scan.
Questionnaires 
You complete a questionnaire before each PET-MRI scan. This is a safety questionnaire. It asks about your health and if you have any metal implants or tattoos. 
Tissue samples
The research team might ask to look at the results of the tissue sample of your cancer taken either when you were diagnosed or during other treatments.
They want to compare what was found in the tissue sample with the scan results to see if together they can give extra information about the cancer.
Hospital visits
You go to Guy's or St Thomas' Hospital to have the PET-MRI scans. 
If possible, you have the scans when you are at the hospital having the CT scans that are part of your routine care. But you might need to make 3 additional visits to the hospital. 
Side effects
PET-MRI scans are very safe and the study team don't think you should have any side effects. 
During the scan you have an injection of a contrast medium called gadolinium. The possible side effects of gadolinium are:
headaches 
feeling dizzy 
itchy skin
feeling or being sick
difficulty breathing
pain at the injection site
You have an extra dose of radiation as part of this study. This is about the same as 3 years of natural background radiation and the research team doesn't think this will cause you problems.
The radiation leaves your body quickly, but you should avoid close contact with children or pregnant women for a few hours after each scan.   
How to join a clinical trial
Please note: In order to join a trial you will need to discuss it with your doctor, unless otherwise specified.
Please note - unless we state otherwise in the summary, you need to talk to your doctor about joining a trial.
Chief Investigator
Professor Vicky Goh
Dr Gary Cook
Dr Sarah Rudman
Supported by
Cancer Research UK
Guy's and St Thomas' NHS Foundation Trust
King's College London
CRUK internal database number:
Please note - unless we state otherwise in the summary, you need to talk to your doctor about joining a trial.
Around 1 in 5 people take part in clinical trials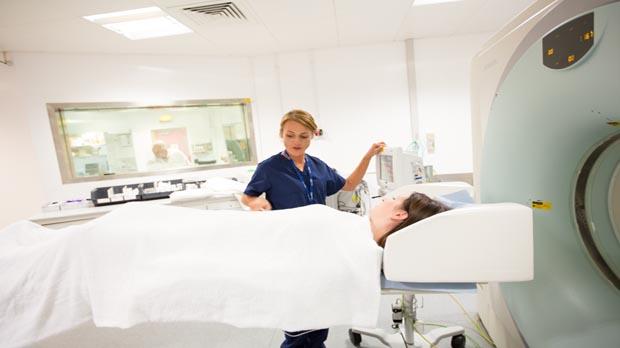 Around 1 in 5 people diagnosed with cancer in the UK take part in a clinical trial.