A study looking at PET-MRI scans for people with head and neck cancer
Coronavirus (COVID-19)
We know that this is an especially worrying time for people with cancer and their family and friends. We have separate information about coronavirus and cancer. Please read that information alongside this page. We will update that information as guidance changes.
Please note - this trial is no longer recruiting patients. We hope to add results when they are available.
This study is using a combined PET and MRI scan for people with head and neck cancer who are going to have radiotherapy treatment.
It is for people with head and neck squamous cell carcinoma

 of the:
More about this trial
Head and neck cancers are often treated with radiotherapy or with a combination of chemotherapy and radiotherapy (chemoradiotherapy

).
Before starting radiotherapy, you might have a PET-CT scan to show where the cancer is and how big it is (staging

). Doctors may also use this scan to help plan your radiotherapy treatment.
In this study, researchers are looking at a new type of scan that combines a PET scan and an MRI scan (a PET-MRI scan). They think it can give clearer pictures of the inside of your body and cancer.
Having clearer pictures of the cancer before and during radiotherapy is very important. Doctors think they can use these pictures to change the radiotherapy plan, so that cancer areas that are more difficult to treat get more radiation.
The main aims of this study are to find:  
the best way to combine a PET and MRI scan (the scanning protocol)
if it is possible for people to have a PET-MRI scan using a radiotherapy mask  
Who can enter
The following bullet points list the entry conditions for this study. Talk to your doctor or the study team if you are unsure about any of these. They will be able to advise you.
You may be able to join this study if all of the following apply.
You have squamous cell carcinoma of the mouth, oropharynx or larynx
You are going to have radiotherapy (or chemoradiotherapy) to try to cure your cancer (radical radiotherapy )
You have had a PET-CT and MRI scan of your head and neck in the past 4 weeks
You have at least 1 area of cancer that can be seen on a scan and measures at least 1 cm
You have satisfactory blood tests results
Your kidneys and liver are working well 
You are well enough to be up and about for at least half the day (performance status 0, 1 or 2) 
You are at least 18 years old
You cannot join this study if any of these apply.
You are sensitive to the injection given during an MRI or PET scan (the contrast medium )
You are not able to have an MRI or PET scan for any reason, for example you have metal implants such as a pacemaker, surgical clips, implants, pins, plates or you have a fear of being in closed spaces (claustrophobia)
You have another medical condition that the study team think could affect you taking part  
You are incontinent  of urine or poo (stools)
You are pregnant or breastfeeding  
Trial design
This is a pilot study. Researchers need around 10 people going to Guy's and St Thomas' Hospital in London to take part.
You have 2 PET-MRI scans. It takes between 2 ½ to 3 ½ hours each time. You have them:
between your planning scan and the start of radiotherapy
2 to 3 weeks after the start of radiotherapy
Before your planning scan you have a mask made. This makes sure your head is in the correct position and it means that when you have treatment you keep still. In this study the researchers would like you to have the PET-MRI scan wearing your radiotherapy mask.
You cannot eat for 6 hours before each PET-MRI scan, but you can drink water. You have an injection of a dye (contrast medium) and rest for 1 ½ hours. You then have the PET-MRI scan.
Questionnaires
You complete a questionnaire before each PET-MRI scan. This is a safety questionnaire. It asks about your health and if you have any metal implants.   
You also complete a questionnaire after each scan. The study team wants to find out what you think about having the PET-MRI scan. 
Hospital visits
You go to St Thomas' Hospital to have the PET-MRI scans.
If possible, you have the scans when you are at the hospital having tests or treatments that are part of your routine care. But you might need to make 2 additional visits to the hospital.
Side effects
You have an extra dose of radiation

 as part of this study. This extra radiation dose is a lot smaller than the dose you have to treat your cancer. So the research team doesn't think this will cause any problems to your health.
The radiation leaves your body quickly, but you should avoid close contact with children or pregnant women for the rest of the day. 
We have more information about having an:
How to join a clinical trial
Please note: In order to join a trial you will need to discuss it with your doctor, unless otherwise specified.
Please note - unless we state otherwise in the summary, you need to talk to your doctor about joining a trial.
Chief Investigator
Dr Teresa Guerrero Urbano
Supported by
Guy's and St Thomas' NHS Foundation Trust
King's College London
Questions about cancer? Contact our information nurses
CRUK internal database number:
Please note - unless we state otherwise in the summary, you need to talk to your doctor about joining a trial.
Around 1 in 5 people take part in clinical trials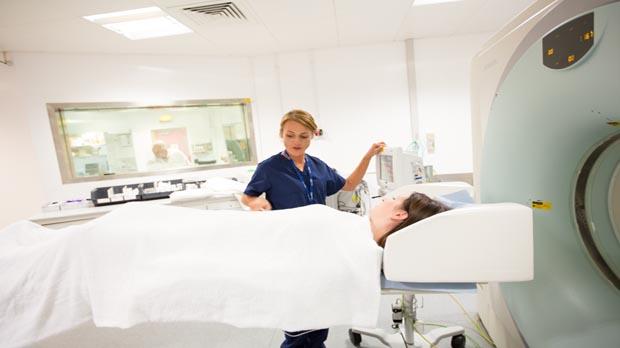 Around 1 in 5 people diagnosed with cancer in the UK take part in a clinical trial.