A study looking at PET-MRI scans for children and young people with Hodgkin lymphoma
Coronavirus and cancer
We know it's a worrying time for people with cancer, we have information to help. If you have symptoms of cancer contact your doctor.
Please note - this trial is no longer recruiting patients. We hope to add results when they are available.
This study is for children and young people who have Hodgkin lymphoma or who doctors think may have Hodgkin lymphoma.
Researchers are looking at ways to improve the way they diagnose and treat cancer.  In this study, they are comparing the information from separate PET-CT

 and MRI

 scans with a combined PET-MRI scan from a new type of scanner.
More about this trial
Doctors use PET-CT and MRI scans to diagnose cancer and to see how well treatment is working. A PET- CT scan exposes people to a small dose of radiation

. Although MRI scans don't use radiation having both scans takes longer.
Doctors can now use a combined machine with PET and MRI together. This means that people are exposed to less radiation. Doctors also think it might give clearer pictures of the inside of your body and your cancer.
The aim of this trial is to compare the information from a PET-MRI scan with that from a separate PET-CT and MRI scan. Researchers want to know how accurate PET-MRI scans are in staging

 lymphoma in children and young people.
Who can enter
The following bullet points list the entry conditions for this study.  Talk to your doctor or the study team if you are unsure about any of these. They will be able to advise you.
You may be able to join this study if all of the following apply. You
Have Hodgkin lymphoma or your doctor think you may have Hodgkin lymphoma
Are aged 20 or younger
Are taking part in the EuroNet PHL-C1 trial or LP1 trial,  or any other related Euronet trials
Are to have chemotherapy  similar to that of the Euronet trials although not taking part in a trial
You cannot join this study if any of these apply. You
Are not able to have an MRI scan, for example if you have a pacemaker or certain metal clips in your body
Are pregnant or breastfeeding
Trial design
The researchers need 55 people to take part in this study.  They will ask you to have 2 extra scans.  The scans will be during the staging and treatment of your cancer.
Staging
You have a whole body MRI scan and PET-CT scan so the doctors can learn more about your Hodgkin lymphoma.  The scans help them to find out the stage of your cancer and to plan your treatment. 
In the study, you have a PET-MRI scan on the same day as the above scans.  You have it immediately after you have had a PET-CT scan.
Response to treatment
After 2 to 3 courses of treatment, you usually have an MRI scan and PET-CT scan to see how well the treatment is working.  In the study you have another PET-MRI scan immediately after you've had the PET-CT.
Having an MRI and PET-CT scan as part of usual care
You have an MRI scan of your whole body over 30 minutes.
With the PET-CT scan you have a radioactive drug (tracer) through a small drip (cannula) in your arm. The amount of radiation is very small and does not make you feel unwell. You have the drip 60 minutes before you have a PET-CT scan.  A PET-CT scan takes about 60 minutes to do.  You keep the cannula in your arm afterwards.
Having a PET-MRI scan for the study
You have the PET-MRI scan immediately after the PET-CT while the tracer is still in your body.  A PET-MRI scan takes about 45 minutes.  Before having the scan, the doctor will give you medicine through the drip in your arm.  It stops your bowel from moving during the scan.  This gives the doctor clearer pictures of your body.
Hospital visits
You have the PET-MRI scan on the same day as your PET-CT scan. You have it as an out patient.  So, you will be at the hospital for an extra hour on these days.  The study finishes after you have had your second PET-MRI scan.
Side effects
The study team will discuss any risks of the study with you in more detail.
PET– CT scans are safe, but they use a small amount of a radioactive drug (tracer).  This is the same amount of radiation that you would get from an X-ray.  The study scan uses the tracer that it is in your blood stream from the PET-CT scan.  So you will not get an extra dose of the tracer.
You will spend up to an extra hour at the hospital on each of the two visits to the hospital for your scans.
MRI scanners are noisy, but you will be able to wear earplugs or headphones.
We have more information about having
How to join a clinical trial
Please note: In order to join a trial you will need to discuss it with your doctor, unless otherwise specified.
Please note - unless we state otherwise in the summary, you need to talk to your doctor about joining a trial.
Supported by
Great Ormond Street Hospital Children's Charity
NIHR Clinical Research Network:  Cancer
University College London Hospitals NHS Foundation Trust
CRUK internal database number:
Please note - unless we state otherwise in the summary, you need to talk to your doctor about joining a trial.
Around 1 in 5 people take part in clinical trials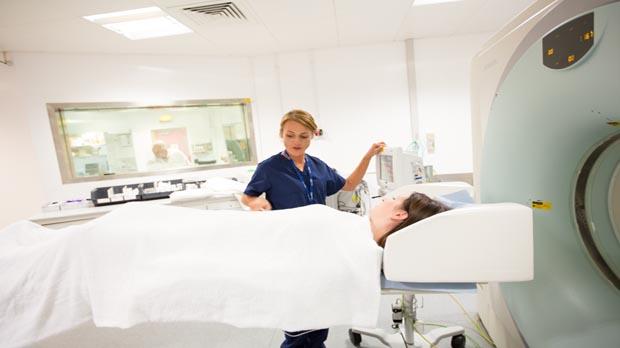 Around 1 in 5 people diagnosed with cancer in the UK take part in a clinical trial.