A study looking at how nilotinib affects CYP enzymes in chronic myeloid leukaemia
Coronavirus (COVID-19)
We know that this is an especially worrying time for people with cancer and their family and friends. We have separate information about coronavirus and cancer. Please read that information alongside this page. We will update that information as guidance changes.
Please note - this trial is no longer recruiting patients. We hope to add results when they are available.
Cancer type:
Chronic myeloid leukaemia (CML)
This study is trying to find out more about how nilotinib affects some important body enzymes

. To help find out, the researchers are using another drug called midazolam. This study is for people with chronic myeloid leukaemia (CML).
Doctors may use nilotinib (also called Tasigna) to treat CML. It is a type of biological therapy called a tyrosine kinase inhibitor (TKI).
Nilotinib affects certain proteins in the body called cytochrome P (CYP) enzymes. These enzymes help the body to breakdown and get rid of a wide range of drugs.
Researchers want to learn more about how nilotinib affects CYP enzymes and the way other drugs are broken down. Studying what happens to a drug in the body is called pharmacokinetics

.
In this study, the researchers are using a drug called midazolam, which they know is very sensitive to CYP enzymes. Midazolam is a drug doctors give to calm anxiety, or to make people drowsy and relaxed before medical tests (a sedative

).
Researchers think that studying what happens to midazolam when you have nilotinib is a good way of learning more about how much nilotinib affects CYP enzymes.
Who can enter
You can enter this trial if you
Have CML that is Philadelphia chromosome positive or negative and is in chronic or accelerated phase
Have already had at least one other treatment that blocks a protein called BCR-ABL (apart from nilotinib), but your CML has become resistant to this treatment, or you were not able to keep taking it because of side effects
Are well enough to be up and about for at least half the day (performance status 0, 1 or 2)
Have satisfactory blood test results
Are willing to use reliable contraception throughout the study if there is any chance you or your partner could become pregnant
Are at least 18 years old
You cannot enter this trial if you
Have leukaemia that has spread to your brain or spinal cord (your central nervous system)
Have already had nilotinib
Have had immunotherapy or chemotherapy in the last 3 days (in the last 6 weeks if you had mitomycin or one of a group of drugs called nitrosoureas
Have had imatinib in the last week
Have had radiotherapy in the last 4 weeks, or in the last 2 weeks if it was radiotherapy for symptoms (palliative radiotherapy)
Have had major surgery in the last 4 weeks
Have had any other experimental drug in the last 4 weeks
Need to carry on taking any other drugs that can affect your heart rhythm, or have an effect on CYP enzymes (your doctor can advise you about this - it is important that you don't stop taking any sort of medication before discussing it with your doctor)
Have ever had any sort of bleeding problem not related to having cancer
Have had acute pancreatitis (inflammation on the pancreas) in the last year, or have ever had chronic pancreatitis
Have liver or kidney disease
Have had a heart attack or heart pain (angina) in the last year, or you have heart failure, high blood pressure that cannot be controlled with medication, or any other heart problem that is a cause for concern
Have any other serious medical condition that the trial doctors think could affect you taking part in the study
Are known to be sensitive to midazolam or similar drugs
Are pregnant or breastfeeding
Trial design
This is a phase 1 trial. It will recruit about 22 people. Everybody taking part will have midazolam and nilotinib.
There are 2 parts to this study. The first is called 'the core study', the second is called 'the extension phase'. The core study lasts for 2 weeks.
On the first day you have midazolam as a liquid that you swallow
For the next 11 days, you have nilotinib as capsules that you swallow twice a day
On day 13, you have both drugs
The trial team will ask you not to eat anything for at least 10 hours before having the first dose of midazolam and to do the same again before having both drugs on day 13.
If you choose to carry on into the extension phase of the study, you will take nilotinib capsules for up to 12 months.
Hospital visits
You will see the doctors and have some tests before you start treatment. The tests include
Physical examination
Blood and urine tests
Heart trace (ECG )
Heart ultrasound (echocardiogram )
You may stay in hospital for a night or 2 at the beginning of the study and again at the end. Even if you don't stay in hospital overnight you will be there for at least 12 hours on day 1 and day 13.
Having midazolam is likely to make you go to sleep for a while, or at least make you very drowsy.
You have a number of blood tests and ECGs throughout the first day. And you have another blood test the next day.
You take nilotinib capsules at home for the next 11 days. A member of the trial team may contact you by phone every few days to see how you are getting on. You go back to hospital on the 7th day to have ECGs both before and after taking the capsules.
On day 13, you have both drugs, and a number of blood tests and ECGs throughout the day. Day 14 is the end of the core phase. The trial doctor will examine you again and you have another ECG, as well as blood and urine tests.
A member of the trial team will contact you by phone about a month later to see how you are.
If you take part in the extension phase, you have
A phone call from a member of the trial team to see how you are after 3 months
A hospital visit after 6 months
Another phone call after 9 months
A final hospital visit after 12 months
Side effects
The possible side effects of nilotinib include
A skin rash or itching
Headache
Tiredness (fatigue)
A drop in blood cells causing an increased risk of infection, bleeding problems, tiredness and breathlessness
Changes to the way your pancreas works
There is more information about other possible side effects of nilotinib on CancerHelp UK.
The possible side effects of midazolam include
Slowed or irregular breathing rate
Low levels of oxygen in the blood
Blocked airways
Double vision
Tiredness
Mood changes
You must not eat certain fruits such as grapefruit (or drink these juices) during this trial as they can affect how the drugs work and make side effects worse.
How to join a clinical trial
Please note: In order to join a trial you will need to discuss it with your doctor, unless otherwise specified.
Please note - unless we state otherwise in the summary, you need to talk to your doctor about joining a trial.
Supported by
Experimental Cancer Medicine Centre (ECMC)
Novartis
Questions about cancer? Contact our information nurses
CRUK internal database number:
Please note - unless we state otherwise in the summary, you need to talk to your doctor about joining a trial.
Charlie took part in a trial to try new treatments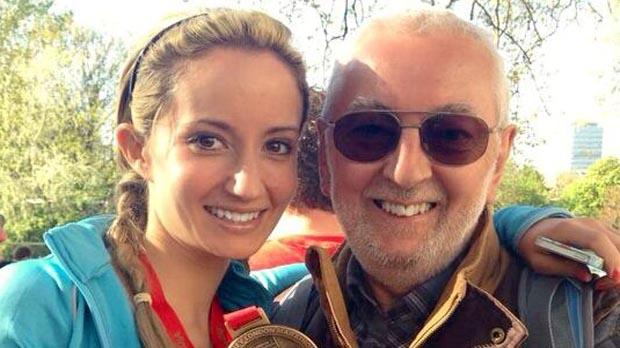 "I think it's really important that people keep signing up to these type of trials to push research forward."