A study looking at a new way of detecting early signs of lymphoedema after breast cancer surgery
Please note - this trial is no longer recruiting patients. We hope to add results when they are available.
This is a study to see if a test that measures fluid build up in tissue can help to identify women who are at risk of getting lymphoedema after surgery for breast cancer.
More about this trial
Surgery is often the first treatment for breast cancer. If breast cancer has spread to your lymph nodes, your surgeon may remove all the nodes under your arm. This is called an axillary clearance. If you have an axillary clearance, the normal fluid drainage channels of the lymphatic system may become blocked. This does not always happen, but if it does, fluid cannot drain in the normal way and the arm can become swollen. This is called lymphoedema

.
Researchers are looking for ways to work out who is likely to develop lymphoedema after surgery. If it is possible to predict this, it may be possible to try and stop it developing.
It is possible to look for early signs of swelling by taking arm measurements using a device called a perometer. In this study, researchers are comparing this with another technique called multifrequency bioimpedance. This is a simple test that measures the amount of fluid in your arm.
The aims of the study are to see
How many women develop lymphoedema  2 years and 5 years after surgery
If bioimpedance can identify women who are developing lymphoedema at an earlier stage than perometer measurements
You may not get any direct benefit from taking part in this study, but the information collected may help to improve the method of predicting who will get lymphoedema.
Anybody taking part who develops early lymphoedema will be offered treatment straight away.
Who can enter
You may be able to enter this study if you
Are a woman who has been diagnosed with early breast cancer and you are going to have surgery to remove lymph nodes from under your arm
Are between 18 and 90 years of age
You cannot enter this study if you
Have cancer that cannot be removed with surgery, or has spread to another part of your body, apart from the lymph nodes under your arm
Have had surgery to remove lymph nodes from under your arm in the past
Have had radiotherapy to your breast, chest or armpit (axilla) in the past
Are pregnant
Have an external pacemaker
Trial design
The trial will recruit 1,100 women who are going to have an axillary node clearance as treatment for breast cancer.
Before you have surgery, a member of the trial team will measure both your arms using a machine called a perometer. It uses infra red lights to produce a 3 dimensional (3D) picture of your arm. This only takes a few seconds.
Then they will measure your bioimpedance. To do this, they use a device that passes a very small electrical current through your body and measures the resistance to the flow of the current (the impedance). You won't feel anything during the test. It is a bit like having an ECG

. By doing a number of these tests, the trial team can compare both your arms, and one of your legs as a reference. Having these tests takes about 5 minutes.
They will also record your height and weight, whether or not you smoke, whether you are right or left handed, and the side you will be having your surgery to see if these affect the risk of developing lymphoedema.
You have perometer arm measurements and multifrequency bioimpedance assessments
1, 3, 6 and 9 months after surgery
Every 6 months for the next 18 months
Then once a year for the next 3 years
This will allow the researchers to compare changes over time.
From March 2015 the researchers need a further 300 people to take part in the trial. As the time in the trial will be shorter you will only have assessments
1, 3, 6 and 9 months after surgery
The researchers will ask everyone taking part in the trial to give 2 extra blood samples. They will use these samples to look at your genes to learn more about which genes may cause lymphoedema after surgery. They will also ask your permission to study some of the tissue removed when you have surgery. This may help them to learn more about which cancers are more likely to respond to chemotherapy or what causes some cancers to grow or spread more quickly than others.
This part of the study is optional. If you don't want to give blood or tissue samples for research, you don't have to. You can still take part in the study.
Hospital visits
There will be 3 extra hospital visits, to have the scan before surgery and the visits at 1 and 3 months after surgery. The trial team will try to arrange all the other scans at the same time as your routine appointments.
Side effects
There are no side effects associated with this study. The perometer and bioimpedance scans do not hurt and do not involve any radiation.
How to join a clinical trial
Please note: In order to join a trial you will need to discuss it with your doctor, unless otherwise specified.
Please note - unless we state otherwise in the summary, you need to talk to your doctor about joining a trial.
Supported by
Experimental Cancer Medicine Centre (ECMC)
NIHR Clinical Research Network: Cancer
University Hospital of South Manchester (UHSM)
CRUK internal database number:
Please note - unless we state otherwise in the summary, you need to talk to your doctor about joining a trial.
Caroline took part in a clinical trial for breast cancer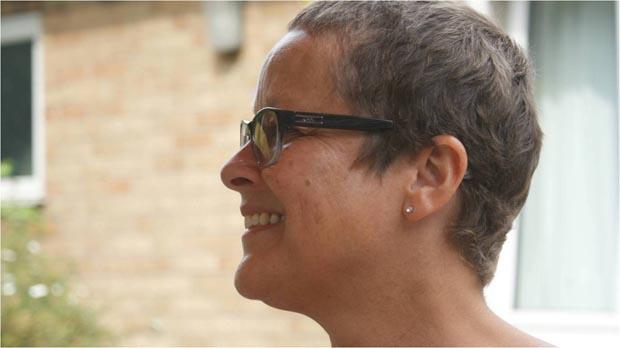 "I had treatment last year and I want to give something back."