A study looking at body changes during chemotherapy and nutritional support for people having treatment for stomach or oesophageal cancer
Coronavirus (COVID-19)
We know that this is an especially worrying time for people with cancer and their family and friends. We have separate information about coronavirus and cancer. Please read that information alongside this page. We will update that information as guidance changes.
Please note - this trial is no longer recruiting patients. We hope to add results when they are available.
This is a study looking at body changes during chemotherapy before surgery for stomach or oesophageal cancer and whether a programme to help improve nourishment could help people having this type of treatment.
Stomach cancer and oesophageal cancer can both cause problems with swallowing. If this happens, you may not be able to eat normally and so may not be able to get enough nourishment from your diet.
Treatment to try to cure stomach cancer or oesophageal cancer is usually chemotherapy followed by surgery. Chemotherapy can make you feel sick or eat less. This can make you even more malnourished and you may lose muscle from your body during the chemotherapy. Then the side effects of chemotherapy can be even worse.
If you cannot eat properly, you may also become less able to respond to insulin

(insulin resistance). Insulin is a hormone

that regulates the amount of sugar in your blood and plays an important role in how your body uses the energy you get from food. Earlier studies have shown that people with greater insulin resistance may have more complications after surgery and take longer to recover.
In this study, researchers want to see what happens to your body during chemotherapy. This includes seeing if the amount of muscle in your body changes or your insulin resistance increases. The study will then look at whether a nutritional support programme can help. The programme will include advice from a dietician

and food supplements if needed.
Who can enter
You may be able to enter this study if you
Have been diagnosed with cancer of the stomach or oesophagus and are going to have chemotherapy followed by surgery
Are between 18 and 80 years old
You cannot enter this study if
You have a type of cancer called a gastrointestinal stromal tumour (GIST)
You have certain serious medical conditions such as diseases of the  kidneys, liver, heart or lungs
You have an inherited condition that affects how your body absorbs and uses food (an inherited metabolic disorder)
You are taking part in another clinical trial
You have diabetes or another condition affecting your hormone system (endocrine system) such as thyroid disease
Your doctors are concerned about you abusing drugs or alcohol
As well as the above, you cannot enter the 2nd part of the study if you
Are allergic to any of the ingredients in the food supplements
Cannot swallow food or fluids
Have had problems with food getting into your windpipe or lungs
Trial design
There will be 2 groups of people in this study. In each group, there will be 10 people who are having treatment for stomach or oesophageal cancer in Nottingham. The group you are in will depend on when you join the study.
The 1st group of people will have various tests before and after chemotherapy to measure changes in their body and see how sensitive they are to insulin.
The 2nd group of people will have the same tests as the people in the 1st group, but they also take part in an intensive nutritional support programme. You will have regular meetings or phone calls with a specialist dietician who will advise you about your diet. If the dietician thinks you are not eating enough, you will have high calorie drinks.
The study team will ask everybody taking part to record what they eat in a food diary throughout their course of chemotherapy.
Hospital visits
When you join the study, the study team will measure your height and weight to work out your body mass index (BMI)

. They will also measure around the top of your arm (the circumference).
They will ask about your diet and ask you to fill in a questionnaire. They will take some blood samples and measure the strength of your grip.
You will have a scan called a DXA scan to see how much fat and muscle you have in your body and breathing tests to see how well your lungs are working (lung function tests).
They will also take some samples (biopsies

) of muscle and fat in your thigh.
You will also have a test to measure your insulin resistance. You have a small tube (a cannula) put into a vein on the back of your hand and another into a vein in your arm. Then you have a drip of glucose and insulin through one of the tubes, directly into your bloodstream.
Over the next 3 to 4 hours, the study team will measure your insulin resistance by taking a number of blood samples from the other cannula. They also put a sticky pad on each shoulder and 1 on your hip. These measure your heart rate during the test.
They also put a plastic hood (a bit like a space helmet) on your head for 20 minutes. It is attached to a tube which draws air into the hood. You breathe normally, but the researchers will be able to measure your breath to work out how much energy (calories) your body is using.
After a month of chemotherapy, the study team will measure your BMI again. As before, they will ask about your diet and get you to fill in a questionnaire. They will measure the strength of your grip and take another blood sample.
Between finishing chemotherapy and having surgery, you will have another blood test, BMI and upper arm measurement, a DXA scan, another thigh biopsy, an insulin test as above and lung function tests.
When you have your cancer surgery, the surgeon will take more biopsies of muscle and the fat just below your skin from both your thigh and your tummy. As part of the operation, the surgeons may have to make a cut into your chest. If they do, they will take a small sample of the chest muscle for this research study.
Side effects
You may have some pain or bruising where you have blood tests or drip needles.
You may find the biopsies uncomfortable, but the researchers will give you local anaesthetic

beforehand to numb your skin. There is a risk of bleeding after the biopsies and you will have 2 small scars on your thigh.
There is a very small risk of side effects from the insulin drip. These include change in your heart rhythm or blood pressure. But the researchers will monitor you closely when you have the drip.
How to join a clinical trial
Please note: In order to join a trial you will need to discuss it with your doctor, unless otherwise specified.
Please note - unless we state otherwise in the summary, you need to talk to your doctor about joining a trial.
Supported by
CORE (used to be called Digestive Disorders Foundation)
National Institute for Health Research Cancer Research Network (NCRN)
University of Nottingham
Questions about cancer? Contact our information nurses
CRUK internal database number:
Please note - unless we state otherwise in the summary, you need to talk to your doctor about joining a trial.
Charlie took part in a trial to try new treatments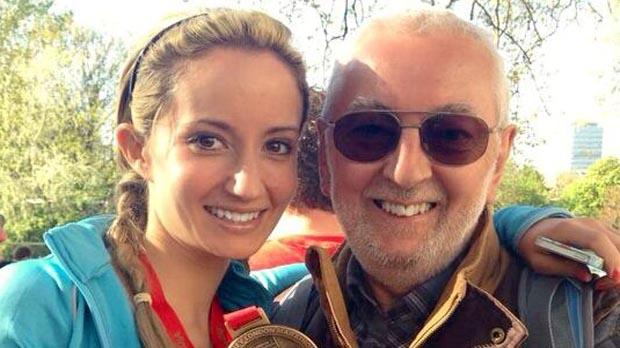 "I think it's really important that people keep signing up to these type of trials to push research forward."