A study comparing types of ketogenic diet in people with glioblastoma (KEATING)
Cancer type:
Brain (and spinal cord) tumours
The study compared 2 types of ketogenic diets in people with a glioblastoma (GBM)

. Glioblastomas are a type of brain tumour.
A ketogenic diet is high in fat and low in carbohydrate

.
This trial was open for people to join between 2017 and 2018, and the team published the results in 2020. 
More about this trial
Glioblastomas are a type of brain tumour. Glioblastomas need an energy source to grow. Research suggests energy comes from breaking down carbohydrates. 
Ketogenic diets are high in fat and low in carbohydrate. This means the body gets energy from burning fat instead of carbohydrate. Some researchers think these diets might help people with glioblastoma. But they weren't sure so wanted to find out more. 
These researchers hope to test these diets in a larger group of people. But first they needed to run a small pilot study to see if people would find them acceptable. 
The main aims of this study were to find out:
if it is possible to run the study 
if people followed the diets and for how long 
how the diets affected quality of life 
Summary of results
The study team found it was possible to run a study looking at ketogenic diets. They also found that most people found it hard to stick with the diet for a number of reasons. 
Study design
This was a very small pilot study. It was for people who had recently had surgery for glioblastoma. 
12 people joined the study and 10 followed the diet plans. They were put into 1 of 2 treatment groups at random:
5 followed a diet called the modified ketogenic diet (MKD) 
5 followed a diet called the medium chain triglyceride diet (MCT) 
 Everyone had sessions with a dietitian. The dietitian provided:
a weekly meal plan
recipes
dietary information sheets and food diaries
The aim was for everyone to follow the diet for 3 months. And then to continue with it for a further 9 months if possible.
The team contacted everyone by phone and saw them in clinic to see how they were getting on. They checked their weight, bloods and urine. 
Results
The team looked at how long people followed the diet for. And the reasons why people dropped out early. 
The team found that only 4 people followed the diet for the whole 3 month period. This was:
1 person in the MKD group
3 people in MCT group
Of these 4 people, 3 continued with the diet for up to a year. And they all decided to carry on with the diet after the study ended. 
There were a number of reasons why people left the study early. This was mainly due to quality of life. For example they were having side effects of treatment and so it was hard to follow the diet. 
Most people who left the study early said it was because following a strict diet for 3 months was much too long. 
Quality of life study 
The team looked at quality of life. They wanted to know if there were differences between those who left the study early and those who didn't. They looked at the questionnaires from the start of the study. They didn't see a difference between those that stayed in the study and those that left.
People who left the study early reported having a poorer quality of life than those who stayed on. This was often because they had started treatments and were having side effects. 
Interviews 
A member of the team interviewed 10 patients and 5 caregivers. They asked people what they thought about the study. This is a brief summary of their findings: 
the main reason people gave when they left the study was their quality of life
those who continued with the diets tended to be younger and their cancer had a better outlook (prognosis )
caregivers were very important in supporting people to get started with and to stick with the diet
caregivers influenced people's decisions to take part in the study or to leave it
During the interviews, a few people reported several factors that motivated them to continue with the diet. These included: 
online blogs of people with glioblastoma living for a long time 
MRI scans that showed their treatment was working
high ketone levels in the body 
The diets 
People filled in questionnaires rating how acceptable they thought the diets were. The scores all went down when they started the diets. People recorded the lowest scores at week 6. This then improved up to the 3 month mark. 
Blood and urine tests
Everyone tested their urine and blood regularly to check that the diet wasn't causing problems in the body. The team found that these levels were satisfactory.
Side effects
Nobody in the study had any side effects that a ketogenic diet can cause. 
Conclusion
The team found that it was possible to run a study looking at ketogenic diets for people with GBM. But they say any future trial should have a 6 week rather than a 3 month diet programme. 
The team also say that it is important to think about the role of caregivers when asking people to join a trial. This is because they have a role in supporting people during a trial. And they also help people to make decisions about whether to join or leave a trial. 
Where this information comes from    
We have based this summary on information from the research team. The information they sent us has been reviewed by independent specialists (peer reviewed

) and published in a medical journal. The figures we quote above were provided by the trial team who did the research. We have not analysed the data ourselves.
 
How to join a clinical trial
Please note: In order to join a trial you will need to discuss it with your doctor, unless otherwise specified.
Please note - unless we state otherwise in the summary, you need to talk to your doctor about joining a trial.
Chief Investigator
Dr Michael Jenkinson
Dr Kirsty Martin-McGill
Supported by
University of Liverpool
Vitaflo (International) Ltd
The Walton Centre NHS Foundation Trust
CRUK internal database number:
Please note - unless we state otherwise in the summary, you need to talk to your doctor about joining a trial.
Rhys was only four years old when he was diagnosed with a brain tumour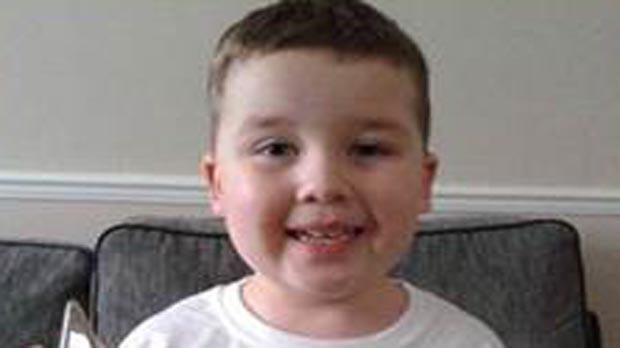 "He went through six operations and was placed on a clinical trial so he could try new treatments."