A study comparing 2 different ways of pain management support in the community (IMPACCT)
Please note - this trial is no longer recruiting patients. We hope to add results when they are available.
This study is looking at additional support alongside routine community palliative care to help people better manage pain. 
It is part of a programme called IMPACCT which aims to improve the lives of people with cancer and their carers. 
More about this trial
Unfortunately, many people who have advanced cancer

 have pain at some point. This pain can be managed at home with the help of the community palliative care

 team. But sometimes it can be difficult for patients and their families to keep on top of the pain. This might happen because people don't know enough about cancer pain or how to assess it. So researchers are looking at new ways to help manage cancer pain.
In this study, they are looking at new resource to educate people with advanced cancer and their carers about pain. This extra support includes written information about pain and pain control as well as an online system to assess and check pain.  
You use this resource alongside the usual care that the community specialist palliative care team provide. Researchers hope that the extra support will improve pain management. But they aren't sure so they want to find out more. 
In this study, some people have routine palliative care in the community. And some people have this same care and the additional support toolkit.
The researchers hope to test this extra support in a large group of people, but first they need to run a small pilot (feasibility) study to see if people will find it acceptable.
The aims of the study are to find out:
if people find the extra support useful and acceptable
if it improves pain scores
more about quality of life
more about cost
Who can enter
The following bullet points list the entry conditions for this study. Talk to your doctor or the study team if you are unsure about any of these. They will be able to advise you. 
You might be able to join this study if all of the following apply. 
You have advanced cancer and the doctors think there isn't any treatment that could cure your cancer
You have pain caused by cancer 
You have a pain score of at least 4 (on a 0 to 10 pain scale)
Your doctors think pain management will help you
You are living at home and in an area close to a hospice  or community palliative care team taking part in the study
You speak and write English well
You are at least 16 years old
You cannot join this study if any of these apply.
You do not have pain related to your cancer
The community palliative care team are already treating you or have treated you in the past
Trial design
This feasibility study is based in the UK. The researchers need 160 people to take part. 
It is a randomised study. You are put into 1 of 2 groups. You have 1 of the following types of care:
palliative care in the community (usual care)
palliative care in the community and the extra support toolkit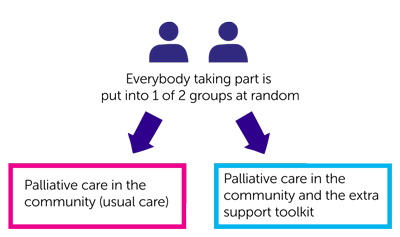 Neither you nor your doctor will be able to decide which group you are in. You are in the study for 12 weeks. 
Everyone taking part has routine support from the community palliative care team. This care might include seeing them for advice on pain control, sickness and other symptoms of cancer. They also give emotional support to both you and your carers. 
Extra support toolkit
If you have extra support, this includes:
a resource called Tackling Cancer Pain: A Toolkit for Patients and Families
an online tool called PainCheck to monitor and assess pain
Tackling Cancer Pain: A Toolkit for Patients and Families
The palliative care team will give you this resource folder to keep. It includes written information and a DVD. The toolkit is in 5 parts. The parts aren't in any particular order and you can choose whatever part or parts you think might be helpful. The parts are:
understanding cancer pain – this is information about what pain is, and what causes cancer pain
about using drugs to manage pain – this explains the types of painkilling drugs that you might have to help lessen cancer pain
looking at other ways to manage pain – for example using methods like relaxation, distraction or movement
talking about your pain – this looks at ways of communicating about your experience of pain with people around you, with health professionals and with others who have cancer
getting more help – this offers guidance on looking for more help if you continue to have pain
PainCheck
This is an online system. It is a way of assessing and checking your pain. It means you can record pain information from your own home when it suits you. You need to use a computer or smartphone to do this. The palliative care team will show you how to use PainCheck. The information you record is sent to the palliative care team. They can then provide feedback and suggestions on how to help with your pain.
Quality of life
Everybody taking part will be asked to fill out some questionnaires. These ask you about how you have been feeling. This is called a quality of life study. They will also ask you to rate your pain. You fill them in:
when you join the study
at 6 weeks
at 12 weeks
At 6 and 12 weeks, the study team will post them to you or a researcher will call you and go through the answers to the questionnaires if you prefer.
At the end of the study, a member of the study team might ask you to take part in an interview to find out what you thought of the study. You don't have to agree to the interview if you don't want to. 
Hospital visits
There are no hospital visits involved in this study.
Side effects
There are no side effects from taking part in this study.
How to join a clinical trial
Please note: In order to join a trial you will need to discuss it with your doctor, unless otherwise specified.
Please note - unless we state otherwise in the summary, you need to talk to your doctor about joining a trial.
Chief Investigator
Professor Michael Bennett
Supported by
National Institute for Health Research (NIHR) Programme Grant for Applied Research 
University of Leeds
CRUK internal database number:
Please note - unless we state otherwise in the summary, you need to talk to your doctor about joining a trial.
Around 1 in 5 people take part in clinical trials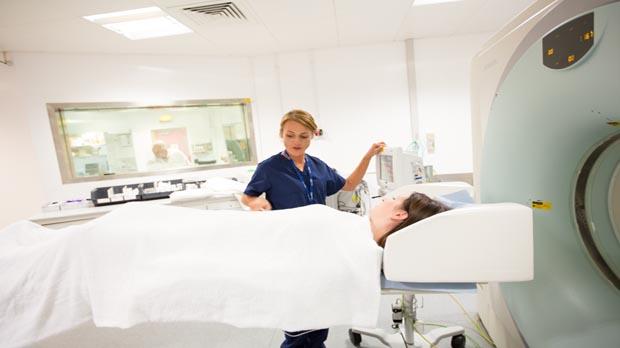 Around 1 in 5 people diagnosed with cancer in the UK take part in a clinical trial.