A study looking at cediranib (AZD2171) and AZD6244 with chemotherapy and radiotherapy for rectal cancer (DREAM)
Coronavirus (COVID-19)
We know that this is an especially worrying time for people with cancer and their family and friends. We have separate information about coronavirus and cancer. Please read that information alongside this page. We will update that information as guidance changes.
Please note - this trial is no longer recruiting patients. We hope to add results when they are available.
Cancer type:
Bowel (colorectal) cancer
This study is looking at adding new drugs to the standard treatment for cancer that starts in the back passage (rectum) and has grown into surrounding body tissue. This trial is supported by Cancer Research UK.
Doctors often treat cancer of the rectum

with radiotherapy and chemotherapy (chemoradiotherapy), followed by surgery. One of the chemotherapy drugs you can have is called capecitabine. But researchers are looking for ways to improve treatment.
This trial is made up of 2 studies ('dual studies') testing 2 drugs called cediranib (also known as AZD2171) and AZD6244. They are both types of biological therapy. Some of the people taking part will have 1 drug, some will have the other.
Cells normally divide in an organised way. But in cancer cells, proteins that help to control cell growth can change and make the cells grow more quickly. Some of these proteins are called mitogen activated protein kinases (MEK). AZD6244 reduces the amount of MEK (it is a MEK inhibitor

), and may slow down or stop the growth of cancer.
The way cancer grows is also affected by growth factors that help cancer cells to develop a blood supply (angiogenesis). One of the growth factors involved is called vascular endothelial growth factor (VEGF). Cediranib reduces the amount of VEGF. It is an 'anti angiogenic drug' and may slow down the growth of cancer.
The aims of this trial are to
Find the highest dose of each drug that people can have safely at the same time as chemoradiotherapy for rectal cancer
See what happens to the growth of the cancer during treatment
Who can enter
You can enter this trial if
You have been diagnosed with rectal cancer that has grown into (or very near to) the membrane covering the outside of the bowel, or is stage T3 and less than 5cm from your anus
Your doctors don't think it would be possible to remove all the cancer and a border of healthy tissue around it (clear margins ) with surgery as your first treatment
Your doctors do think it will be possible to treat your cancer with radiotherapy
You have satisfactory blood test results
You are well enough to carry out all your normal activities, apart from heavy physical work (performance status of 0 or 1)
You are willing to use reliable contraception during the trial if there is any chance you or your partner could become pregnant
You are at least 18 years old
You cannot enter this trial if you
Have cancer that has spread somewhere else in the body (metastatic cancer )
Have already had chemotherapy or radiotherapy for rectal cancer
Have had major surgery to your chest or tummy (abdomen ) in the last 2 weeks, or any other surgery if the wound has not completely healed
Are not able to have surgery
Have another condition that means you may not be able to have radiotherapy such as ulcerative colitis, Crohn's disease or a fistula
Have a blockage in the bowel (bowel obstruction) or an infection in the pelvis
Have a condition called DPD deficiency (which means you cannot have certain types of chemotherapy)
Have high blood pressure that cannot be controlled with medication, or a heart problem that is a cause for concern
Have an infection that cannot be controlled, or any other medical condition that could affect you taking part in the study
Cannot absorb tablets for any reason, including sickness that cannot be controlled with medication and inflammatory bowel disease
Have or have had any other type of cancer
Are known to be HIV, hepatitis B or hepatitis C positive
Are pregnant or breastfeeding
Also,
If you are known to be sensitive to cediranib, or have had recent bleeding problems or blood clots, you cannot take part in the cediranib study
If you have already had a MEK inhibitor, you cannot take part in the study of AZD6244
Trial design
The trial will recruit up to 56 people all together. Some people will be involved in the study of cediranib, some will be involved in the study of AZD6244. This will depend on when you join the trial.
Everybody taking part will have
Radiotherapy for 5 weeks
Capecitabine tablets everyday for 5 weeks during the radiotherapy
Both the trial drugs are tablets that you swallow each day. Whichever drug you have, you start taking it 10 days before your radiotherapy starts, and take it every day until the last day of radiotherapy.
The first few patients taking part in each study will have a low dose of either cediranib or AZD6244. If they don't have any serious side effects, the next patients will have a higher dose. And so on, until they find the best dose of each drug to give. This is called a 'dose escalation study'.
You have a CT scan or MRI scan 8 weeks after finishing chemoradiotherapy. If this shows that your cancer can be removed, you will have surgery between 2 and 4 weeks later.
The doctors will take some extra blood samples during the trial. And they will get a sample of the tissue that was removed when you had a biopsy to diagnose your cancer. After taking your study drug for about a week, you have a test called a flexible sigmoidoscopy. The doctor puts a thin tube into your back passage and takes another sample of cancer tissue.
The researchers will use these samples to look for substances they can measure that help them tell more about a disease or how a treatment is working – these are called biomarkers. They hope that in the future, biomarkers may help them to work out who is most likely to benefit from the trial drugs.
Hospital visits
You will see the doctors and have some tests before you start treatment. The tests include
Physical examination
Blood and urine tests
Heart trace (ECG )
CT scan
MRI scan
People taking part in the AZD6244 study will also have
Eye tests
Heart ultrasound (echocardiogram )
You go to hospital
The day you start taking your study drug
Once or twice in the next 10 days
Every day (from Monday to Friday) during 5 weeks of radiotherapy
2, 4 and 8 weeks after finishing chemoradiotherapy
The trial team will ask some people taking part to have some extra scans before, during and after treatment. This is to see how the growth of the cancer changes during treatment. If you are in the cediranib study, these will be 'Dynamic Contrast Enhanced' MRI scans (DCE-MRI). If you are in the AZD6244 study, you may be asked to have DCE-MRI scans and PET scans.
A member of the trial team will contact you by phone to check how you are 4 months after finishing your chemoradiotherapy. You have follow up appointments every 6 months for 2 years and then one more a year later.
Side effects
As AZD6244 and cediranib are quite new drugs, there may be some side effects we don't know about. The possible side effects that are known include
Tiredness (fatigue)
An increase in your blood pressure
Changes to results of tests that show how well your liver is working (liver function tests)
Other possible side effects of AZD6244 include
Skin rash
Swelling of the face or other parts of the body (extremities)
Shortness of breath
Blurred vision
Other possible side effects of cediranib include
Redness or soreness on the palms of your hands or soles of your feet (hand and foot syndrome)
Muscle weakness
Headache
Dry or sore mouth
Hoarseness
Protein in the urine
Bleeding
Changes to the way your thyroid gland works
There is more information about the side effects of rectal radiotherapy and capecitabine on CancerHelp UK.
How to join a clinical trial
Please note: In order to join a trial you will need to discuss it with your doctor, unless otherwise specified.
Please note - unless we state otherwise in the summary, you need to talk to your doctor about joining a trial.
Supported by
AstraZeneca
Cancer Research UK
Experimental Cancer Medicine Centre (ECMC)
The Christie NHS Foundation Trust
Other information
This is Cancer Research UK trial number CRUKD/10/013.
Questions about cancer? Contact our information nurses
CRUK internal database number:
Please note - unless we state otherwise in the summary, you need to talk to your doctor about joining a trial.
Charlie took part in a trial to try new treatments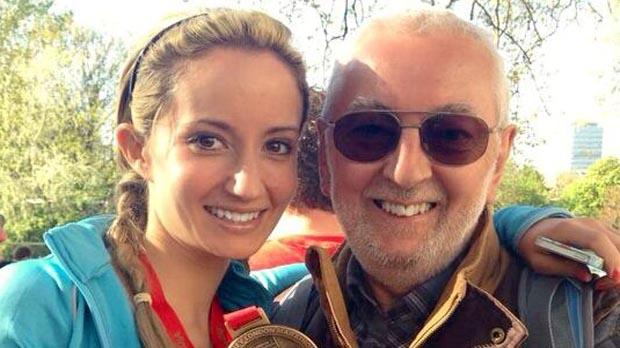 "I think it's really important that people keep signing up to these type of trials to push research forward."