A trial looking at daratumumab and standard treatment for children and young adults with acute lymphoblastic leukaemia or lymphoblastic lymphoma (Delphinus trial)
Cancer type:
Acute lymphoblastic leukaemia (ALL)
This trial is for children and young people whose leukaemia or lymphoma has come back or treatment has stopped working.
It includes children and young adults up to the age of 30. We use the term 'you' in this summary. But if you are a parent, we are referring to your child.
More about this trial
Lymphoblastic lymphoma (LL) is a rare type of fast-growing non-Hodgkin lymphoma. It mainly affects people under 35. It is similar to acute lymphoblastic leukaemia (ALL) and is treated in a similar way. We have information about:
Chemotherapy is the main treatment. You have more chemotherapy if the leukaemia or lymphoma comes back or treatment stops working. Some people might also have a stem cell transplant

.
Doctors are looking for ways to improve treatment. In this trial, they are looking at adding a drug called daratumumab to standard chemotherapy.

 
 
Daratumumab is already used for people with myeloma and some other cancer types. But it is a new drug for people with ALL or LL.
Daratumumab is a type of immunotherapy drug called a monoclonal antibody. It attaches to a protein found on the surface of lymphoblastic leukaemia cells. This helps the immune system

 to recognise and attack these cells. 
The aims of the trial are to find out if:
people can tolerate the combination of treatment 
adding daratumumab improves treatment outcomes  
Who can enter
The following bullet points list the entry conditions for this trial. Talk to your doctor or the trial team if you are unsure about any of these. They will be able to advise you. 
Who can take part
You might be able to join if you have:
T cell ALL or LL that has come back after the first treatment or treatment has stopped working 
As well as the above, the following must also apply. 
More than 5 out of every 100 cells (5%) in the bone marrow are made up of immature blood cells (blasts) or there is a tissue sample confirming the diagnosis and the doctor can measure the ALL or LL on a scan. 
You can care for yourself but can't carry on with all your normal activities or do active work (Karnofsy scale 70 or more) or your child can't play as actively  as normal and spends less time than usual in play activity (Lansky scale of 70 or more).
You have satisfactory blood test results. 
Teenagers and young adults who are sexually active must be willing to use reliable contraception during treatment and for 6 months to 1 year afterwards if there is any chance they or their partner could become pregnant. 
Who can't take part
You cannot join this trial if any of these apply. 
Cancer related
You:
were diagnosed with leukaemia under the age of 1
have had a transplant with somebody else's cells (allogeneic transplant ] in the last 3 months
have had treatment to damp down your immune system  after a stem cell transplant within 1 month of joining the trial
ALL that is Philadelphia positive  and this means you are suitable to have a treatment with a tyrosine kinase inhibitor drug  such as imatinib
have T cell ALL or LL and you have already had a lot of treatment with the chemotherapy drug doxorubicin
have a condition where the cells from your stem cell transplant are attacking your own cells (Graft versus Host Disease  or GvHD) and this is causing moderate to severe symptoms 
have already had daratumumab or a similar drug in the past
have had immunotherapy such as CAR T-cell therapy within 4 weeks of joining the trial or a drug called blinatumomab within 2 weeks
have had an experimental drug or used an experimental device within 4 weeks of having the first dose of daratumumab
Medical conditions
You:
have shortness of breath at rest, low levels of oxygen or moderate to severe asthma 
have Down's syndrome  or certain other conditions such as Fanconi anaemia or any other bone marrow failure syndrome
have a heart trace (ECG) that shows a slow heart rhythm (severe QT prolongation)
have had major surgery within 2 weeks of joining the trial or you haven't fully recovered from surgery
have HIV
have an active hepatitis B or hepatitis C infection
have any other medical condition or mental health problem that the trial team think would affect you taking part
Other
You:
are allergic to any of the drugs used in the trial
have had a live vaccine  within 4 weeks of the first dose of the trial drug
have a problem with drugs or alcohol or any other problem that might affect your ability to stick to the trial visits
are pregnant, breastfeeding or planning to become pregnant within 12 months after the last dose of daratumumab 
are a sexually active male and planning to father a child within 6 months after the last dose of daratumumab
Trial design
This is an international phase 2 trial. The researchers need 69 children and young adults worldwide to take part including 7 from the UK.
Treatment 
Each 4 week period is a cycle of treatment

. You have 2 cycles of treatment. 
In cycle 1 you have all the following drugs:
daratumumab as a drip into a vein once a week
vincristine, prednisolone, doxorubicin and asparaginase
In cycle 2 you have all the following drugs:
daratumumab once a week
cyclophosphamide, cytarabine, 6-mercaptopurine and methotrexate
The trial team explain exactly how and when you have the chemotherapy drugs and steroids in each treatment cycle. You might then go on to have a stem cell transplant if the treatment works well. The trial team can tell you more about this. 
You have extra treatment if you have ALL or LL in the brain and spinal cord

. You have this as an injection into your spine. This is the same as having a lumbar puncture

. 
Follow up
When you stop treatment, you see the doctor for follow up appointments every 8 to 12 weeks. They check how you are getting on and if you have started any new anti cancer treatment. 
Quality of life
The trial team ask you to fill in a questionnaire before you start treatment and at set times during treatment. The questionnaire asks about side effects and how you've been feeling. This is called a quality of life study

.
Samples for research
You give some blood, urine and bone marrow samples

 during treatment. You give the samples at specific times and the trial team give you more information about this. They plan to use the samples to:
see how well the treatment is working
find out what happens to daratumumab in the body
look for biomarkers  to predict who benefits from treatment
Hospital visits
You see a doctor and have some tests before you can take part. These include:
physical examination
blood samples
urine samples
heart trace (ECG )
x-rays
You go to hospital to have all your treatment. You might have an overnight stay for the first dose of daratumumab. This infusion on average takes about 8 hours. After that, you'll have it on the day unit. This takes about 4 to 5 hours depending on how you coped with the first infusion. 
Depending on how you are, you might have your chemotherapy treatment as an inpatient or on the day ward. Your doctor can tell you more about this. 
Side effects
Daratumumab is a new drug for people with ALL or LL. So there may be some side effects we don't know about yet. 
The side effects of this drug are being closely monitored and you are encouraged to report any side effect you might have.
The trial team monitor you during the time you have treatment and you have a phone number to call if you are worried about anything. 
The most common side effects of daratumumab include:
an infusion related reaction such as chills, feeling or being sick or a cough and itchy throat (you have medication before the drug to help prevent this happening)
coughs, colds, sinus infections or chest infections
a drop in the number of blood cells causing an increased risk of infection, bleeding problems, tiredness and breathlessness
numbness or tingling of the hands, feet, arms or legs
headaches
high blood pressure
shortness of breath 
muscle spasms
tiredness (fatigue)
fever
swelling of hands, feet, arms or legs
inflammation of the lung tissue (pneumonitis)
Your doctor will talk to you about the possible side effects of all the treatment might have in this trial. We have more information about the side effects of:
How to join a clinical trial
Please note: In order to join a trial you will need to discuss it with your doctor, unless otherwise specified.
Please note - unless we state otherwise in the summary, you need to talk to your doctor about joining a trial.
CRUK internal database number:
Please note - unless we state otherwise in the summary, you need to talk to your doctor about joining a trial.
Charlie took part in a trial to try new treatments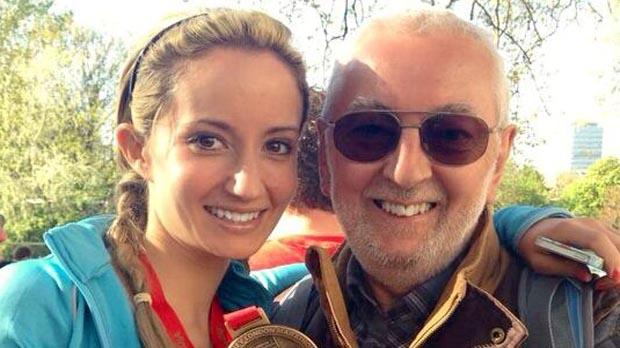 "I think it's really important that people keep signing up to these type of trials to push research forward."