Consent forms for SACT (Systemic Anti-Cancer Therapy)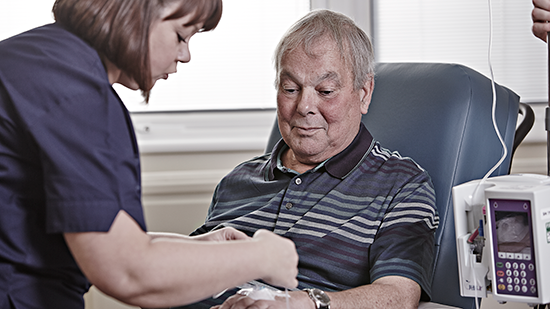 Contact
If you have specific queries or are looking for something not covered here, please email us.
Are you a clinician or other healthcare professional involved with consenting and treating patients with Systemic Anti-Cancer Therapy (SACT)?
We are working with Guy's and St. Thomas' NHS Foundation Trust to produce national standardised SACT regimen-specific consent forms.
We want to support clinicians in ensuring all patients are fully informed when consenting to SACT. These forms are endorsed by the UK Systemic Anti-Cancer Therapy Board (UK SACT Board). This was previously known as the UK Chemotherapy Board.
The UK SACT Board has also issued guidance for the introduction of the national SACT regimen-specific forms by individual chemotherapy providers.
The consent forms and guidance document are available to download in PDF format. Forms are grouped by tumour-site.
This guidance about remote consent has been developed as a result of the COVID-19 pandemic.
SACT Form update
SACT consent forms are currently being reviewed on a rolling schedule. Please see FAQs for order of roll-out. Republication dates may exceed the date of review indicated on each form. All forms are valid until new versions are available.
Who has approved the content in these forms?
The programme is being led by a dedicated CRUK-funded oncology pharmacist at Guys' and St. Thomas' NHS Foundation Trust.
All forms are independently checked by an oncology/haematology pharmacist, oncology/haematology consultant and member of the UK SACT Board.
Publishing, additions and updates
We are publishing forms by tumour site, the first were for breast cancer in May 2016. We will publish new forms for other tumour sites regularly.
Recent additions and updates will be highlighted on the "What's new?" section on this page, and details of when forms have been last updated is stated in each section. Please check for updated versions and ensure that you use the latest version of each form.
Join us on X (previously known as Twitter)
What's new?
14th November 2023: Updates CLL SACT consent forms, Generic SACT consent and Generic checkpoint inhibitor immunotherapy forms
14th September 2023: New form added for Pazopanib
18th August 2023: Updated lung, breast, GIST and AML Azacitidine SACT consent forms updated
10th August 2023: Updated children and young people, kaposi sarcoma and CML SACT consent forms updated
25th July 2023: Updated brain & CNS forms for Temozolomide and Temozolomide-RT
12th May 2023: Brain & CNS SACT consent forms updated and a new form added for Ibrutinib
1st November 2022: Lung cancer SACT consent forms updated
21st October 2022: Generic paediatric SACT consent form updated
6th September 2022: New form added for Abemaciclib and Trastuzumab Deruxtecan
5th September 2022: Head and neck cancer SACT consent forms updated and new form added for Tucatinib, trastuzumab and capecitabine
25th August 2022: Renal cell cancer (urology) SACT consent forms updated
16th August 2022: Prostate cancer (urology) SACT consent forms updated
10th August 2022: Small cell cancer (urology) SACT consent forms updated