The Cancer Insights Panels explained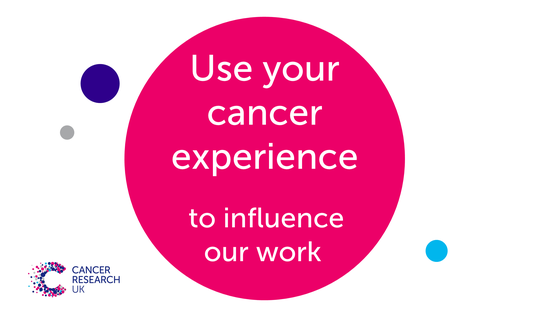 Use your cancer experience to help shape our work
Influence the work we do and ensure it represents and reflects the needs of people affected by cancer. We recurit to our panels every March.
When you become a part of our Cancer Insights Panels, you help influence the work that we do at Cancer Research UK.  There are two panels with their own focus; Research & Strategy and Policy & Communications.
Each panel has 15 members who take part in discussions with teams across the charity. These discussions help ensure our work represents the needs of all people affected by cancer. We recruit new members each year, so we can benefit from new perspectives and a variety of experiences.
Mary
Mary lives in Essex with her husband and their 3 beautiful dogs. Their two elder children have flown the nest now, but the family remains very close.  Mary has a condition called Elhers Danlos Syndrome, which causes her a lot of health issues. And in October 2017, a CT scan revealed that she had a tumour on her kidney. 
"There's so much more to cancer than the diagnosis and treatment. There's the emotional recovery as well as the physical one. Through all this, patients gain knowledge and experience that can be shared to help others. I wanted to use my cancer experience constructively to enable some change.
Patients offer a detailed insight and a wider understanding of the realities and issues faced when dealing with cancer. This includes suggestions and views from the perspective of relatives of the patients, whose lives also are affected by cancer of a loved one.  
The Cancer Insights Panels are interactive and as a group of people, we are contributing in different ways to benefit not just CRUK, but all stakeholders who are engaged in the work CRUK undertake, and ultimately those whose lives are affected by cancer.
With the video conferencing, there's no travelling or full day involvement. For me personally it works well, as I still manage some serious health issues, so it makes the whole day more manageable. Meeting other people whose lives had been affected by cancer, and all with much to share, means that we all get to learn from each other – it's inspiring."
Phil
Phil lives with his wife Brenda in Kent.  He's worked as a photographer for over twenty years and runs his own business. He loves his job and feels fortunate to work with great people. In August 2018, Phil's father-in-law was diagnosed with metastatic bowel cancer, which was a shock for his family. Only two days after his father-in-law's death, Phil himself was diagnosed with early stage prostate cancer.
"I've seen the devastation cancer has caused to the whole family. My family relied on information from Cancer Research UK and we found it very informative. I saw a post on Cancer Research UK's Twitter feed, asking for people who had been affected by cancer to join their Cancer Insights Panels and decided to apply. 
It's been fascinating meeting and talking to people who all have one thing in common, their desire to do something about an awful disease. I think it's great that we as a panel are asked our views on a wide range of topics and are given feedback on how these ideas are carried forward. Consultations could be about what products should be stocked in the Cancer Research shops or helping shape the future of Cancer Research for the next ten years.
I've enjoyed all the meetings, which are held as video conferences; technology allows us to see other panel members and you get immediate feedback on the points raised. Hearing experiences from new panel members gives a brand-new perspective to many of the issues that continue to be discussed.
I feel I'm making a difference being on the panel as I am truly talking from experience. I can't recommend it highly enough!